When it comes to mobile app usage growth, grocery apps are among the fastest-growing mobile apps in the US and across the globe. If you own a grocery business or want to kickstart one, grocery app development is a necessity for you.
The Incredible Stats
There are some amusing and incredible statistics about grocery apps on Statista. See the chart below: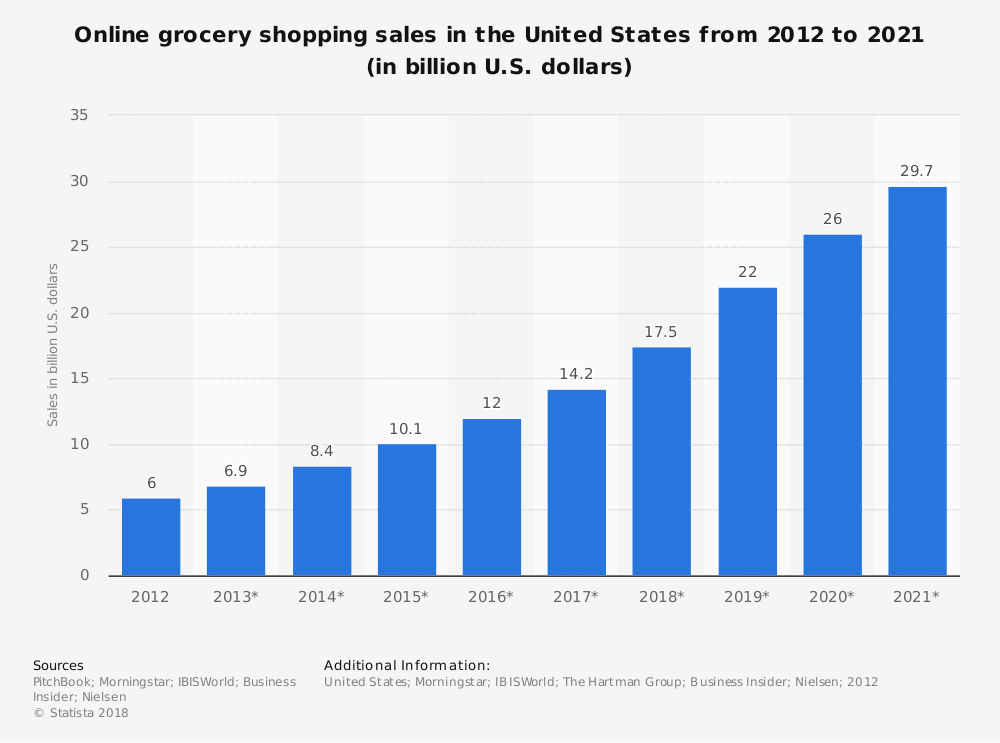 This chart shows the online grocery shopping sales in the United States from 2012 to 2021 in billion US dollars.

In the year 2012, the online grocery market sale was only US$6 billion.

It doubled in just 4 years. By the end of 2016, the online grocery market sale crossed US$12 billion.

By the end of 2018, just a couple of more years, it nearly tripled and reached US$17.5 billion.

This year, in 2019, it is expected to cross US$22 billion.

By the end of 2021, the original figure of 2012, i.e. US$6 billion, is expected to be multiplied by 5 as it will be in the touching distance of US$30 billion.
Top Players
Amazon and Walmart are the top two players yet they cannot cover the entire market. Amazon and Whole Foods have merged to up their game. On the other hand, Walmart is expanding its online grocery delivery services to more and more cities.
In addition, companies like Instacart, NetGrocer, Safeway, and Gofers have also joined the fierce war of online grocery delivery and grocery apps. All of them are doing good and raising a lot of money. They have different business models yet, end of the day, they run online grocery delivery systems and grocery apps.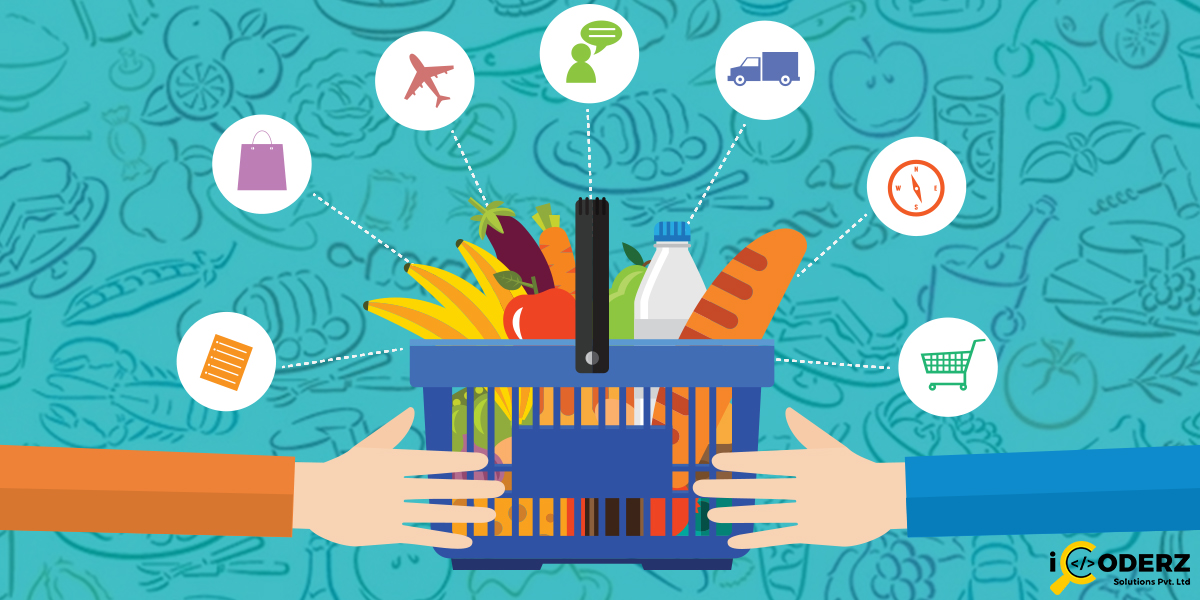 Why Are Grocery Apps Popular?
Grocery apps are in demand because of many reasons.
No Check-Out Queues
People like to visit local brick-and-mortar grocery stores on a regular basis. They also love to go through various products and promotions and select what they want. The most boring part comes at the end. Joining a long queue at the check-out counter and waiting for their turn to pay money doesn't go well with most of the people.
It is also said that all well that ends well. If you offer such a boring experience at the end of a delightful grocery shopping experience, people will most probably remember that boredom. All your efforts to make the customer's experience better will be in vain. In contrast, while using a grocery app, one can pay with only a few clicks so they can't complain or feel bored. How convenient!
E-Commerce Website Development: Positive Practices For A Successful Venture
Easier Product Search And Discovery
When it comes to searching a specific product in a normal grocery store, the store owner or one of the staff members can be a great help. On the other hand, the same can be a nightmare when you are in a superstore.
First of all, Superstores have thousands of products with plenty of variety for all of them.
Second, they have to keep changing the location of products to increase engagement.
Third, they have a huge staff and their roster keeps changing every week so it is impossible for even staff members to keep track of all the changes even if they want to.
As a result, when you want to find something in the superstore, it can be a nightmare. On the other hand, using search and filter options in grocery apps is quite easy and convenient.
Saves Time, Money And Energy
Grocery apps save time, money and energy in many ways too.
First of all, customers do not have to travel to and from grocery stores. They can order whatever they want through their grocery apps so they save a lot of traveling money and time.
Second, they can easily find whatever they want using search and filter options. They do not have to go through many aisles of superstores, they are spared from visual stimuli and they can check their impulsive buying too. The end result is more saving of time and money.
Lastly, all the shopping apps, including grocery apps, tend to run discount offers and promotions according to local festivals and seasons which, in turn, saves money.
Don't forget that you are spared from physical lifting which is a great relief to many, especially to our senior citizens.
These are the reasons grocery apps have really taken off well.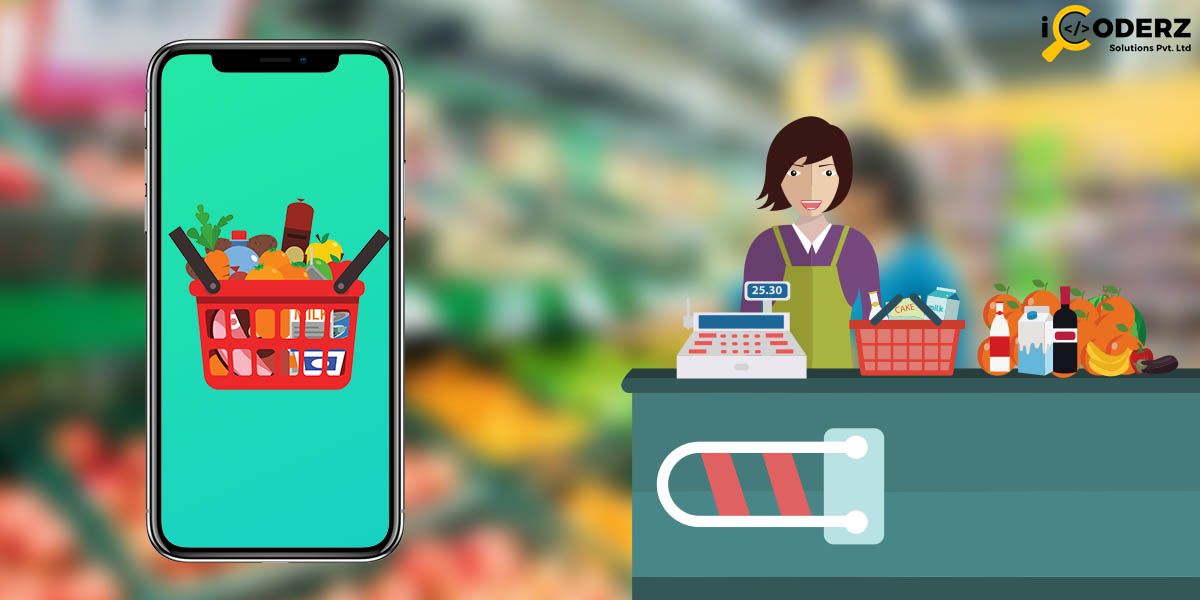 How Are Grocery Apps Beneficial For Businesses?
Grocery apps are beneficial to customers and businesses alike. There are many benefits of grocery apps for businesses too.
Increased Customer Loyalty
Customer loyalty is very important for growth and staying afloat for decades. But it is not easy to find loyal customers. You have to convert your occasional customers into the loyal ones.
If you run a grocery store and offer a customized grocery app for your grocery store, it is an added attraction. Once your customers start using your grocery app and have a good user experience, they will be more loyal to your business. Beware! They must have a good user experience or they will never return to your store or grocery app. That is the reason you must hand over your grocery app development to an experienced mobile app development company.
You should also add features like loyalty bonus, reward points, promo codes, offers, etc. to increase the loyalty of your customers.
Better Customer Relationship Management (CRM)
In addition to increased loyalty from customers, you can have the entire CRM system at your fingertips. In a normal CRM, you need to create an extensive database of customers and find the relevant data at the opportune moment. On the other hand, if you go for grocery app development, customers will create their own profile to use the grocery app. In that way, your entire CRM database is created automatically. You don't need to employ dedicated staff and you can pull the data whenever you want right from your mobile app or admin panel.
Better Inventory And Order Management
Grocery apps always come with their admin panels that you can access through computers and mobiles. Using this admin panel, you can easily manage your complete inventory. You can set alerts for stocks running low and order them easily. You can also easily manage all the past, present and future orders and search them easily. All types of reports are also available at your fingertips.
Decreasing Overhead
We all know that acquiring a good pair of hands is always a difficult task. When you run a business, you will need plenty of good pairs of hands. And the better the workforce is, the more you will need to pay in salaries which will increase your overhead. The overhead of your business is the factor that can make or break your fortune.
If you implement an online grocery ordering system, it will reduce your overhead in the long run. An expert mobile app development company can cost you a good chunk of your annual overhead. But that will be a onetime expense. After that, the maintenance and updating of the online shopping portal or grocery apps will cost you very little. With the help of technology, you will be able to reduce your staff and overhead dramatically. It will eventually increase your profit.
Final Thoughts
Online grocery delivery system and grocery apps are growing rapidly in terms of popularity and revenue generation. Find an experienced and expert partner to guide you through such an endeavor and you will see its positive effects on your business in no time.
iCoderz Solutions is such an expert and experienced mobile app development company. We have equal expertise in web development too. Our dedicated teams of iOS app development, Android app development, and web development have developed and deployed more than 500 mobile apps and websites. We are expert in on demand order and delivery system with plenty of businesses and startups as our happy clients. We also offer our Software as a Service [SaaS] as a cost-effective solution. Get in touch with us to know more and have a quote for taking your business online and in mobile.
---
Popular Blogs
(1) How Much Does It Cost To Build A Food Delivery App Like UberEats, Seamless, GrubHub, Doordash, In USA?
(2) How Much Does It Cost To Develop An On Demand App Like Go-Jek?
(3) How Much Does It Cost To Develop A Mobile App?
(4) How Much Does It Cost To Develop An On Demand Doctor App Like Heal App?
(5) How Much Does It Cost To Develop On Demand Doctor App And Healthcare App?