Smartphones are indispensable parts of our lives now. We rely so much on them now that we can't think of our lives without them. We accomplish many things using them. For example, we book tickets for airlines, buses, trains, movies, and local events. We click photos and videos, listen to music, watch TV and movies. On demand services reside on our fingertips: on demand taxi booking, on demand doctor, on demand food delivery, on demand grocery delivery. So, as a businessperson or a startup, you may be thinking about the same and the most worrying part for you is the cost. Say, for example, you want to launch an on demand grocery delivery service and thinking about 'how much does it cost to develop a grocery delivery app like Instacart, Grofers, ShipIt, and FreshDirect?' But before that, we need to know how is the market for such an app.
The Changing Consumer Behaviour
There are still brick-and-mortar grocery stores and most of the people buy their groceries from there. But more and more people are opting to order their grocery online and through mobile apps every day. There are many reasons for its popularity including time, money and energy. As a result, On Demand Grocery Delivery Apps will overtake brick-and-mortar grocery stores in about a decade or so.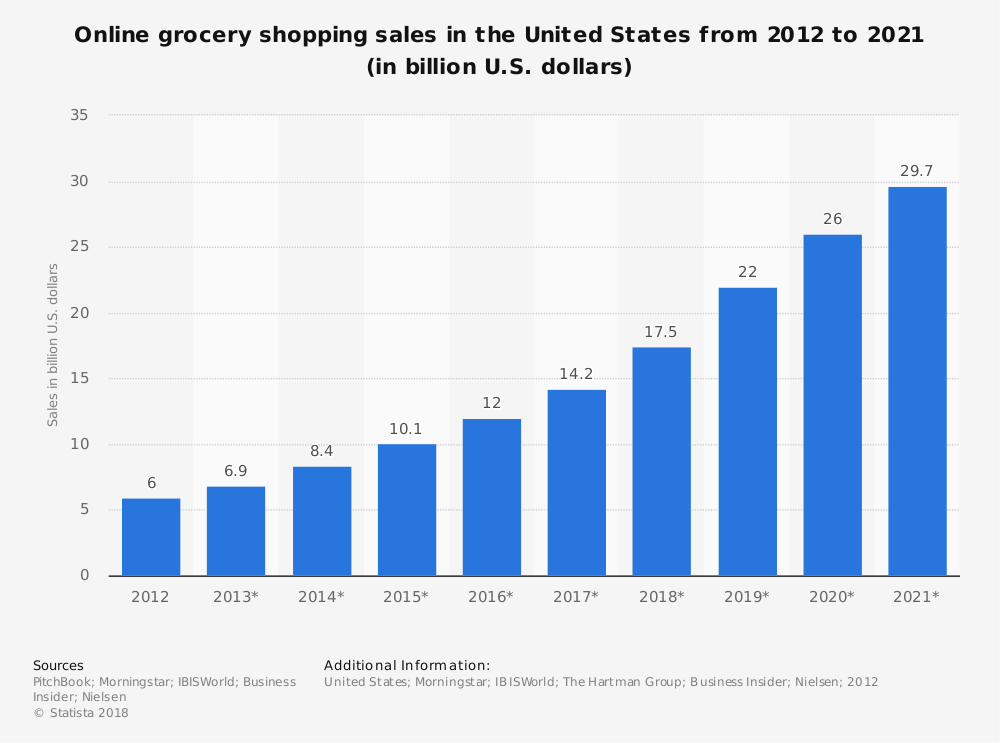 According to Statista.com, the online grocery sales of the US for the year 2012 was only US$6 billion. It nearly tripled in the year 2018 and reached US$17.5 billion. It will grow to US$30 billion by the end of 2021, according to their estimate.
Nobody can miss this digital revolution. That is the reason more than 50% of grocery retailers, 54% to be precise, have started offering mobile shopping apps to stay in the competition and profitable. Instacart, Grofers, ShipIt, FreshDirect, AmazonFresh, and Wallmart are among the leading destinations for online grocery shopping at present.
Now, when you want to know the cost to develop a grocery delivery app, you have to decide a few things, to begin with:
The Business Model

The Platform

The Mobile Apps & Their Features

Various Business Models For On Demand Grocery Delivery Apps

There are plenty of on demand grocery delivery apps in the US. They have implemented various business models. So, if you are thinking about the cost to develop a grocery delivery app, you have to be clear about the business model. Let's examine some of them.
The Amazon Model
Through Amazon Fresh and Amazon Pantry, Amazon offers a wide range of grocery products. This business model is not different from Amazon's core business. They sell products themselves and they also allow other sellers to sell on their platforms. They deliver it for a fee and charge commission on orders too.
The Instacart Model
On the other hand, Instacart has a very different business model and probably that is the key to its success too. It allows customers to choose grocery products from their trusted local stores. Then a driver would go and pick all those things from those stores and deliver them in a neat package in the specified time window. Instacart will charge for delivery accordingly. ShipIt too has more or less the same business model.
The Walmart Model
The highest revenue generator of the world, Walmart, is also into on demand grocery delivery business. Theirs is a straightforward business model. They allow customers to buy all the products from their inventory through a website and mobile apps and they deliver it. They are just bridging the offline and online worlds, that's all.
So, you have to decide which business model you want to opt for to know the cost to develop a grocery delivery app.
Then comes one of the most crucial factors for deciding the cost to develop a grocery delivery app. You have to select the platform and the multiple apps you want.
The Choice Of The Platform
There are basically three platforms for online grocery delivery business: iOS, Android and web.
If you want to target only iPhone users, you can go for a native iOS app development. That will give you the best look and performance.
Android runs more than 60% of smartphones at present so if you want to target the majority of smartphone users, you have to select the native Android app development. That will give you a huge share of the market.
If you want to offer your online grocery services on computers only, you can opt for web development.
But the best approach would be to go for cross-platform mobile app development and a website to complement it. The cross-platform mobile apps run on both the iOS and the Android so you can target all the smartphone users. When you compliment them with a website, your business will be omnipresent. You will cover all the users shopping online and it will most definitely grow your business exponentially.
The Features And Apps
Now, you have to decide which features and how many apps you want to know the cost to develop a grocery delivery app.
Let's talk about the apps you want to develop. To run a grocery delivery app you have to have at least three mobile apps:
Ordering App For Customers

Delivery App For Drivers

Admin App For Vendors, Merchants, Admins

And they should be complemented through websites too. Only these three mobile apps and a website can offer a complete package.

The Mobile Apps & Their Features
Now let's look at the essential features these three apps should have:
(1) The ordering app for customers must have the following features:
Sign In & Sign Up

Social Media Login

Profile Management

Product Browsing & Listings

Search & Filter

One Click Add to Cart

One Click Check Out

Multiple Payment Options

Popular e-Wallet Integration

Save For Later

Private & Public Wishlist

Discount Vouchers & Coupons

Delivery Tracking

Time slot selection for Delivery

Order History

Ratings & Review

Help & Customer Support

Push Notifications
(2) The delivery app for drivers must have the following features:
Delivery Requests: accept & reject

Push Notifications

Map Integration

Turn-by-turn Navigation

Real-time GPS updates

Set Availability

Delivery Time Slots

Total Weight Of Orders

Work History

Earning & Reports

Ratings & Reviews

Help & Customer Care
(3) The admin app for vendors, merchants and admins must have the following features:
User Management

Product Management

Order Management

Driver Management

Reset Passwords

Add, Edit & Remove Various Elements of Apps and Website

Payment Management

Commission Management

Campaign Management For Email, SMS, Social Media

Run Promotions & Discount Coupons
How Much Does It Cost To Develop A Grocery Delivery App?
So, our answer to your question 'How much does it cost to develop a grocery delivery app?' is 'it depends'. It depends on your business model, choice of platform, number of apps, inclusion or exclusion of web development and required features. Like any other businesses, mobile app development companies also work using different revenue models. You can hire a full stack mobile app development company to develop your mobile app, you can hire a dedicated resource or team for your project or you can subscribe to a SaaS model in which you have to pay only monthly subscription fees.

Wrapping Up
iCoderz Solutions is a full stack web-development company based in India with global footprints and clientele. We have readymade solutions for On Demand Grocery Delivery App that our dedicated developers can customize within a few days to meet your business and brand requirements. We also offer our Software as a Service with a unique pricing model to meet your unique requirements. You can also hire a mobile app developer or an entire team on flexible terms that will work exclusively on your project. Get in touch with us to have a demo, more information and quote now.
---
Popular Blogs
(1) How Much Does It Cost To Build A Food Delivery App Like UberEats, Seamless, GrubHub, Doordash, In USA?
(2) How Much Does It Cost To Develop An On Demand App Like Go-Jek?
(3) How Much Does It Cost To Develop A Mobile App?
(4) How Much Does It Cost To Develop An On Demand Doctor App Like Heal App?
(5) How Much Does It Cost To Develop On Demand Doctor App And Healthcare App?