Since being founded in 2009, our small team of techno-entrepreneurs has grown into a company that is on the verge of being one of the leaders in app development. Our persistence and innovation make our streamlined mobile development solutions highly competitive in the mobile app market. Our extensive expertise and fusion of designers, developers, engineers, and analysts have fortunately distinguished us as a Leading Mobile App Developer in India by Clutch.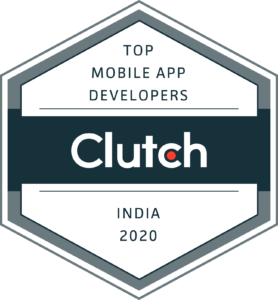 lutch is a B2B rating and reviews platform for tens of thousands of businesses. Each company features a profile that is carefully curated by Clutch analysts based on client feedback. Analysts conduct phone or online interviews with a company's clients to gather an understanding of the company's industry expertise and ability to deliver. Clients evaluate a business based on its capacity to meet deadlines, the quality of its service and deliverables, its cost value, and the likelihood to be referred to in the future. We are happy to share that Clutch's 2020 research featured us as a leading mobile app developer!
Without our clients, this distinction would not be possible. We are grateful for clients such as Feeding Hungry Minds that took the time to share their positive experiences with our mobile app and website development. The director of Feeding Hungry Minds expressed how our work highly exceeded his expectations and our accommodating nature along the way developed a good partnership.

It is an honor to maintain a perfect 5.0-star rating amongst over a dozen highly complementary client reviews. In the words of our CEO:
"This is exciting and being named a Clutch Leader is because we as a team work closely with all our customers, they found us easy to work with, we value their time, trust & faith in us for the objective we are working together."

– Ashish Sudra,

CEO, iCoderz Solutions
Are you ready to empower your business with innovation and passion? Please reach out to us, and we would love to help!