iCoderz Solutions has worked hard over the past several years to build our name as a top firm that can turn your ideas into reality. We bring creativity and help our clients build interesting mobile and web applications for brands and business from all over the globe. We focus on mobile apps, web apps, and cognitive and IOT services.
Our hard work is paying off. Clutch, a research, ratings, and reviews platform in Washington, DC, recently released a report announcing the best developers in India in 2019. iCoderz Solutions is thrilled to be featured on this list.
Clutch Lists iCoderz Solutions One Of India's Top Mobile App Development Companies
We're incredibly excited about the recognition because Clutch is a competitive platform for B2B service providers, with over thousands of companies vying for a top spot amongst their ranking of the best agencies nationwide.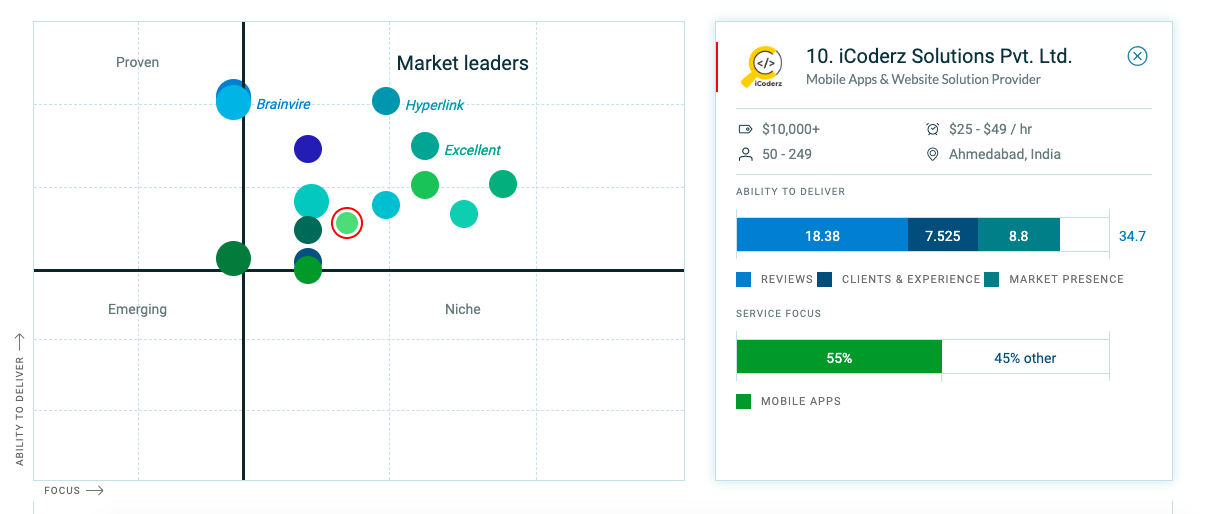 By demonstrating our expertise in proficiency as a top mobile app developer in Ahmedabad, client base, and case studies, iCoderz Solutions was evaluated highly by Clutch, whose research methodology maps service providers for their industry expertise and ability to deliver results that satisfy their clients' business need.
Clutch also helps companies build their online reputation through conducting verified client reviews. Our partners, as amazing as they are, have taken the time to speak with Clutch firsthand to share their experiences working with iCoderz Solutions. Their feedback motivates our team even more to continue pushing our creative limits and deliver out-of-the-box ideas.
iCoderz Highlighted As A Top B2B Service Provider In India – Mobile App Development
In addition to being featured in Clutch's press release, we were also highlighted on their two sister sites, The Manifest and Visual Objects. These two sites help guide users through the buyers' journey by providing user guides and portfolio items for buyers to help gain a nuanced understanding of how to select the proper service provider, respectively. On The Manifest, we were recognized as a one of the top 20 web development companies, and as one of the top developers on Visual Objects.
We'd like to thank our friends at Clutch for including iCoderz Solutions in their ongoing research of the best development firms in India and we look forward to continuing to develop our presence on their platform!
---
Our Trending Solutions: