On-Demand Food Delivery App is one of the fastest-growing app segments all over the world but it's growing nowhere as quickly as India. The second-largest country in the world, in terms of population, will naturally have more users. And the recent push in 4G has led to an exponential growth of internet users. Naturally, food delivery app users have increased many folds there. The most popular food delivery apps in India are as following:
Top Food Delivery Apps In India – iCoderz Solutions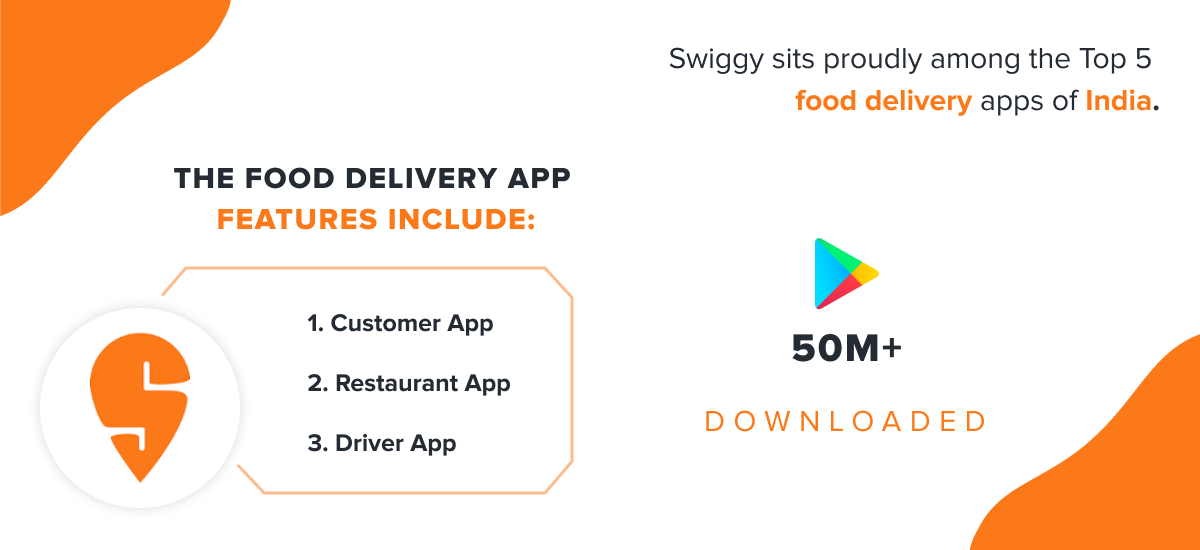 An aggregator app, Swiggy lets users order food from their local restaurants and get it delivered. This indigenous company is growing at a rapid rate.
The prominent numbers on its app store and google play store downloads show us the growth of the food delivery business. 
Swiggy launched its food delivery service in India in the year 2016. Since then, it has been a close competitor to the existing food delivery giant, Zomato. Let us talk about the important features:
Features of Swiggy food delivery app:
Customer App

Restaurant App

Driver App
For developing the Swiggy clone app, it takes around 10K to 20K USD in India or USA.
For the same, it would be great to invest in SaaS-based food delivery solutions.
It has got an active increase in downloads during the pandemic since it has launched the multi-delivery platform.
 Currently, Google play store has active 50M+ users. Isn't that exciting for a food delivery startup that is just four years old?
How Much Does It Cost To Develop A Mobile App?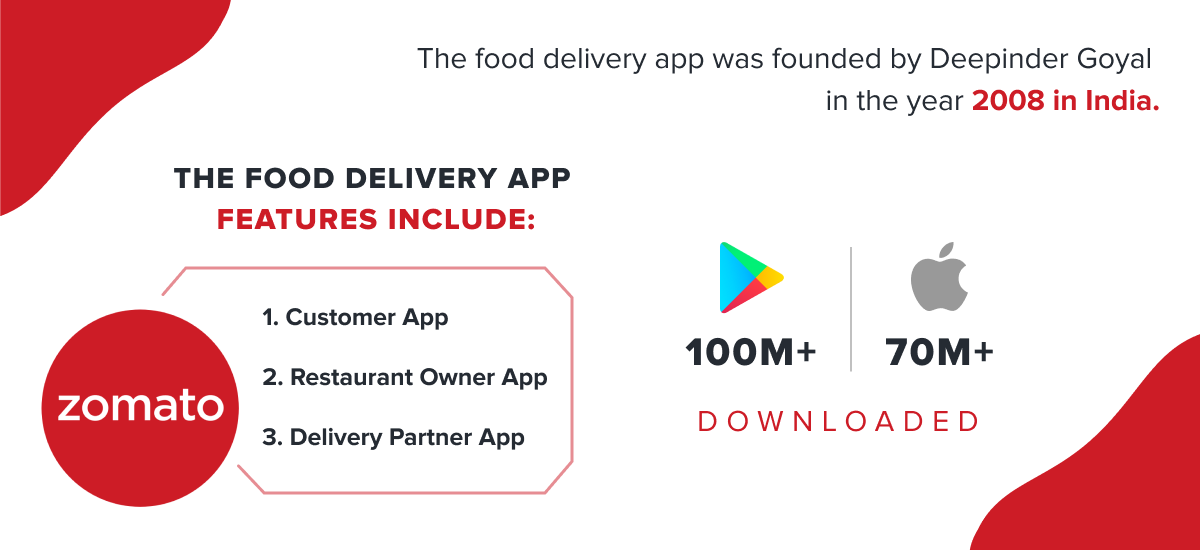 Archrival of Swiggy, Zomato is as popular as Swiggy in India, give or take.
In addition to food ordering, Zomato also provides solutions for table reservations, white-label products, and POS software.
It offers the widest choice of restaurants i.e. 25,000+ restaurants out of which approximately 9000 restaurants are exclusively available on Zomato.
The most important part is its exclusive quality of service then and now remains the same.
It has got an amazing download app user on iOS crossing the figure of 1.6 million.
Now, let's talk about the features of the Zomato Food Delivery App.
Customer App

Restaurant Owner App

Driver App
The cost of developing a Zomato clone application is somewhere around 10K USD to 20K USD in India, UK, or USA. If you wish to go for reasonable investment or capital, then you must invest in SaaS-based food delivery solutions.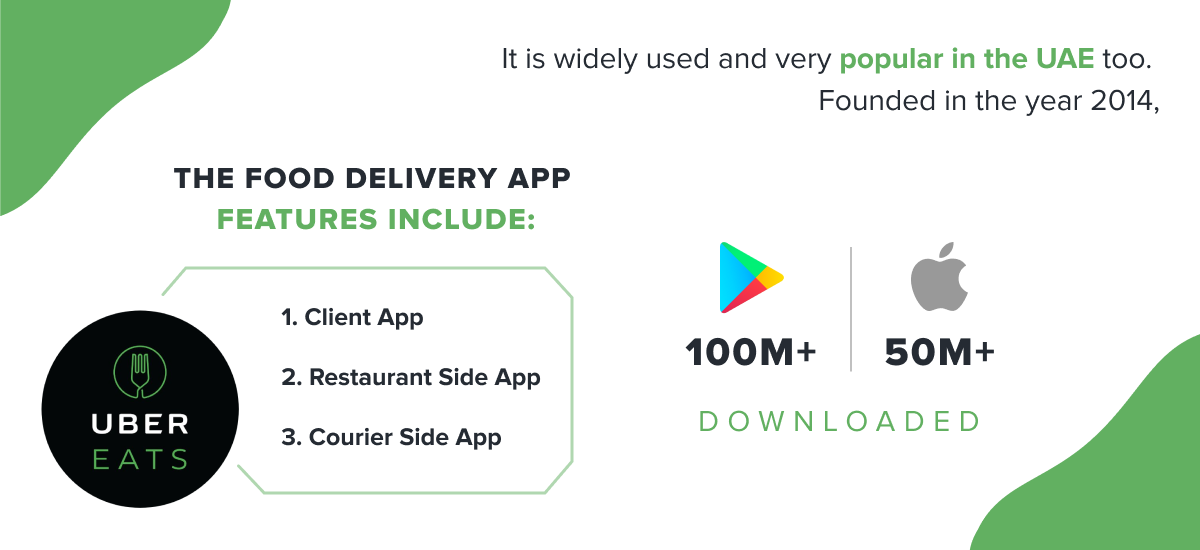 Another vertical from the giant Uber, UberEats works the same way as Swiggy.
Their monopoly in the market of on-demand taxi booking and the brand name has helped in gaining a noteworthy share of the market. Globally, it has more than 10 million downloads.
Well, to make sure that UberEats gives the best service in India, it got merged with Zomato for USD 350 billion.
Now in India, Zomato and UberEats serve as a single application. The cost of developing an UberEats clone is below 15K USD.
The features of UberEats food delivery app are
Customer App

Restaurant Provider App

Driver partner App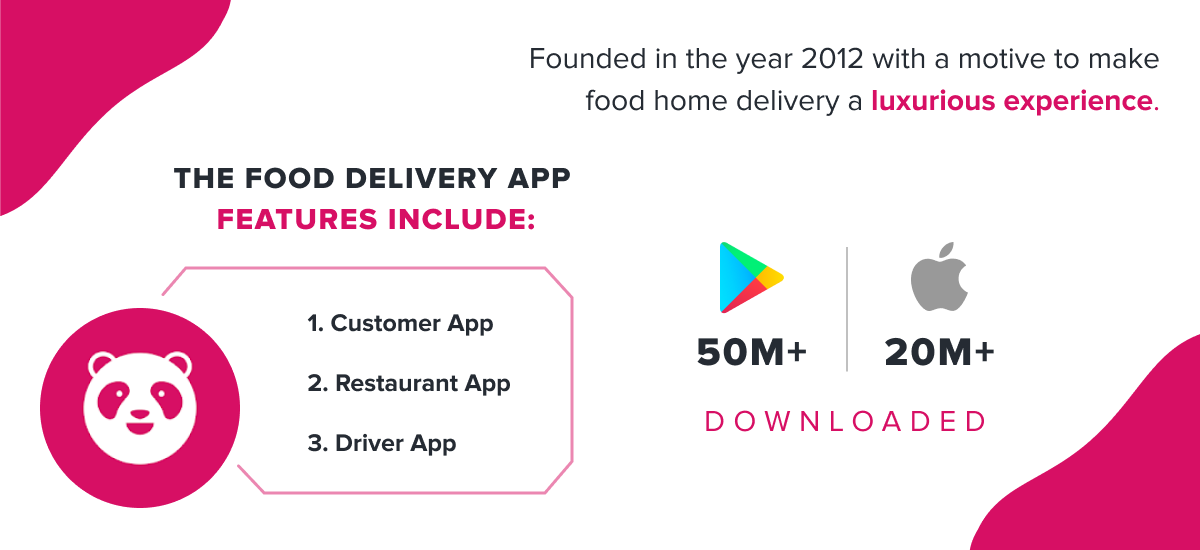 A part of German food delivery solutions provider of the same name, Foodpanda has the advantage of the early bird as it has been operating in India since 2012.
Indigenous on-demand taxi booking app Ola has acquired it and it has been downloaded over 50 million+ times by android users and 20M+ by Apple users.
Foodpanda food delivery application has greater popularity in overseas markets than India. It has its operations in more than 230+ cities across the globe. 
The features of Foodpanda food delivery app are
Customer App

Restaurant App

Driver App
Well, if you wish to develop a Foodpanda app clone in the UK or USA, it will cost you around 4K USD to 11K USD.
Best On-Demand Food Delivery Apps Development And Solutions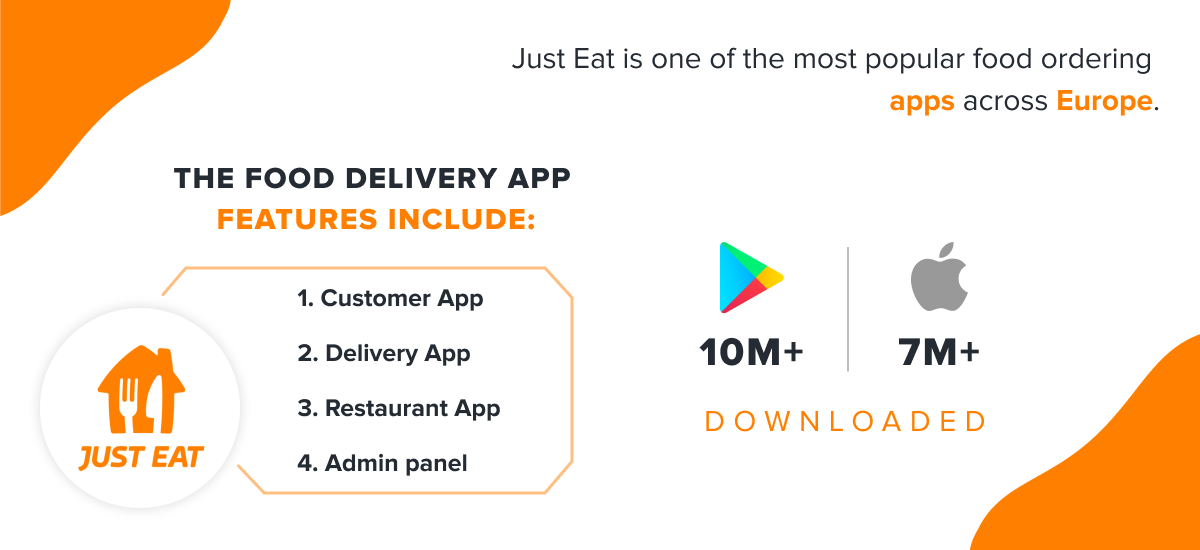 Just Eat is a digital marketplace for takeaway food delivery. It allows users to order and pay for the food of their choice from its restaurant partners.
Let us talk about the food delivery app features
Customer App

Restaurant App

Driver App

Admin panel
The cost of developing a JustEat clone app is around 15K USD to 25K USD depending upon the features that you wish to integrate along with any AI technology like a chatbot.
Now, let's talk about the active download links. Just Eat google play store downloads are approximately 10M+ and Apple store users are 7M+. That is an excellent figure!
Hire Food Delivery App Developers 
Hire food delivery app developers from iCoderz Solutions and save a lot of food delivery clone app development costs. Visit our website for inquiring more about our readymade food delivery solutions.
---
Ready-Made Food Delivery App Development Demo
Don't Miss the Following,