The business of food delivery is only getting more popular by the day, so if you are looking to start a business food delivery business in middle east countries like UAE, Qatar, Kuwait, Oman, Jordan, Saudi Arabia, and that is sure to succeed, build an app like talabat this could be your best bet.
And this is more so in the UAE where food delivery apps have been doing really well over the years. And then, we have a lot of countries in which Talabat is a favorite. 
But while this may all seem rosy, there are the initial cost to develop an App Like Talabat. And to know more about this, and how the food delivery apps now existing reached there, let's have a look at what they did. 
No, don't just look at the giants in the market. Zomato, Swiggy, and Uber Eats are all good, but lesser-known apps like Grub and Talabat also have a lot to teach you and this is what we are going to see today.
But before that, we shall first consider the food delivery scene in the region. As expected, this is an industry that is only going to keep growing by the years.
What stood at 18,000 million in 2017, and has been steadily increasing by about two million each year to reach a whopping amount of about $25,000 million this year, and we are talking US dollars
And that's not all! Here's more:
Talabat In the Middle East: A Few Statistics To Consider
We are going to look at an app that has been doing really well in the area of food delivery app development company in the Middle East, namely Talabat. Operating in over seven countries in the Middle East, this is an app that is here to give us some really interesting statistics of its success over the years.
That said, UAE contributes to traffic of about 40 percent and is only expected to increase over the years. This is closely followed by Kuwait which shows a contribution of about 30 percent. And then there's Bahrain that contributes about 10 percent.
And then, we also have a handful of other countries here that contribute towards using the app. We have Qatar, Oman and Jordan and finally even Egypt joining the list
Owned by Tomaso Rodriguez in the year 2004 in Kuwait, the app has almost completed two decades and has been doing well itself, by reaching out to various states like Saudi, Iraq, Egypt and even the smaller states like Bahrain, Oman, Qatar and Jordan.
How much does it cost to build an app like Talabat?
Would you like to create an app similar to Talaba? No, you don't have to be in a big city in the gulf to be successful. Start small and begin by operating in your own hometown, and who knows, before you know it, budding entrepreneurs will be getting their inspiration from you. 
So, to come to the point, we can say that the cost to create an app like Talabat, would fall somewhere between $15,000 to $30,000 with the kind of features and functionalities you need to work on. We hope that's not too much.
So, let's elaborate on how you can go about this. 
Arranging the Cost To Build an App Like Talabat
If all you are looking for simple food delivery app to start with, a minimum amount of $20,000 would be what you need. This could include simple and all the basic features like a login, calendar, an email subscription and so on. 
If you want our mobile app development consultation and advice, this could be something for you to begin with, making your app more advanced as you go. 
On the other hand, if you are looking for more unique with your own USP Features, something fancier, then be ready to shell out more as much. Custom UX/UI features and payment options take time and money, which means you will have developers to pay and so on. All this can come up to an amount of $40,000*. You will have a successful food delivery app like talabat for sure, but make sure you can first afford it. 
And finally, if a full-fledged and advanced app is what you need, then we hope you are rich because creating a food delivery app like talabat comes with lots of money. We are talking about an amount like $75,000* with our top app developers putting in about 700 to 1009 hours per month, which again, is not going to be easy. 
So, if you have this money in hand, all you need to do is to get started and all it takes are about 24 to 35 weeks before which you will be running your new and soon-to-be successful food delivery app like talabat in Middle east.
If this sounds like too much, we have another solution for you. What you could do is start off with developing a basic food delivery app, a project that takes lesser time and effort and which can get done within a period of 14 to 16 weeks. 
The development cost to build an app like talabat around $16,000 to 20,000 which we hope is more friendly on your wallet.
Talabat like app development – The Key Features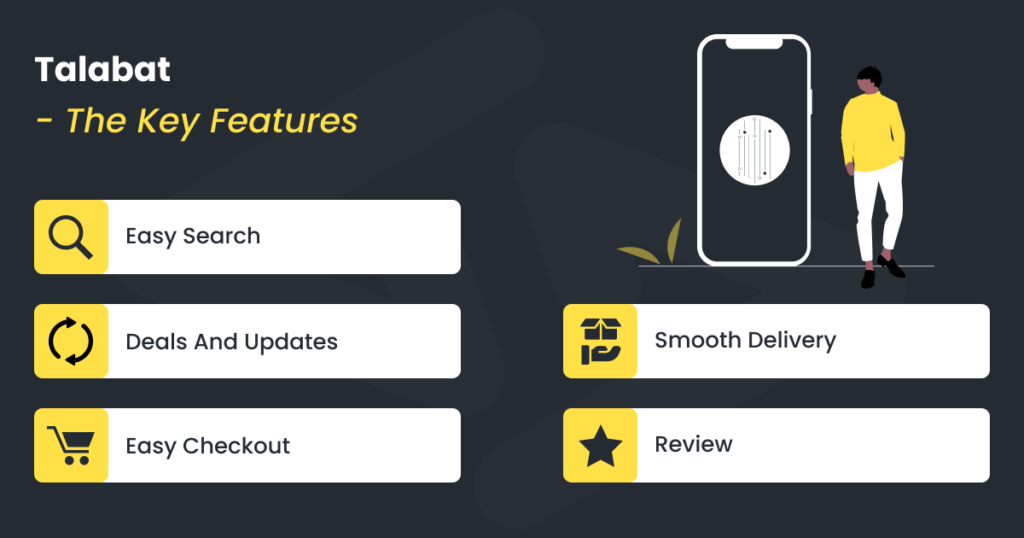 To imitate an talabat like app development, one of the most important things to do is to study key features of talabat, so before we consider the development cost of developing an app like Talabat, let us first look at some of its important key features: 
Easy Search –
One good thing you will notice about Talabat is that it provides customers with a good platform to search for nearby restaurants and getting all the right details and even being able to customize their food before placing an order.
As a customer, you get to search from different cuisines and multiple delivery addresses for a fast checkout process, after viewing the menu with rates and reviews to help you make a choice.
Deals and Updates –
Here a customer frequently receives updates on all the latest deals and discounts, especially with regard to their preferred location, even landing at some good deals in the process
Never underestimate a food app, or any app for that matter, that provides good deals for its visitors and this is why Talabat like app development is so famous in the Middle East today. So, if you want to run a successful food delivery business, here's something to consider for your business model too.
Easy Checkout –
At Talabat, a customer can pay using his debit card, credit card or by cash on delivery. With features like multiple choice of payments, various platforms of service, delivery locations, and so on, this app is sure to go a long way at a time when the pandemic is making it increasingly difficult for people to go out to get their food.
Smooth Delivery –
One of the most unique features of Talabat is the fact that it uses drones in order to locate people, which means customers are spared from having to struggle explaining where they are and can calmly wait for their food to arrive and soon, as there is less likely a chance for a delivery boy to go hunting on the streets with the package. 
Review –
So, you see, Talabat does all in its power to make life easy for a hungry customer, sitting somewhere in a busy office in the Middle East or on a hot day at home.
He can share his experience online for others to see, easily login or sign up using his email ID, and make quick orders with a 24/7 live chat to assist him.
What It Takes To Build An App Like Talabat?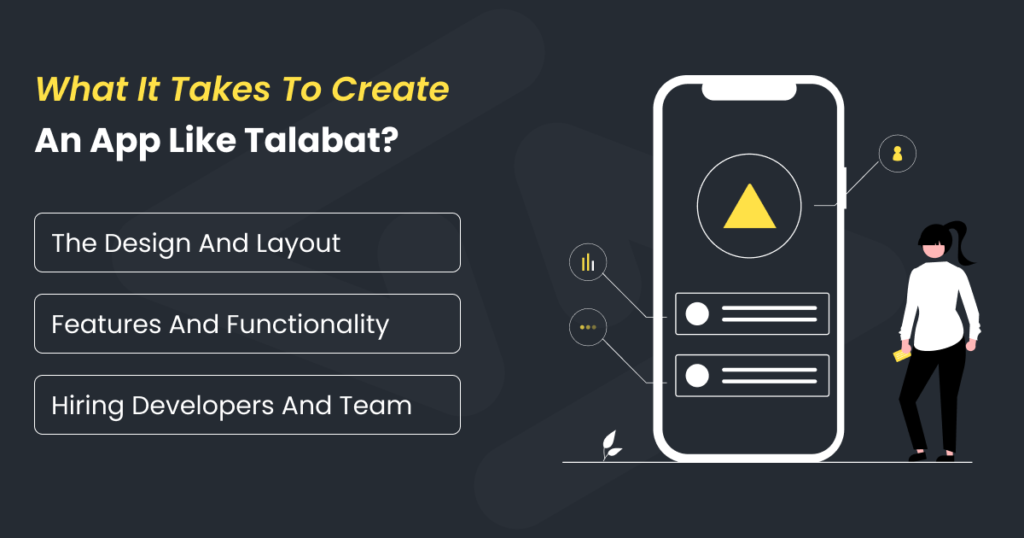 Okay, now that we saw the features, let us look at the things you need to consider to create an app like Talabat before you can get started. Here goes: 
The Design and Layout
Designing an app like talabat, and more so a food delivery app, takes time, effort and money. There is a user panel that you will have to create with the login and the homepage that includes all important features like the menu, cart, reviews, search option and so on. 
Remember the more you see on the screen, the better the experience for a user it would be. And yet at the same time, one needs to take care to prevent clutter in order to provide for a presentable screen that is pleasing to the eye.
And then there is the restaurant panel to think about, the much larger picture with its order options, online support, navigation and so on.
So, all this was about the design and this is just the start. You will have to provide a platform for viewing past orders, contact information, payment options and decide how all this is to look on your screen, and trust me, this is not as simple as drawing a school map.
Features and Functionality
Never underestimate what good features can do to your food delivery app. An beautiful food delivery app that allows a customer to smoothly track his orders and is easy to use and navigate will get a customer coming back the next time he wants some food, that is, if it is a food delivery app. 
Push notifications go a long way in making an app more user-friendly and personalization can go the extra step in making it more satisfying.
And at the end of the day, you must not fail to come up with a feature that makes your app unique.
Hiring Developers and Team
Like we said above, building an app like Talabat comes at a cost, so if you want an app as successful as Talabat, then you must be willing to hire dedicated team of developers. Find the right skill and mobile app development service that can do justice to your business needs.
A designing a successful food delivery app in UAE is one that is going to demand UI and UX designers, iOS and Android developers for hire, QA experts and not to forget, a talented and skilled project manager who knows how to direct the course of your business. 
Make sure that they come with the right amount of expertise to serve you with the kind of innovation and perfection that you need. And for all this, you, on your part, set aside some resources to provide them with the right amount of training that they need.
FAQs
Okay, now that we saw all the efforts we need and the cost to build an app like Talabat in MIddle East let us end by considering a few FAQs;
How do apps like Talabat earn profit?
A very common question among those considering a food delivery app development, so here we go. For a developing a food delivery app like Talabat, or any food delivery app for that matter, the main source of earning commissions from partner restaurants. 
So, we hope you got your answer there. Take your restaurant partners very seriously.
What makes Talabat the best in the UAE?
Aha! Now, we saw that question coming this way, didn't we? Anyway, to give you an appropriate answer, let us just say that it offers a wide variety of restaurants as well as cuisines (and don't customers look for variety?), provides timely discounts and offers, which is another favorite among customers as we all know, has 24/7 online service and finally is user friendly and easy to navigate.
Well, now these are just a few among the many reasons for a start but we hope you got a fair idea.
What is the best thing about launching a food delivery app in the UAE?
The best thing about launching an online food delivery app in the UAE is that this is a place where the industry is growing at a very fast-paced leaving a lot of room for growth and so be sure to have a lot of customers and with that, a lot of success, that is, if you are doing all that has been said above.
Be sure to make a lot of handsome profits and keep learning as you go.
What are the main features to include in an app like Talabat?
Let's begin with the user, because the customer is king, right? So, an easy login, refined search, and an easy-to-navigate homepage with all the right clicks like menu, card, tracking, and so on.
And then, for your delivery partner, push notifications, online support, GPS tracking with Google map navigation and good payment options are some essentials for a start.
And finally. Don't forget your restaurant partner.
And with that, we hope you are now all game and ready to start your new online food delivery business in the Middle East. By the way, wherein the Middle East are you? Choose a good name that goes well with the people of a region. That is one good decision that you can make for a start. 
Wishing You the Best
And at the end of the day, don't worry. The gulf is one of the best places to launch your online food delivery startup and with hard work and the right amount of effort. we are sure to see you get there.
If you don't have the right amount of money to meet the development cost of starting an app like Talabat, start small, work hard and build on it. When we come to the gulf, we hope to order shawarma or falafel from you while we are there.  
What stood at 18,000 million in 2017, and has been steadily increasing by about two million each year to reach a whopping amount of about $25,000 million this year, and we are talking US dollars

Conclusion:-
The above article would guide and provide with all the appropriate information regarding the functioning, app development, designing, investment as well as demand of online food delivery apps. By following such steps you can easily make a successful food delivery app.
Restaurants operators should comprehend the industry's increasing diversity beyond aggregators with a significant public presence before expressing their views about mobile ordering applications. As restaurants are less content with their reliance on third parties to be sold online, they would profit from looking for alternative ordering and delivery options that control them. If you are also looking for your on-demand food delivery app development, contact our business and sales team at +91 93090 90932 or [email protected].
SEE MORE:-