Cost To Build App Like Glovo
Online delivery is here to stay, with people becoming increasingly lethargic as to buying things for themselves, and this includes their own food. So, if you have been considering building an app to start your business with, on-demand delivery apps like Glovo is perhaps what you should think of.
Yes, today, one of the best ways to start a business is to create a delivery app that helps lazy, or rather busy people to get their meals and other things delivered to their desks while they carry on with their mails and other important things.
See, you keep these busy souls from slogging on a hungry stomach all day. And you make some success in the process too.
And the good news is that today, Swiggy and Zomato are not the only food delivery platforms for you to draw inspiration from.
With an increasing number of apps budding with the lockdown and all, you have platforms like GrubHub, UberEats, Glovo and so on to get your inspiration from.
Today, we are going to look at an app called Glovo and consider what is the cost to build an app like Glovo.
To start with, let us look a little more into this app and its story.
Glovo, the Humble Beginnings
This is a Spanish delivery startup begun by a youth of 27 years. Founded in Barcelona in the year 2015 with co-founder Sacha Michaud, after having quit his job in one of Europe's largest aerospace companies, Oscar is now a successful owner of a Readymead food delivery app development.
It took Oscar Pierre just five years before he saw his app reach 30 million downloads.
What did it take him to get there? In other words, what does it cost to build a successful app like Glovo?
It didn't start off very successfully. With a lot of failures, dissatisfied workers, and even bankruptcy, this, like any other startup, had its beginnings with a few disappointments, but as they say, failures are the stepping stones to progress, and so, the company soon began to climb the ladder of failure to become the app that it is today.
And there it stands today, proud and having raised an amount of €460 million, earning the title "Unicorn startup", with a value of $1 billion.
Today, Glovo has its presence in over 26 countries over the globe and operates in over 280 cities. With 20,000 partners and 50,000 drivers delivering orders over cities on bicycles and motorbikes, going to and from, from office to office and house to house, making lives easy.
Glovo – Some Interesting Features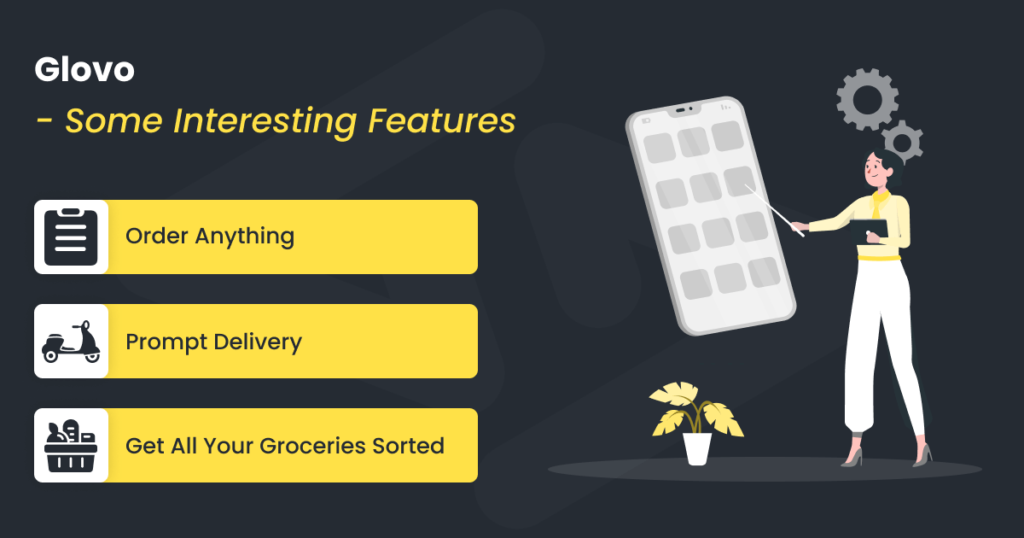 Perhaps the best part about the app is its business model, and this could be its one biggest secret behind having penetrated the International market so successfully. Let us look at this closer:
Order Anything
The tagline of the company is "order anything" and at Glovo, you can order anything, be it a meal for the day, flowers for somebody, diapers for your baby, anything. Don't hesitate.
You see, Glovo is not just an app to do with shopping but delivery, and by this we mean almost anything, even your glasses that you left at home. Left something behind today? Go to Glovo!
Prompt Delivery
Here, your order gets delivered in a matter of 20 minutes, that is, if you are within the city.
Enter your pickup location, your destination, and then wait for a glover to soon come to you, with whatever it is that you left at home.
Get All Your Groceries Sorted
The next thing we need to learn from Glovo is its dedication to taking groceries very seriously. Homes need groceries and sometimes very urgently. It is not rare when you suddenly realized that you are running out of things in your fridge and urgently need groceries
And Glovo delivers it to all doorsteps, and without inconvenience, trying to get things at the earliest, with a 24/7 service so that homes and offices can order just anytime.
So, in all, these are the three things we have to learn from Glovo in order to make the most of the app we create considering the high cost to build an app like Glovo.
Cost To Build An App Like Glovo
Okay, now all that said, we know that we have sparked your interest. So, if you are thinking of starting a business modeled on the lines of Glovo, one of the first things on your mind is obviously the cost to build an app like Glovo, so let us jump right into it.
To begin with, there are many things that contribute to the cost of creating an app like Glovo. The cost of your app mainly depends on your priorities and other app requirements and so may differ from person to person.
First of all, there is the platform that you need to decide on. Then, there are the features and functionality to think of. And then, there is the team and its size that you need to work out. All these contribute to creating the cost of building up an app like Glovo.
So, while there is no accurate number that we can come up with when it comes to estimating the cost of an app like Glovo, let us look at a few factors that you are more likely to come up with.
Features and Functionality
More features make your app more user-friendly but then, of course, there is a cost you have to pay for that.
Things like log in or a sign-in process, details on the location, menu, delivery details, payment options are all some important things customers look for in an app and hence become important features adding to the cost of any delivery app.
One good way is to start small with a few features and functions that work well with the app and keep building on it as you go.
The Team
And then, let's not forget that building an app is quite working to do, work which you are not going to be doing all alone.
And here comes the next most important thing for the app: the team. There is an idea that needs to be brainstormed and planned, a design to work on, costing, testing, launching and the work can go on.
And for all this, you will need to hire developers. You could do this in three ways ie. You can hire a team of your own, which can be very convenient. Or you could get freelancers to work for you.
The third option would be to outsource your work to an existing team that could work on building your app for you.
No matter which one you go for, all of them are going to cost you a fair amount according to how many hours you would like your team to work for you.
Developing an app takes skill and experience, and a good set of hands are very important in making your business a successful one for you.
Frequently Asked Questions
Alright, so before we wind up, let us look at some of the most commonly asked questions by those looking for build an app like Glovo:
What are some of the challenges to building an app like Glovo?
So, we are guessing you want to know what else apart from the cost to build an app like Glovo. One of the main things to be mindful of is the app functionalities. Remember that a good app is one that keeps on working on updating its features.
So, if you want to enjoy the attention of loyal customers out there and keep the numbers increasing, this is something you need to pay attention to in the app. This is one of the most important parts of maintaining an app.
How Does Glovo Make Money?
It is a fact that food delivery is here to stay, and the company derives three-quarters of its revenue from delivering meals
And then, Glovo charges commission from the stores that it mainly partners with. This makes up for about 75 percent of its commission, which comes from stores, restaurants, and so on, all of which become the primary stream of revenue for the business.
Finally, there is the delivery cost. This depends on the distance to be covered from your location to your destination. So, customers ordering from far away would obviously be willing to pay you a higher delivery cost.
Also read:- How to build an on-demand Food delivery app like Talabat
Where do I start if I want to build an app like Glovo?
Perhaps one strategy that we can use to start an app like Glovo is to offer your services in places where competition is less. This way you can be sure of making success.
Glovo operates in regions like Morocco, Latin America, Serbia, Ukraine, Georgia, and so on. Not really countries that you would hear much of, would you?
So, there you are. That's one strategy for you to borrow from Glovo.
And finally, another good strategy with Glovo is the fact that it partners with local vendors, which means it gives them an opportunity to offer some affordable service that is fast and easy too. And they get some good commission in return.
It enhances local vendors' chances of winning some more customers who are loyal to their service
To Sum Up
In the end, let us remember that the cost of developing an app can differ from region to region, so keep in mind the region you would want to start your business in.
For instance, you wouldn't be paying the same amount in a developing country that you would be paying for developing an app in the US. In other words, you would need about $300 for an hour to build an app in a country like the US.
But then, you would obviously be paying much less than this if you choose another place or state. You would probably need an amount of $20 to $20 to pay for each hour.
Overall let us just say that the cost to develop an app like Glovo would range somewhere between $30,000 to $40,000, so if you are looking to create an app, be ready to have this amount in your hand.
Restaurants operators should comprehend the industry's increasing diversity beyond aggregators with a significant public presence before expressing their views about mobile ordering applications. As restaurants are less content with their reliance on third parties to be sold online, they would profit from looking for alternative ordering and delivery options that control them. If you are also looking for your on-demand food delivery app development, contact our business and sales team at +91 93090 90932 or [email protected].
SEE MORE:-