Grocery delivery apps are making great business these days, especially now as the recent pandemic has made people used to being at home. So, one of the best ways to take advantage of the situation is to create an app like Instacart of your own.
How do I develop an app like Instacart? How much does it cost to build an app like Instacart? What technology should I use? These are probably some of the questions that are in your mind right now as you consider your new Instacart app development.
So here is an article that addresses all the things you need to know to build an app like Instacart that you are soon going to be proud of.
Let's begin by considering the amount of money you will need:
Now, the amount of money that you need to develop an app like Instacart depends on several factors, some of them being the platforms that you want to choose, the kinds of testing that you want to do and finally even the designs of your app.
You may also want to invest in a few extra features and designs to make your app unique. Are you looking for a highly interactive interface? Are you considering having built-in user analytics? Will you be using hardware features like GPS navigation, motion-coprocessor, NFC technology, and other such technology stack?
So, there are multiple factors to think of after which you can arrive at a rough future of total cost of your app.
You may also have to consider paying for a team if you plan to outsource the development of your app.
This may include Android and IOS Developers, a couple of specialists, a backend developer or two, and finally and most importantly, a good project manager that you can trust with your new app too.
On the other hand, if you want to build an app like Instacart individually, you would probably want to hire freelancers to do the work for you. This would probably vary depending on the size of your team, how much you are willing to pay for the team and so on. The hours of work is another factor that you may want to keep in mind when it comes to hiring a team.
So, How Much Does It Cost To Build a Grocery Delivery App Like Instacart?
All that being said, we can roughly say that creating an app like Instacart would require approximately of $62000 in your wallet. This can rise based on the number of additional features and developments you want to use.
Let's put it this way. You're going to need $2000 for the technical documentation part alone. And then, you're going to need another $4000 for testing and then another $3000 for the designing.
And then, once done, you will be spending about $2000 or more for the front and back end. So we hope this explains it all?
And this can only increase as you build on better features to improve the look and feel of the app. And then, again, there is the kind of app development company that you choose to work with.
Of course, the cost to create an app in a way also depends on the world one is. So, perhaps for someone in Asia, it would cost less than an app that gets developed in a country in Europe or America.
What Technology Does Instacart Use?
Let's face it! On-demand grocery delivery app development is the need of the hour today. It makes people's lives easy in a lot of ways. However, their success mainly depends on a lot of factors, after all, you are trying to build an app like Instacart
Easy navigation, options for customization, user experience, and space for review and feedback are just some of the many things you have to keep in mind.
While all this may be overwhelming at first, one way to do it (and we are sure that most of you are already doing it) is by learning from existing brands that have done well in the field of Instacart-like app development
And we also know the one name that has already come into most minds.
What is Instacart built with? How does a grocery delivery app work? And how do I create an app like Instacart?
Let us look at each of these things by having a closer look at one of the most successful Instacart-like app development systems we know
To begin with, Instacart is a platform headquartered in California and founded in the year 2012 by the two founders namely Apoorva Mehta and Max Mullen. It was only a matter of time before the company received 2,00,000 shoppers, with over 30,000 worldwide stores and more than 500 million products listed.
In addition to that, its services are available to about 80 percent of households over the world.
And this is not all. Instacart has, over the years, given rise to a lot of budding entrepreneurs in America as well as other different parts of the world that are also coming up with Instacart-like app development to help the world at large.
How did they do it all?
Well, for starters, this is a company that mainly adopts a technology-driven business model that has gone a long way in satisfying its customers by way of speed as well as performance.
Now, a lot of tech guys working to develop an app like Instacart would be researching to know what technology this app uses. And I'm guessing that is how you landed on this page, so here I am to answer you.
Uber-For-X is a model that is becoming a favorite of an increasing number of businesses from taxi services to food and grocery delivery services like Instacart.
How Do I Start An Instacart Business?
All that said, let us now look at how we can start an Instacart business of our own and how does this app works? This is something we are going to see in the next few lines.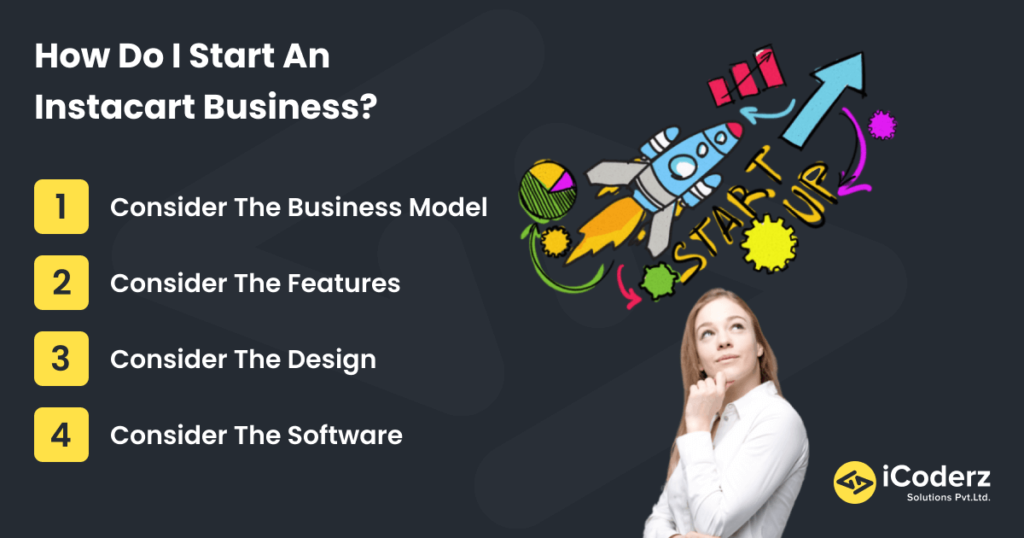 1. Consider the Business Model
One of the first steps to creating an app like Instacart is to choose a business model, be it a single store or an entire grocery chain that you want to include in the plan.
Some other things you need to think about here is the type of revenue model you want, ways to work on commission charges and finally the service charges of your business.
2. Consider the Features
Okay, now once you have decided on the model, the next thing we need to think about is the kind of features to include in your business app.
Remember that you need to do all you can to make using the app easy and pleasant for your customers.
Consider the kind of browsing options you want to introduce, the way your cart, shopping list and search box is going to look, and how easily your customers can track and make orders.
These are little things that go a way in creating a massive impact on the look and feel of your grocery app, drawing customers to or away from it.
3 Consider the Design
Okay, now that you have taken a look at the features, let's consider the next most important thing when it comes to starting any app: the design!
This is what is going to decide how unique your app is and what sets it apart from other Insta-Cart like apps out there.
So, don't forget to take some time out to decide and build on this.
4. Consider the Software
Finally, you need to think about the programming language you want to use for your new app, and various other features like the GAP navigation and the online payment gateway.
Remember that building an app can be a lot of work at first, but once you are done, you can begin running your business in a smooth way.
However, don't forget that a good app is one that involves timely updates and improvements as you find ways to make the lives of your users easier by the day, and in turn, increase your loyal customers by the day.
Instacart Clone Vs Custom Instacart Like App Development
It is a fact that grocery delivery app development is here to say, what with the development of smartphones and app services today. So, don't worry about the cost. As long as you invest wisely and take the right steps, you too are going to make some huge success.
So, now, one of the first questions popping into your mind would be, "how do I develop an app[ like Instacart", right?
You are probably thinking about getting started and wondering whether you should build your app on the same
You are probably looking for a ready-made solution with which you build your app and start running your business.
In such a case, the Instacart Clone is here for you. An app solution for budding entrepreneurs, it helps you with all the right features and technology needed to quickly build your app nad start delivering your grocery to nearby customers.
This method is cost-effective and helps you save time as you develop your app too.
FAQs
Okay, we have looked at quite a lot till now, but before we end, let us consider a few of the common questions people have with regard to starting a grocery delivery app.
Are there any other successful grocery delivery apps apart from Instacart?
Yes, while Instakart is one of the first names that comes to mind when you say grocery delivery app, there are also a couple of other Instakart-like apps that are doing well today like Peapod, Fresh Direct and Whole Foods to name a few.
How do I generate revenue from my grocery delivery app?……
Let's see how Instakart does it. For one, customers are made to pay a delivery fee. And then, they also receive a commission from sellers that they partner with. And then, there are also markup prices, all of which come together to provide revenue to a grocery delivery app like Instacart.
Can a grocery delivery app make money in this pandemic?
Well, to be honest, grocery delivery apps can make a lot of money in the pandemic with a lot of people choosing not to go out and make a visit to stores and supermarkets. Of course, there are precautions to take here, like masks for delivery partners and all others in the business and the use of sanitizers, but apart from this, the pandemic is in no way an obstacle to the grocery delivery business.
How can I expand my grocery delivery app business?
One of the first steps is to study the market conditions at all times. Keep an eye out on the changing conditions and learn as you go. You may not be successful at first. There will be lessons you are going to learn along the way which are the steps you will climb till you will one day find yourself running a successful grocery delivery business.


grocery operators should comprehend the industry's increasing diversity beyond aggregators with a significant public presence before expressing their views about mobile ordering applications. As restaurants are less content with their reliance on third parties to be sold online, they would profit from looking for alternative ordering and delivery options that control them. If you are also looking for your on-demand grocery delivery app development, contact our business and sales team at +91 93090 90932 or [email protected].
Create An App Like Instacart Today
So, if you are looking at Instacart and wondering how they did it all, don't worry. Believe in yourself and learn all that you can. Start today and take a step forward as you make an effort each day, growing from one day to the next. And before you know it, budding companies that were once learning from Instacart will soon start to observe and learn from you too.
SEE MORE:-