Food is a basic need of human beings. We all buy groceries in our daily life to meet food requirements. In today's fast-growing world, we all are busy making a living. That is why we all prefer buying things online these days.
The grocery Delivery app is one of those on-demand trending apps which is often used to order groceries online. The top grocery Delivery app saves your time by bringing your groceries to your home only. 
Why to Develop a Grocery Delivery App
Going grocery shopping is a physically demanding activity. So, today, consumers opt for grocery store delivery apps. Using one of these applications, consumers may complete their work without compromising quality or leaving the home. 
Registering and installing the best grocery apps lets people get started using these on demand grocery delivery services. Want to learn top-notch Features that define the world's best grocery delivery app? Read this. 
As a startup or enterprise company, you can develop a grocery delivery app for your users. In 2023, these are the best apps for grocery delivery to your door.
The Top 10 Instant Grocery Delivery Apps are:
1. Big Basket: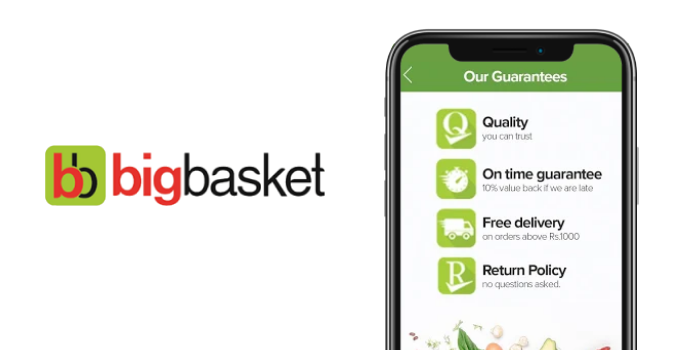 Big Basket is one Top online grocery delivery services app in India. It contains over 18,000 products of over 100 brands. You can find anything related to your groceries in this app. Everything is available with one click. You can compare brands of the same category brands on the app only.
It is the easiest way of buying online groceries without any hassle. You don't have to go to the supermarkets and stand in queue for payments. 
Mr. V S Sudhakar, Mr. Hari Menon, Mr. Vipul Parekh, Mr. Abhinay Choudhari, and Mr. V S Ramesh launched Bigbasket.com in 2011.
The company relies on its success in three pillars.
One-day delivery in BigBasket.

99.3% on-time delivery and 99.5% order filling rate.

No-questions customer return policy.
It also has High customer loyalty and excellent customer feedback. 
Moreover, if BigBasket Grocery Delivery App cannot deliver on the promise made to you, they will compensate you. BigBasket has unveiled chopped fruits and vegetables and provides recipe mixes.
It has recently launched a baked bakery in Bangalore. BigBasket will make consumers more likely to take groceries on the go. Hinge reduces time order "in 5 minutes". 
BigBasket earned the maximum sales during the lockdown period. The Covid-19 pandemic proved lucky for the business as it recorded the highest sales since its launch. The best feature introduced by them was 'contactless delivery' where the delivery guys would leave the groceries outside the door, informing you about the delivery via phone call or doorbell. The company avoided cash transactions to make sure there is no room for infection spread.
2. Blinkit:

Blinkit allows you to take a virtual grocery trip to your area and send you right to the door. You can buy their flowers, bakery products, home care items, and electronics.
The products are available from a variety of stores and will deliver them at the same time. Now you can order from a store within six kilometers of your location radius.
Pet care products, cosmetics, fresh vegetables, and baby care products are also available. They will deliver these items from local stores within 80 minutes of order time. 
This app provides convenience to busy moms, family members, and elderly members. Blinkit is an attractive app categorized into different segments. It makes grocery shopping seamless in the app.
They deliver goods in eco-friendly bags or cardboard boxes. If your product is not available in the store, you may notice that growers may replace it with another brand.
Blinkit offers excellent promotions and coupon discounts. You can download Blinkit on Android or iOS. 
Blinkit got great response in India during the Covid-19 pandemic. It enhanced its sales margin and also helped the customers with seamless delivery during emergencies.
3. Dunzo:
Dunzo is another grocery delivery app that arrives at your home in 45 minutes. Grocery Dunzo distributes not only fruits and vegetables but also beauty products. You can enjoy grocery delivery to your home within a given period.
They also deliver a single item from your favourite local grocery stores near and around you. They are currently based in Bangalore, Mumbai, Delhi, Gurgaon, Noida, Hyderabad, Pune, Chennai, and Jaipur. it is the top Delivery services app in India.
4. Zepto

Zepto, a relative newcomer to the grocery delivery apps market, has quickly established itself as the market leader by making speed and dependability its top priorities. The company's guarantee of lightning-fast delivery exemplifies its dedication to providing exceptional services. 
Those in a bind who need to stock up on necessities for the house hastily benefit from this service. Customers may have minimal issues finding what they need from Zepto's limited offerings. You can bet on a simplified design that makes finding and purchasing what you need a breeze. Learn how to start a 10-minute grocery delivery business like Zepto.
5. Instacart

Due in large part to its extensive network of store partners, Instacart has quickly become the top grocery app in India. Learn about Crafting Grocery Delivery apps like Instacart in this article. 
When compared to its competitors, Instacart stands out due to its convenient same-day delivery option. Customers in a pinch will appreciate this time-saving feature. To ensure the highest benchmarks of superior quality and freshness, Instacart has human shoppers who choose items from the store of the customer's choice. 
The user's supplies and the app's recipe recommendations might facilitate dinner preparation. Do you want to know How Much It Cost To Craft a Grocery Delivery Application Like Instacart? Read this. 
6. Walmart 

Walmart is the best grocery app that you have likely heard of. Walmart's massive retail network offers a wide range of grocery products at competitive prices. One of its key selling points is the choice of in-store pickup or direct home delivery. 
Walmart Grocery has a user-friendly UI, with features like recommended products based on a customer's prior purchase and preferences. Buyers on a constricted budget gain from the reduced pricing of this popular grocery app.
7. Shipt

For anyone interested in learning more, Shipt is a web-based top grocery delivery app that connects consumers with merchants to facilitate the online purchase and delivery of food. It distinguishes itself from rivals as it often delivers orders on the day they are placed.
The personal shopper that Shipt assigns to each client allows the company to meet their specific requirements. The app might have a premium membership tier that gives the user benefits like free shipping. Shipt is the best grocery store delivery service because it is reliable and fast.
8. Hungryroot

Hungryroot is the best grocery shopping app because of its fresh, healthy, and custom-made meals. These meals are excellent for those trying to improve their health or maintain a specific diet. The app may be helpful for folks who need convenient meal alternatives since it offers individualized meal plans and kits appropriate for various diets. 
Compared to other grocery delivery services, Hungryroot stands out because of its dedication to its clients' health. Offering suggestions for meal preparation and cooking methods assists shoppers in getting the most out of their grocery budgets.
9. FreshDirect

To be clear, FreshDirect is a reliable grocery delivery service known for consistently delivering high-quality food items to customers' doors. It primarily deals with consumers in its immediate vicinity and collaborates with businesses in the same area.
The program might prefer newly collected food items like fruit, meat, and other items to ensure quality. FreshDirect's potential meal kit service would greatly facilitate healthy eating for children of working parents. Customers who care about healthy, freshly cooked meals will appreciate the service's priorities.
10. Amazon Fresh

Amazon Fresh is an Amazon division specializing in grocery and household goods delivery. It is compatible with anything else sold on Amazon. You may shop for millions of items, including Amazon-branded products, from the convenience of your mobile device.
Swift and free shipping with Amazon is just two of the many convenient delivery options that this most popular grocery delivery app offers. The biggest strength of the Amazon ecosystem is the simplicity with which one may get a wide variety of products without leaving the ecosystem.
How Much Does it Cost to Build a Grocery Delivery App?
The cost of developing a custom grocery delivery app depends on many factors and steps of the Mobile App Development Process. It is advisable to begin by writing down your business needs, evaluating different features and functionalities, and calculating the cost of design, tech stack, and other factors. Also, you must partner with a Top Grocery Delivery App Development Company to get the desired results.
The Factors Include:
Technology Stack

App Development Platform

UI/UX Design Cost

App Features & Complexity

Deployment

Third-Party Integrations

QA & Testing

Size & Location of the Development Team
The cost of hiring a development team varies from one country to another. Developers charge on an hourly basis, and the rate is different in the US, Asia, Europe, and other countries. 
India: $10 to $40 per hour

Eastern Europe: $30 to $100 per hour

U.S: $70 to $150 per hour
Developing a simple grocery delivery app will take around 600-900 hours. At the same time, a mid-level app with advanced features will take around 1600 hours or more to build. 
The on-demand grocery app combines four apps- the customer app, the delivery app, the store app, and the admin panel. The app offers real-time tracking, push notifications, rate and review, etc. The time required to build an online grocery shopping app may range to 2000 hours. 
The time and cost also depend on the app development platform. However, the cost is almost the same for both iOS App and Android App. The choice of platform depends on the business objectives and target audience. 
Some may build the app on only Android or iOS. However, if the aim is to reach a wide range of users, building the app on both platforms is ideal. The Mobile App Development Cost will add up to developing a separate app for iOS and Android. However, cross-platform app development can help save costs. 
ALSO READ: How Much Does it Cost to Build a Web Application?
Grocery Delivery App Development in India costs about USD 15 to USD 35 per hour for Android app development and iOS app development.
Detailed Time Estimation to Build a Grocery Delivery App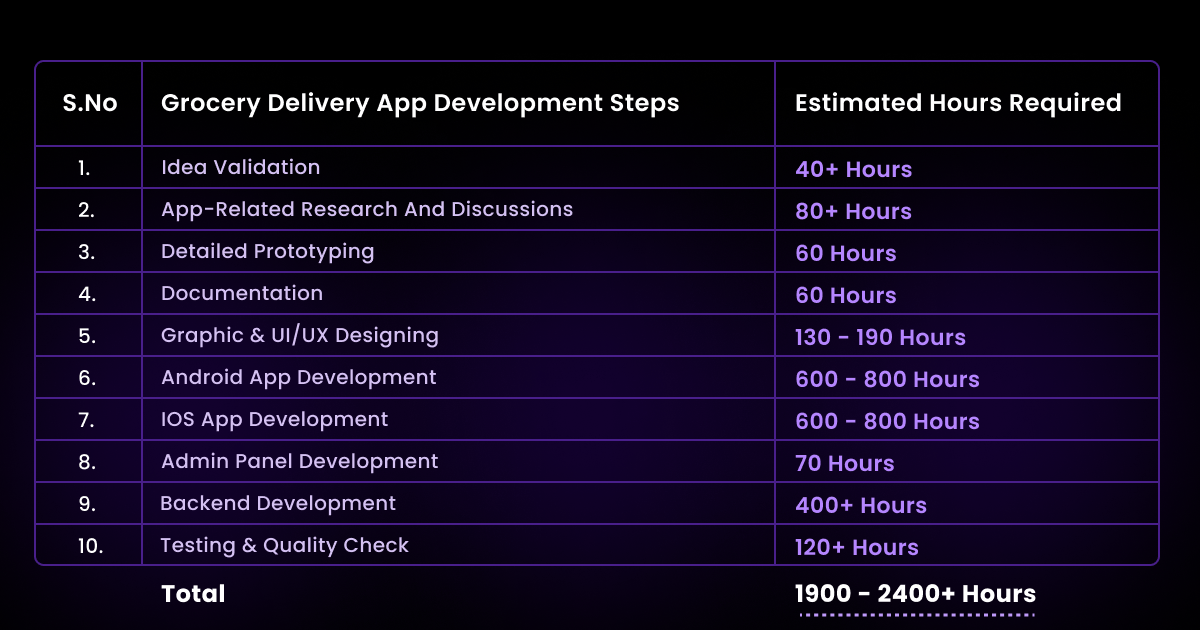 Why are Grocery Delivery Apps Popular in India?
Grocery delivery apps make it easy and convenient for users to order groceries. They can browse from thousands of products available and choose whatever they want to order.
They can avoid crowded grocery stores and even leave the house for daily groceries. Secondly, they can order any time of the day and get the groceries within minutes. 
Majorly the convenience of ordering from homes with quick deliveries and secure payments are the reasons behind the huge popularity of Top Instant Grocery Delivery Apps in India.
Easy Bulk Buy
With online grocery delivery apps, users can purchase groceries in bulk. Also, they don't have to bother about navigating the heavy groceries to home as the app delivers to their doorsteps. The best part is users can enjoy special offers and discounts on bulk purchases.
Save Costs
When you can order your groceries from home, you can avoid putting costs on fuel for your car and parking charges. In addition, you can also avoid traffic and crowds in the supermarket.
Browse on Your Time
The online grocery shopping app is available for you anytime. Whether it's 6 in the morning or two at midnight, you can browse and shop for your groceries at the convenience of your home. Also, you can avoid visiting the store and save hours. 
We often forget to purchase some items from the shopping list. The benefit of the online grocery delivery app is that users can buy that item anytime. Thus, they don't have to return to the supermarket like in traditional purchases.
If you are looking for customised Grocery Delivery apps to compete with jiomart, amazon and bigbasket you can choose a Grocery Delivery App Development Company. Refer to this blog for knowing about the best 10 grocery delivery apps in India.
Conclusion
So, this was our list of top Indian Grocery delivery apps in 2023. The list covers the top-ranking and popular grocery delivery apps in India. On-demand Instant Grocery Delivery Apps are gaining huge popularity because of their convenience and various benefits. 
As a grocery business owner, if you want to expand your business, the ideal choice is to build an grocery delivery app. iCoderz Solutions offers custom grocery delivery app development services for single grocery stores and chains.
You can Hire Our Dedicated Developers from India with iCoderz at competitive rates. Build a grocery delivery app like BigBasket and Blinkit with features and designs fully customized and tailored for your business. We offer flexible hiring models with transparent and budget-friendly costs. Call us now  +919309090932 to book a free consultation or get a quote.