Instacart-like grocery apps are high in demand nowadays because most of the brick and mortar grocery stores have opted to have one for their business. Why are they all convinced that grocery delivery apps like Instacart, Shipt, Peapod or FreshDirect are a necessity for their business?
Well, they must have noticed something somewhere. Probably, their regular customers have prompted them repeatedly to have one. There are also high chances that some of their customers have moved to online grocery apps which resulted in reduced revenues. Or, they may have read some devastating stats about Instacart-like grocery apps which made them go in that direction.
The Statistics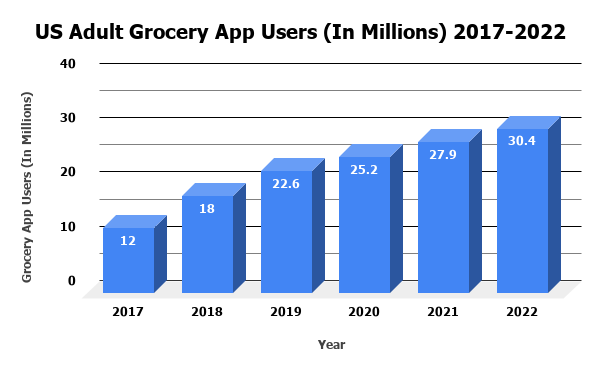 eMarketer has gathered a lot of data for Instacart-like grocery apps. According to them,
Instacart-like grocery apps are one of the fastest growing mobile app categories in the US.

According to them, in 2017, 12 million US adult smartphone users used at least one of the Instacart-like grocery apps at least once a month.
In 2018, approximately 18 million US adult smartphone users did the same. That is 50% more than the previous year.
They estimate that in 2019, over 22.6 million from the same user group will have used such an app.
The number of US adults using Instacart-like grocery apps will cross 30 million by the end of 2022.
Challenges Of Instacart-Like Grocery Apps
Shoppers have become gradually used to such grocery apps, according to eMarketer. The only thing that worries them while ordering grocery, food and other perishable items is the delivery time. But grocery business owners have adopted various models to overcome this hurdle. Some of them have employed local drivers in the fashion of Instacart, while the others offer a click-and-collect facility that saves a lot of time of their customers.
The other thing that online grocery app users want is the personal touch, as in hand-select produce for their shopping needs. To meet this challenge, grocery business owners are using various tactics. They train their staff more and offer all the possible options in their Instacart-like grocery apps with crystal clear photos and descriptions. These things help users select the best product they want. As a result, 1 in 5 US adult using smartphone now orders grocery online.
Reasons For Popularity Among Users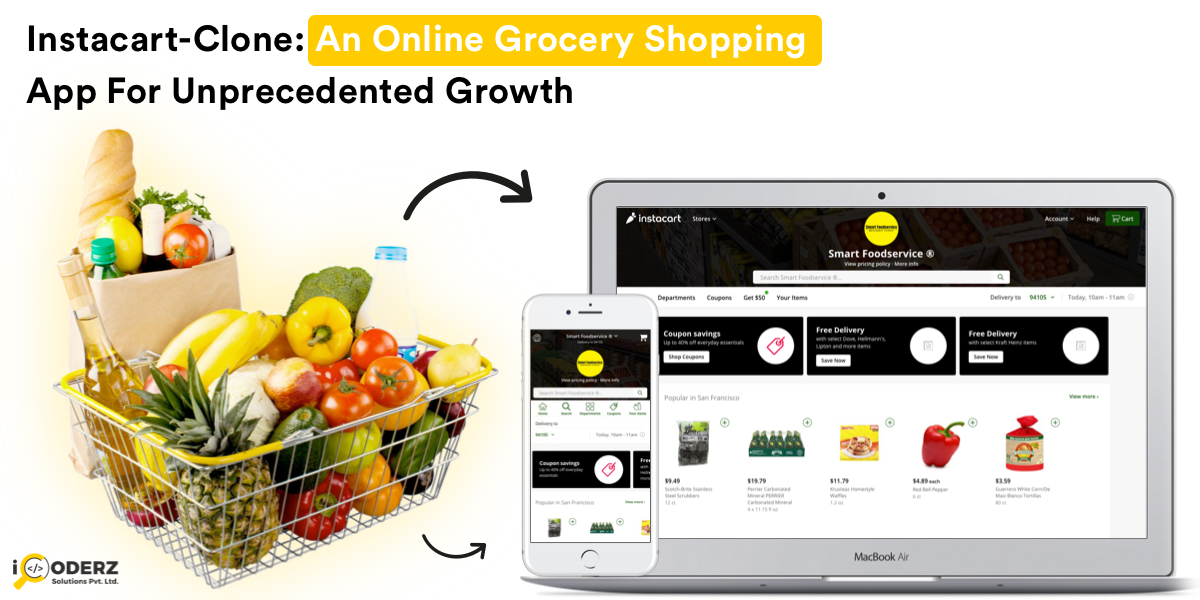 Instacart-Like Grocery Apps are gaining a lot of popularity among users because of many reasons.
Users can order all of their groceries from the convenience of their home and the time they prefer. They don't need to go, pick, pay and haul the grocery back to their home. All they need to do is a few clicks. Their grocery is delivered right at their doorsteps. It saves a lot of traveling and checkout time.

These apps also save gas money and the energy of hauling the heavy grocery back and forth.

They can also take advantage of various offers, promotions, discount vouchers, promo codes, and loyalty points and save additional money too.

Shopping for others is also very easy for users when they use Instacart-like grocery apps.

These mobile apps also save you from impulsive buying and you can keep an on the total amount of your cart too.
Reasons For Popularity Among Owners
Grocery business owners can offer heavy discounts, run promotional offers and freely distribute loyalty points. They can do so because Instacart-like grocery apps can reduce the overhead of their business a lot. After one-time grocery app development and web development, they can reduce their employees in the department of CRM, accounts, inventory management, and analytics department because the app can replace them easily.
Customer relationship management is mostly dependent on an updated database. With the help of the grocery app, the CRM database is created and updated without any extra efforts. The same is true for inventory, account, and analytics. They also need various data sets which the grocery app keeps generating instantaneously. As a result, the owner can accomplish all these things himself or hire a dedicated resource, to work as an all-in-one handyman.
Online Grocery App: The Driving Features Of Popular Mobile Apps
Features of Instacart-Like Grocery Apps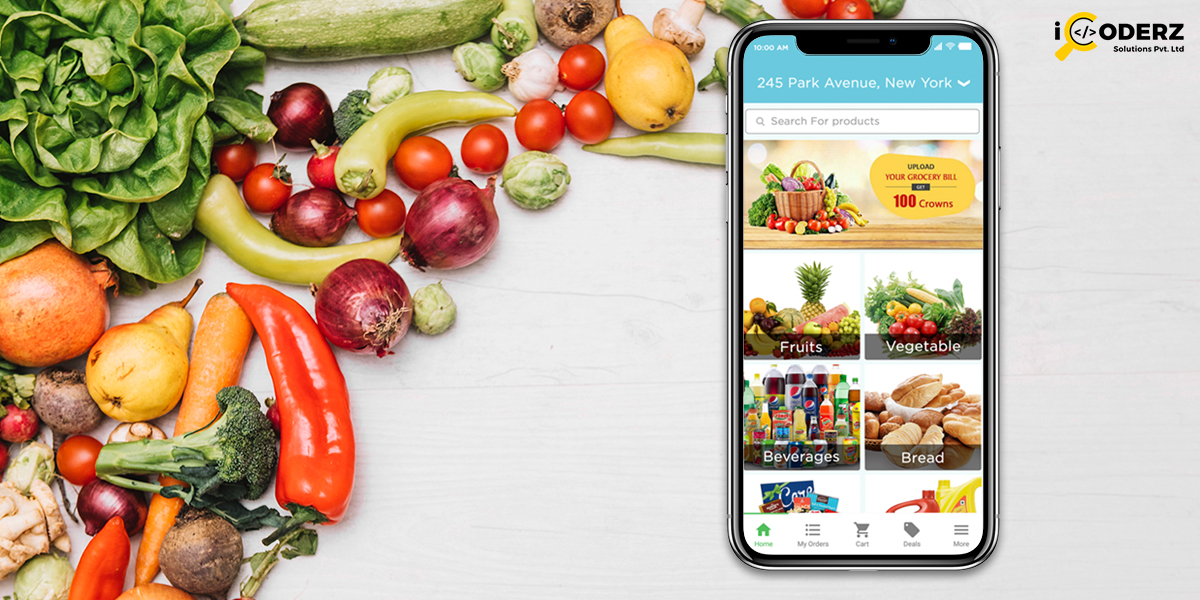 There are various types of online grocery ordering and delivery apps for the same purpose. They may differ from each other in some ways and are similar in some way too. If you want to develop Instacart-like grocery apps better than Instacart, Shipt, Peapod & FreshDirect, you have to combine all of their features and add something more out of your own thinking to stand apart.
Instacart-like grocery apps consist of three individual mobile apps and at least a website. They are available on both iOS and Android.
Customer Ordering App

Driver App

Admin/Owner/Partner App
In addition, the grocery delivery website should have the following section:
Customer Ordering Section

Web-Base Admin Panel
Customer Ordering App
It should have the following features:
Social Media Login

Sign In & Sign Up

Profile Management

Search & Filter

Product Browsing & Listings

One Click Add to Cart

Multiple Payment Options

One Click Check Out

Save For Later

Popular e-Wallet Integration

Discount Vouchers & Coupons

Private & Public Wishlist

Time slot selection for Delivery

Delivery Tracking

Help & Customer Support

Order History

Ratings & Review

Push Notifications
Driver App
It should have the following features:
Push Notifications

Delivery Requests: accept & reject

Set Availability

Map Integration

Real-time GPS updates

Turn-by-turn Navigation

Total Weight Of Orders

Delivery Time Slots

Earning & Reports

Work History

Help & Customer Care

Ratings & Reviews
Admin/Owner/Partner App
It should have the following features:
User Management

Reset Passwords

Order Management

Driver Management

Product Management

Payment Management

Add, Edit & Remove Various Elements of Apps and Website

Campaign Management For Email, SMS, Social Media

Commission Management

Run Promotions & Discount Coupons
Final Thoughts
If you integrate all these features and a few more from your own side, you will be able to develop Instacart-like grocery apps that are better than Instacart, Shipt, Peapod & FreshDirect.
iCoderz Solutions has ready-made solutions for Instacart-like grocery apps and website. In fact, iCoderz Solutions is a full stack mobile app development company and full stack web development company too. We have individual teams for web development, Android development, and iOS development. They have developed 500+ mobile apps and websites to prove their metal. If you are thinking about the development of Instacart-like grocery apps, look no further. Get in touch with us to know more, have a quote and timeline.
---