Who doesn't eat? Everybody has to eat so the restaurant and food business will always keep thriving, no matter what. The entire system of cooking, ordering and delivering keeps changing and evolving yet it never goes southward. In the twenty-first century, people do everything on their computers and smartphones so you will find a food delivery app on almost everybody's smartphone or they will use an online food delivery software from their computers.
If you are a restaurant owner, you must have food delivery software because it is useful and helpful to both the restaurant owners and the customers.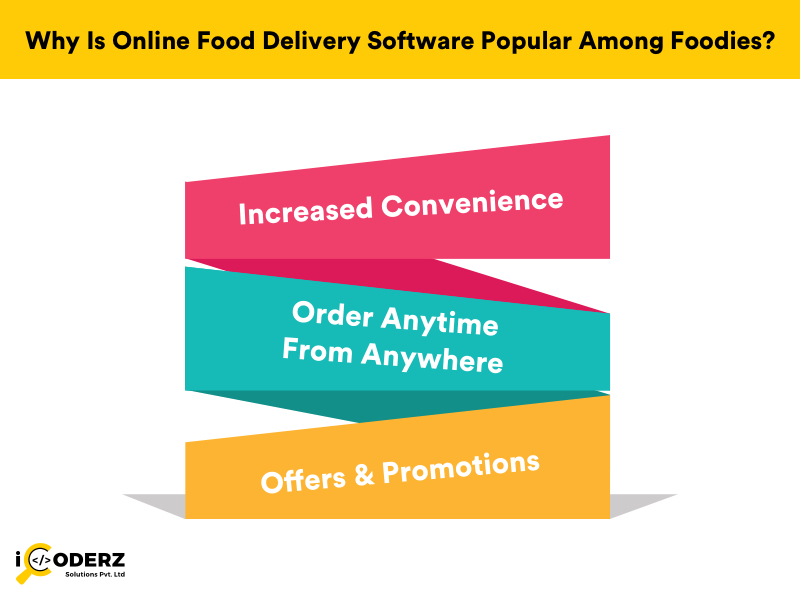 There are many reasons why food delivery software and mobile apps are very popular among foodies.
Increased Convenience
Imagine a scenario when you want to have a quick bite during your 30 minute lunch time. You go to a restaurant where you will have to wait in a queue for the food for 20 minutes. Alternatively, you can order the food of your choice from the restaurant you like well before lunchtime and they deliver it promptly when your lunchtime begins. What would you choose? It's obvious, isn't it? Food delivery software increases your convenience and saves a lot of time.
Custom Food Delivery Mobile App Based On Leading Apps Like Uber Eats, GrubHub, DoorDash
Order Anytime From Anywhere
Now imagine another scenario. You are binge-watching Game Of Thrones. You finish watching a season in the middle of the night when you realize that you have missed your dinner. What will you do to satiate your hunger pangs? You may go out and look for a restaurant with late closing hours. On the other hand, you may quickly go to a food delivery website on your computer or launch a food delivery app in your smartphone, order all the food you want and someone will deliver it to your doorsteps with no or little extra cost. Would you prefer to go out in the night or keep binge-watching Game of Thrones and have your food delivered to you? Of course, you will use a food delivery software and keep doing what you were doing.
Offers & Promotions
The online world runs on offers, promotions, discount coupons, and promo codes. Food delivery software and food delivery apps are no exception. They keep promotions going all the time. There are various offers related to local festivals and seasons. Someone has a promo code and another one knows about a discount offer. These things keep the game interesting and increase the user engagement which directly results in increased revenue. Users feel satisfied with saving some money while restaurant owners are happy with increased business. This is how offers and promo codes are good for online food delivery software.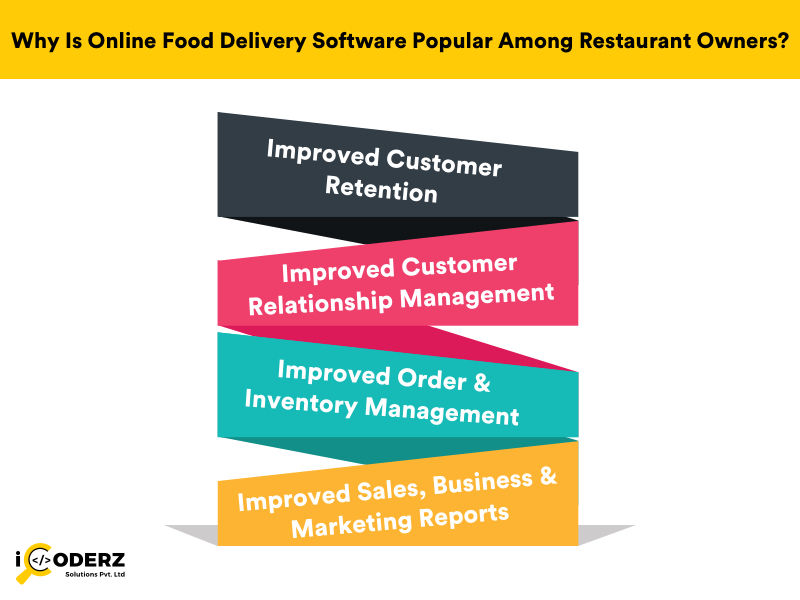 According to Statista, various online food delivery software has generated revenue worth US$18000 million in 2018 in the USA alone. Trade experts expect it to show an annual growth rate of 5.9%. As a result, the revenue will cross US$24,000 million by the end of 2023. So, it is huge and nobody wants to miss out. That's the reason more and more restaurant owners are embracing online food delivery software. It helps them in many ways.
Improved Customer Retention
A good user experience (UX) makes a lot of difference. When you use an online food delivery software, your customer relationship management (CRM) improves tenfolds. In addition, they can track their order in real-time using the GPS. So everything occurs according to their expectations and when they receive the food parcel in their hands finally, they feel completely satisfied. When a customer is satisfied, he will most definitely come back to your business. This is how the customer retention ration of your business improves day-by-day.
Improved Customer Relationship Management
When any customer uses any online food delivery software through a website or mobile app for the first time, he has to create his profile. There has to be an option to do that via social media login too. It makes the onboarding process easier. End of the day, any type of profile creation creates a huge database of customers. This database keeps improving with every order placed by customers. As a result, you can manage the customer relationship in a much better way. An improved CRM always helps in improving the revenue of the business.
Go-Jek Clone: A Superior Business Strategy For The Growth Of Your Business
Improved Order & Inventory Management
When your customers place an order online, you can see, filter and manage all of them with a few clicks thanks to online food delivery software. You can see all the data instantaneously as everything is stored in a central database. An experienced online food delivery software development company can make your job totally painless by integrating inventory management within the system.
Improved Sales, Business & Marketing Reports
Various reports are an integral part of any business. When you have to make such reports, you will have to spend a lot of time and efforts. If you can't, you have to hire resources to do your bidding so it takes a lot of money too. If you have a complete restaurant management software including the online food delivery software and mobile app, all you need to do is click a few buttons and you are done. You can see all the reports in real-time. This feature saves a lot of time, money and energy.
Noting all these benefits, any restaurant owner will be compelled to have an online food delivery software for his business.
Final Thoughts
iCoderz Solutions is one of the best online food delivery software development companies. Don't take our words for granted. Search 'Food Delivery App Development' and you will see that yourself. iCoderz Solutions is a genuinely full stack mobile app development company and web development company too. We have dedicated teams of experts developers for web development, Android app development, and iOS app development. They have developed a complete online food ordering and delivery system consisting of all the mobile apps and website parts required to make it a one-stop solution. On top of that, we offer our complete online food delivery software as a service [SaaS] on a monthly subscription basis. If you are interested, just drop us a line to have a demo, quote, and a timeline for your own solution.
---
Flutter Cross-Platform App Development: Wings For Start-Ups, Entrepreneurs & Businesses
Best On Demand Food Delivery Apps Development And Solutions
How to build on-demand grocery delivery app for today's tech-savvy
Want to Make Your Own Taxi Booking App like Uber?