Go-Jek came under spotlight worldwide when Google invested US$1,200,000,000 in it during the last quarter of 2018. Ever since that news, plenty of companies are thinking about a Go-Jek clone app development for their business. It makes a lot of sense and following are the reasons why it does.
Go-Jek is again in news for similar reasons. Astra International has announced to invest US$100 million in Go-Jek. As a result, Astra's total investment in Go-Jek will be US$250 million. Again, businesses are thinking about a Go-Jek clone and its viability.
First of all, let's have a look at the features of Go-Jek. It will also help in understanding its business model.
Also Read : How Much Does It Cost To Develop An On Demand App Like Go-Jek?
The Logic Of Go-Jek
After the popularity of Uber, the entire service industry has moved forward in the direction of Uberization. As a result, you will find plenty of On Demand Service Delivery Apps and On Demand Product Delivery apps in various app stores that have the Uber-like idea at its core. We have Grubhub-like On Demand Food Delivery Apps, Instacart-like On Demand Grocery Delivery Apps, Uber-like On Demand Taxi Booking Apps, Doctor-On-Demand-Like On Demand Doctor Apps and plenty of other varieties of the same idea.
And there lies the problem too. Who will be able to install all of these mobile apps in their mobiles? Due to the limitations of phone storage and data plans, nobody will install all of them. That is where Go-Jek comes into the picture. Go-Jek is a swiss-knife-like app that offers many on demand services and products from a single mobile app.
The Features Of Go-Jek
Go-Jek offers plenty of services through on demand business model and it can replace plenty of stand-alone mobile apps from your phone.
You can book a two-wheeler ride through Go-Ride or hail a taxi using Go-Car so it can replace any On Demand Taxi Booking Apps or On Demand Cab Hailing Apps you may have in your phone.

Go-Pay is the e-wallet offered by Go-Jek using which one can send and receive money and pay in online and off-line worlds. As a result, it can replace all of your e-wallet apps like Paytm and Stripe.

To replace any On Demand Food Delivery Apps, they have Go-Food. Go-Food-Festival is for off-line food chain stores.

Go-Mart feature of Go-Jek can replace your Instacart-like On Demand Grocery Delivery Apps.

If you want to make a purchase from a store that is not listed on Go- Mart, you have the option of Go-Shop.
Also Read : How Much Does It Cost To Develop An On Demand Doctor App Like Heal App?
More Features of Go-Jek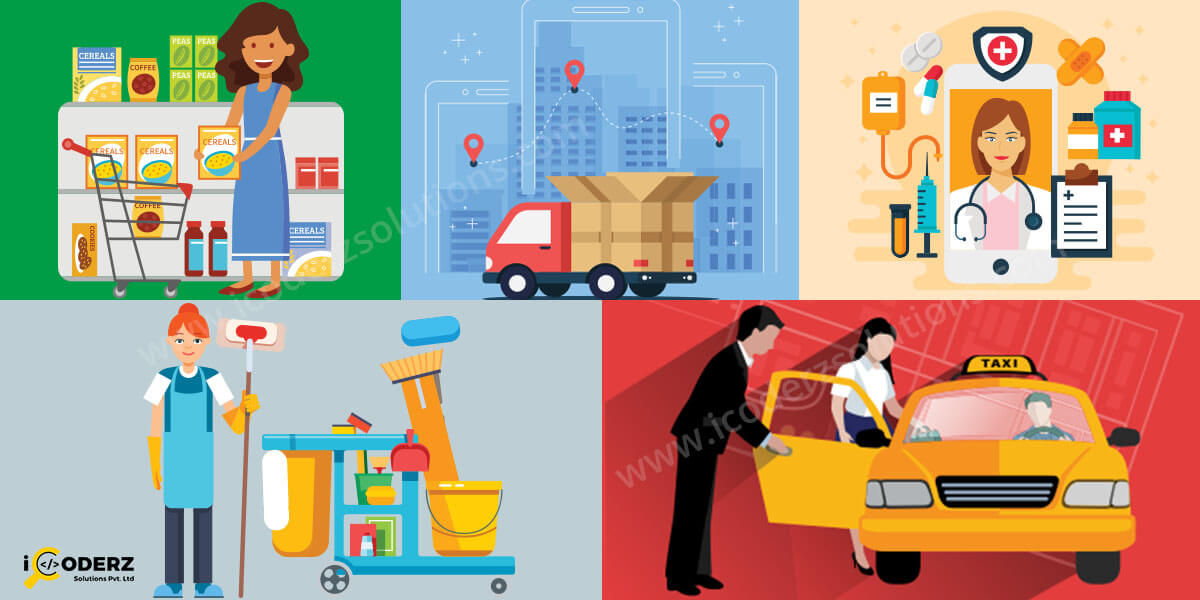 If you think that the list of Go-Jek features ends here, you are wrong. There are plenty of other features, such as,
Go-Send is basically an On Demand Courier Service and Go-Box can replace any On Demand Truck Booking apps or On Demand Transportation apps to move tons of load.

Using Go-Tix service, one can book tickets for movies and local events.

Go-Med can replace On Demand Pharmacy Apps to deliver medicines.

Need a masseuse, Go-Massage is at your service.

Go-Clean is there to help you find domestic help.

And, Go-Glam will fetch a beautician at your doorsteps.

Go-Auto will allow you to book a mechanic for your car/

What happens when your mobile runs out of credit? Go-Pulsa will help you with your mobile recharge.

With Go-Bills, you can pay all your utility bills and insurance premiums too.
Even More Feature of Go-Jek
We are still not done. The list of Go-Jek features goes on and on.
Go-Play and Go-Studio offer OTT content on the mobile phone to replace your Netflix, HBO and Amazon Prime Video. It is not fully implemented yet but we all know how much revenue it can generate.

Like your mobile, if your car or bike run out of fuel, you can have it at your doorstep using Go-Pertamina service.

And, last but not least is a loyalty programme called Go-Points where you can earn points for using all of Go-Jek

services and redeem them.
Why Does Go-Jek Clone Development Make Sense?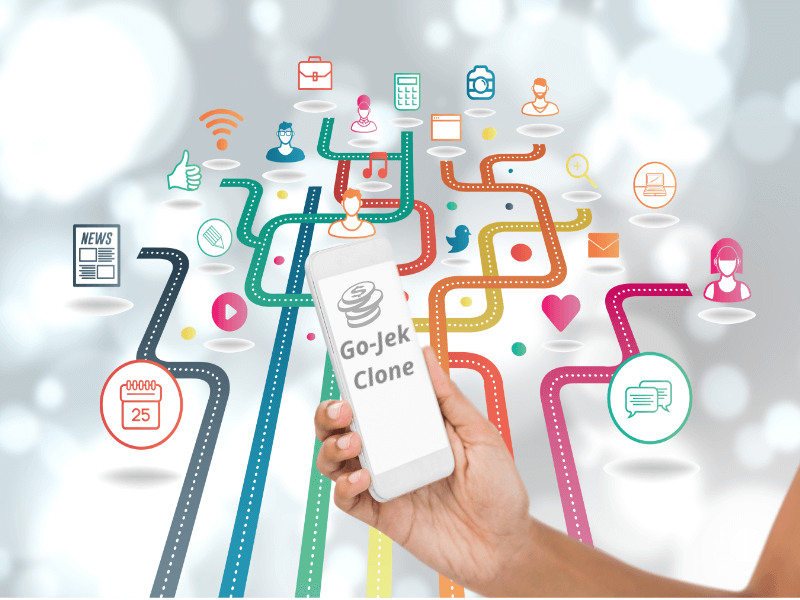 It is safe to say that Go-Jek and Go-Jek clone will succeed. That is the reason companies like Google and Astra investing billions into that venture. There are many reasons for the success of Go-Jek and Go-Jek clone.
Multiple Revenue Streams
Go-Jek clone will be able to offer multiple services and multiple products from within a single mobile app. As a result, it will have multiple streams of revenue. If one source is unable to generate enough revenue, another one will make it up for it.
One App For Everything
Also, a single destination for all the purposes will attract a huge user base. People will prefer a single app installation over multiple app installations to save phone storage and mobile data. Android app development and iOS app development are two different approaches yet the user mentality remains the same more or less so users from both iOS and Android will use Go-Jek clone with equal enthusiasm.
Integration Of Loyalty Programme
If the Go-Jek clone development company can integrate a loyalty programme, such as reward points, users will be hooked with your Go-Jek clone.
More Beneficial To Merchants Too
At present, a merchant registering for an On Demand Product Delivery portal or On Demand Service Delivery portal will have only one direction to go. If you develop a Go-Jek clone, it will be a platform with multiple directions. So merchants registering on your platform will have plenty of choices for diversifying their business. It will eventually attract more merchants which will increase the revenue for all.
The delivery drivers and cab owners will be happy to because they will have more opportunities for the optimum use of their time.
Also Read : How On Demand Food Delivery Apps Are Cultivating The Ghost Restaurant Culture?
Wrapping Up
Go-Jek clone is a win-win for the everybody. If you decide to go for a Go-Jek clone development, you will be able to generate a huge amount of revenue. The mobile app development company you hire will be happy to do this challenging job. Merchants will be happy with more users and diversified opportunities. And, users won't have to install multiple mobile apps. And the drives will be happy by earning more than ever. What else would you ask for?
iCoderz Solutions is an off-shore full stack mobile app development company with the same expertise in web development too. We have dedicated teams for iOS app development, Android app development and web development who have successfully completed more than 500 projects. iCoderz Solutions is considered as one of the best mobile app developer in the USA and India for the purpose of On Demand Delivery Apps. We have readymade solutions with multiple business models. You can pay once for mobile app development or pay monthly and use our software as a service. Get in touch with us to know more.
---

---
Best On Demand Food Delivery Apps Development And Solutions
How to build on-demand grocery delivery app for today's tech-savvy
Want to Make Your Own Taxi Booking App like Uber?
Benefits of Outsourcing Mobile App Development
Flutter Cross-Platform App Development: Wings For Start-Ups, Entrepreneurs & Businesses
How To Choose An Efficient Mobile App Development Company?