Before you start asking 'How much does it cost to develop a mobile app?', the basic question you must ask is 'Why do I need an app?' It's a valid question and it needs to be answered as well so let's start with it.
Why Do You Need An App?
They say that there is an app for everything. If your business, product or service doesn't have an app, now is the time to build one. The usage of smartphones is increasing every year and highspeed internet connectivity is reaching more and more people every day. And the upward trend is aiming sky because smartphone usage is going to increase tenfold in 2019. So this is the high time to join the app world. The sooner, the better!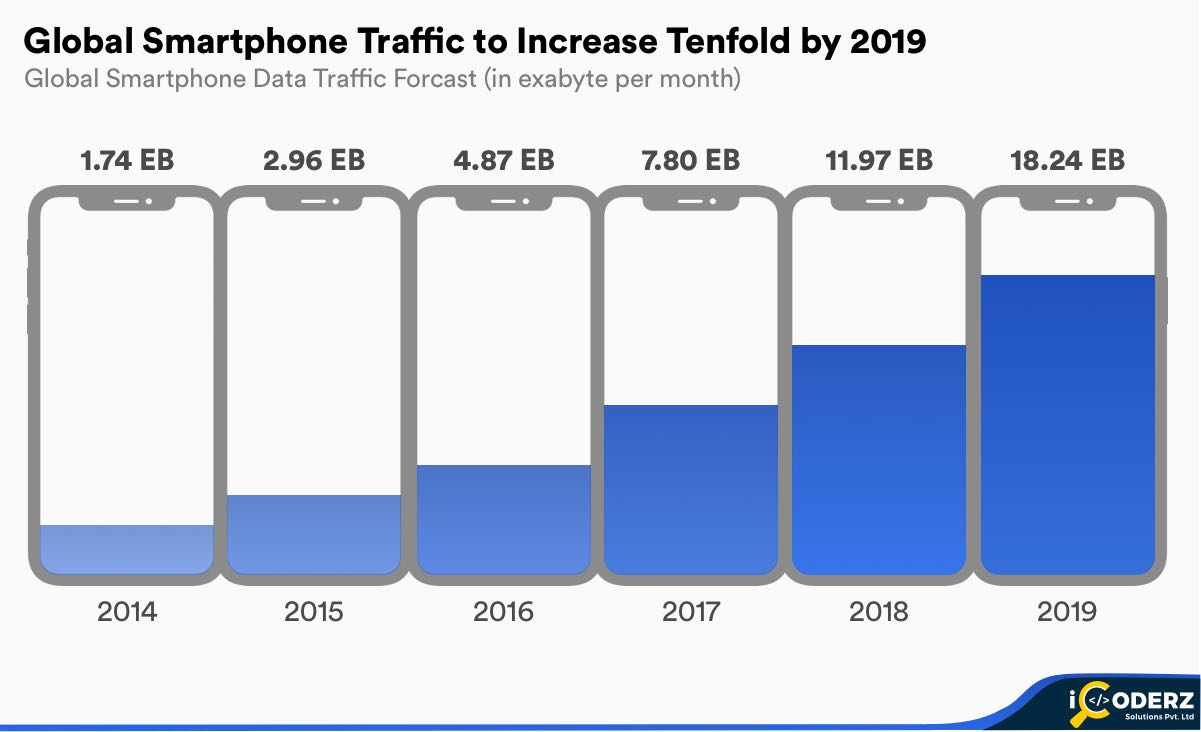 How Much Does It Cost To Develop A Mobile App?
The only answer you may have before answering a series of questions will be, 'It depends!' And that is the starting point. Think of building a dream home for yourself. The only thing you have is a dream. So first of all, you will have to decide whether you will be building a home on a piece of land or buying a flat? Then you will have to know how many people will be accommodated in it. Will it be a two bedroom flat or a 3 bedroom home? Will it have a box room, a patio, a dormitory and a guest bedroom or an open kitchen studio-like flat with all the smart security and automation features?
The questions are endless and "it depends" on your requirement and budget. The same goes for your mobile app. You will have to answer many questions before you get a quote for your app.

The OS Factor
First of all, you have to decide on which operating systems you will like to launch your app. Is it going to be a standalone iOS app or an Android app? Or will it be two native, individual apps for both the platforms or a single hybrid app that works on both the platforms? Will it have a browser counterpart in the form of a web app?

The features
Depending on the nature of your business or service you want to provide through the app, the app will have to have some basic features and there will be some advanced features you will want to add. For example, if you are building a Grubhub-like On Demand Food Delivery App, you will have to have the features of the menu, favorites, order, check out and delivery tracking. Then you may want to add social media login, profile, admin panel, live GPS tracking of delivery and various payment gateways. You may also want to add a separate panel that can be accessed by drivers only. It is exactly like building your own house. You build it according to your need.

The Technical Complexity
Then there are technical complexities. Your app may need an API integration for chat feature or social media compatibility with third-party API integration. You may want to add a backend database for Customer Relationship Management (CRM) or eye-candy graphics or cute animations or the in-app purchase feature. The more features you want, the more complex it becomes.
UI/UX
All these details are presented using a graphical user interface (GUI). That's how end users interact with the app. You have to decide what type of user interface you want to adopt. A unique user experience (UX) is developed combining all the features, complexities and the user interface. It is the single most important factor for the success of your app.
The Team
A team has to be hired taking all these factors into account. A typical team for developing a basic app will generally have a project manager, a UI/UX designer, a couple of programmers and a quality assurance (QA) engineer. If you want a backend API integration, a backend engineer will also be there in the team. Like we said earlier, the more you want, the bigger the team will be.

Case Studies
Following is the case study of 5 popular apps. It will help you understand your requirements and plan your budget.
| | | | | | |
| --- | --- | --- | --- | --- | --- |
| Application | Tinder | Uber | UberEats | Periscope | Postmates |
| Description | Most Popular Dating App | On Demand Taxi Booking & Sharing App | Restaurant Discovery & On Demand Food Deliver App | Live Audio & Video Streaming Platform | On Demand Logistics Solutions App |
| Average Time | 3 Months | 3 Months | 4 Months | 5 Months | 5 Months |
| Average Cost (USD) | $ 25,000 | $ 30,000 | $ 25,000 | $ 40,000 | $ 40,000 |
Expenses After Releasing The App
Just like any other business, there will be expenses even after releasing the app for providing customer service, adding new features, server-side costs, and maintenance. So we will have to consider all these expenses into account as well.
Global Rates Per Hour
Mobile app development companies are present all over the world. They charge clients according to their local legislation and availability of talent pool. The normal rates they charge are mentioned below:
US-based or Canada based companies charge from $50 to $300 per hour
UK-based and Western European companies, as well as Australia-based companies, charge anywhere from $50 to $200 per hour
East European companies charge from around $30 to $150 per hourly
India-based companies charge $10 to $80 per hour
We are based in India and among the leading mobile app developers. We have delivered more than 400 apps and more than 100 websites in past 7 years.

Our Mobile App Development Process at iCoderz Solutions
This is how we normally work to develop a mobile app:
First of all, we talk about requirement gathering
We discuss every aspect in detail and analyze it
We provide our expert inputs to turn your ideas into reality
Then we provide you an estimation
After you approve the estimated quote, we prepare a roadmap for the project
The roadmap of the project includes wireframing and milestone breakdown
After you approve the roadmap, we move towards the UI/UX designing
Then the development of an alpha version of the app starts
Beta versions are sent to you for testing and verification
We help you deploy the necessary infrastructure for the app
After your final approval, the app is published on the corresponding app stores
We also provide maintenance and after-sales services and continuous support, depending on our contract

Conclusion
Just like building a home, an app development has many factors and it all depends on your requirement. So, to precisely answer your question 'How Much Does It Cost To Develop A Mobile App?', you must contact us with your requirements. We promise to deliver the best mobile app development in the most cost-effective manner. Seeing is believing!
---
Related Mobile App Development Services
📌 Best iOS Mobile App Development Company
📌 Hire Most Innovative Android App Developers