All the businesses are going for mobile app development. As a result, the App Store and the Play Store are flooded by all kinds of mobile apps. Both iOS and Android platforms are so versatile that mobile app developers keep developing mobile apps with unique ideas. In the era of mobile app saturation, we need to think of unique ideas. Only mobile apps with unique ideas will attract new users. To keep them your regular users, you will have to provide them with an interactive user interface (UI) and gratifying user experience (UX). But that is a different subject altogether. Here we will share some unique or less known grocery delivery app development ideas. You can bank on any of them and launch your mobile app soon.
Grocery Store Price Comparison App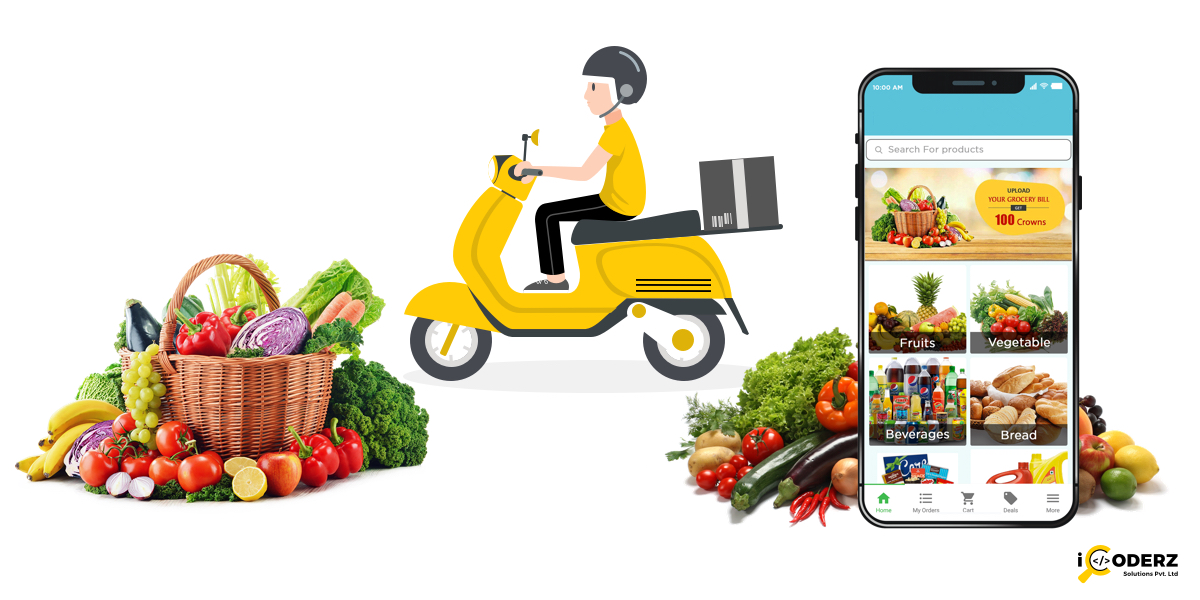 How many times has it happened to you when you buy something and later on one of your friends or neighbor inform you that the same thing available at a cheaper price somewhere else? All the time, right? Why can't we go for such a grocery delivery app development that can instantly compare prices of a single product from multiple stores and let the users choose the product with the lowest price tag?
It's a really good idea and people always love using mobile apps that save them some bucks. What features it should have?
How Much Does It Cost To Develop An On Demand App Like Go-Jek?
Must-Have Features of Grocery Store Price Comparison App
A grocery delivery app development for price comparison must have the following features:
This app must have a listing of all the nearby grocery stores. Leveraging the GPS capabilities of smartphones, this mobile app must be able to aggregate a list of all the local stores.

It should also have various search and filter options. When a user searches for a generic grocery product, there will be many search results. The user should be able to filter these results by price range, brands, location, delivery charges, delivery time, user ratings and all the other finer details. It will help him a lot.

Barcode scanning is a must-have feature for this type of grocery delivery app development. People don't enjoy typing on tiny touch screens. If you give them the barcode scanning option, they will be able to scan the barcode of a product and compare it.
Grocery Delivery App Development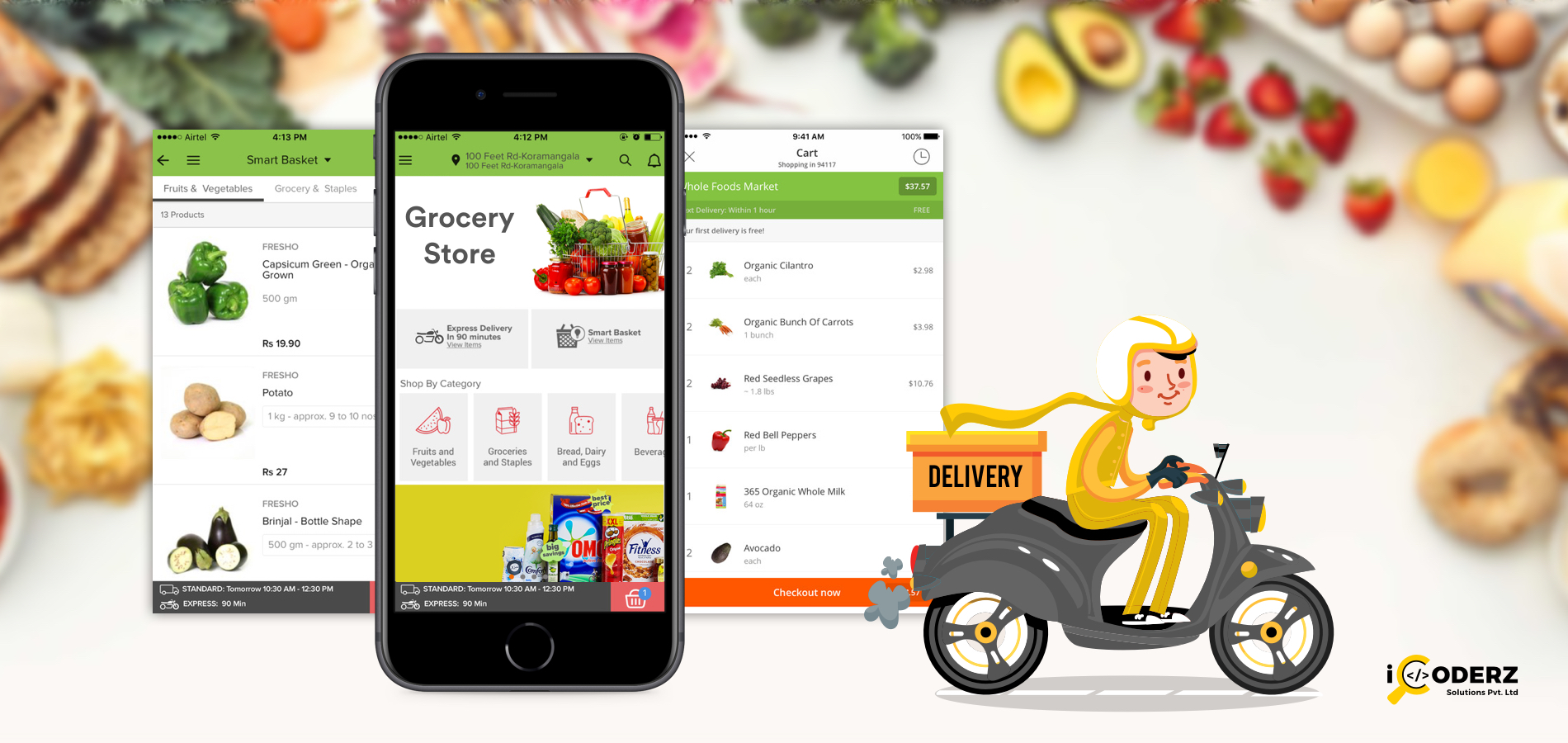 We have to do grocery shopping whether we like it or not. If someone can do that one our behalf for a nominal fee, would you go for it? Certainly, yes. And that is another unique idea that is not widely explored. Well, Instacart has explored is and that is why it is immensely popular in the USA. If you want an Instacart-like grocery delivery app development, you must know how it works.
This Is How Instacart Works
A user registers himself on Instacart mobile app or website.

After creating his basic profile, with his name, address, mobile number, and email id. Then he can choose local stores that have partnered with Instacart.

He, then, chooses grocery items he needs to add them to his virtual cart.

Then he has to select delivery day and time.

After paying with his credit or debit card or one of the popular mobile wallets, his job is over.

One of the Instacart verified shoppers will accept a request to go shopping on your behalf.

He will pick all the products you have ordered from the local store you want and pay there using the Instacart debit card.

Later on, he will deliver the groceries to the address during the selected time slot and day. The user can also give him a tip if he wishes to.
Instacart has a wonderful business model but it is unable to launch across the globe for many reasons. You can have an Instacart-clone for your grocery delivery app development. The development part is quite easy when you hire a full stack mobile app development company. They will have a lot of insight and experience in such a matter. What is difficult is the leg work that it requires tying up local stores and shoppers with your platform. If you think, you can do that or spend money on that, you will most definitely succeed in your grocery business big time.
Grocery Deals App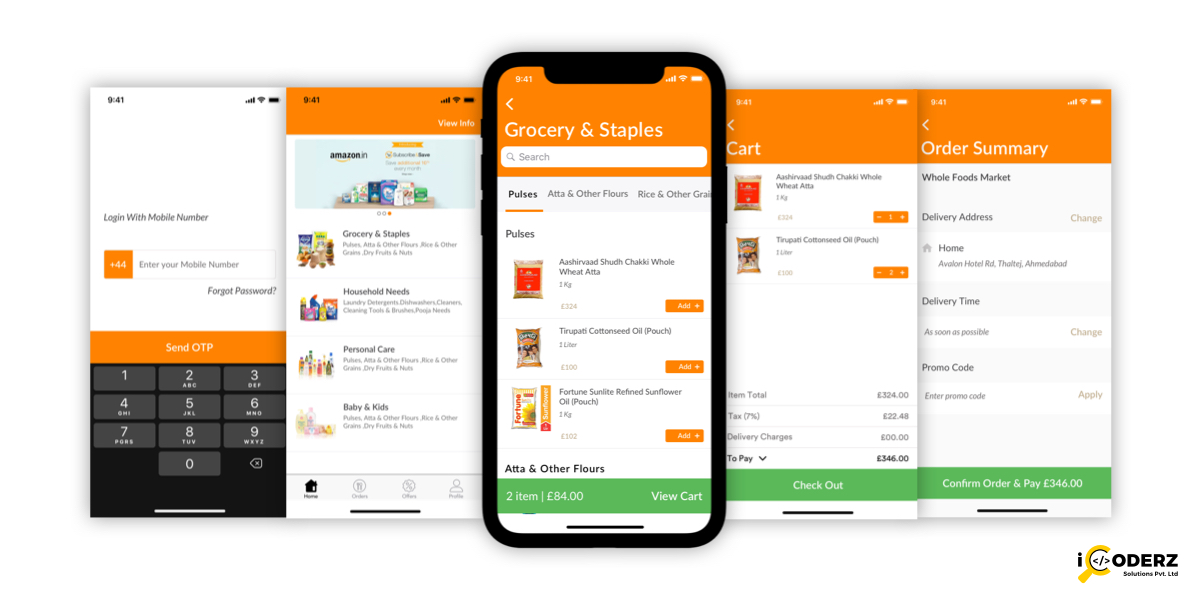 An app for exclusive grocery deal can work as a simple grocery shopping app and also as an aggregator app.
People are always drawn to words like deals, discounts, sales, offers, promotions, etc. Some people find these deals so attractive that they spend more money on it than they actually intended to. If you know the grocery market in and out, you can leverage your knowledge and connections to pull of exclusive deals. And, if you present such exclusive offers in a neat package, a grocery deals app, it will be a hit overnight.
How Does Grocery Deals App Make Money?
Everybody has to buy groceries and they always keep looking for ways to save money there. Give them what they want and you will be able to make money in multiple ways.
A straight cut from the orders is the simplest way of making money through any grocery delivery app development. When you have exclusive offers for your grocery deals app, you can lure users to buy more quantity. The math is simple. The more they buy, the less they pay yet you make money out of it.

You can also partner with certain brands or producers to promote their products on your platform. It will improve your mobile app ranking and you will also make money through such partnerships.

Additionally, you can also make your grocery app work as an aggregator. All the aggregators make money through advertisements for the top spot in search results.
How Much Does It Cost To Develop On Demand Doctor App And Healthcare App?
Final Thoughts
There are many ways in which a grocery delivery app development can turn out to be your success mantra. You have to think out of the box, know the market, product, and customers. Last but not least, an experienced mobile app development company will be able to pull this off better than the newbies.
iCoderz Solutions is an experienced mobile app development company with more years in web development too. We have dedicated teams for web development, Android app development, and iOS app development. Our experienced developers have already developed 500+ mobile apps and websites. Grocery delivery app development is one of expertise. If you are thinking about one, get in touch with us. We will discuss your requirements, answer all your queries and give you a plan to move forward with a quick demo and cost estimation. We can also offer you our SaaS-based monthly subscription solutions if you want.
---
Read Popular Blogs