At present, most of the restaurants in the USA are connected with one or the other food delivery mobile app such as UberEats, GrubHub, Doordash, Seamless, and Postmates. These mobile apps have plenty of useful features and it helps grow your restaurant business. Let's have a look at them closely and think about the reasons for their success.
All of these mobile apps are quite simple to use and provide prompt services with various offers and promotions. As a result, users get their favorite food at a discounted rate on their doorsteps.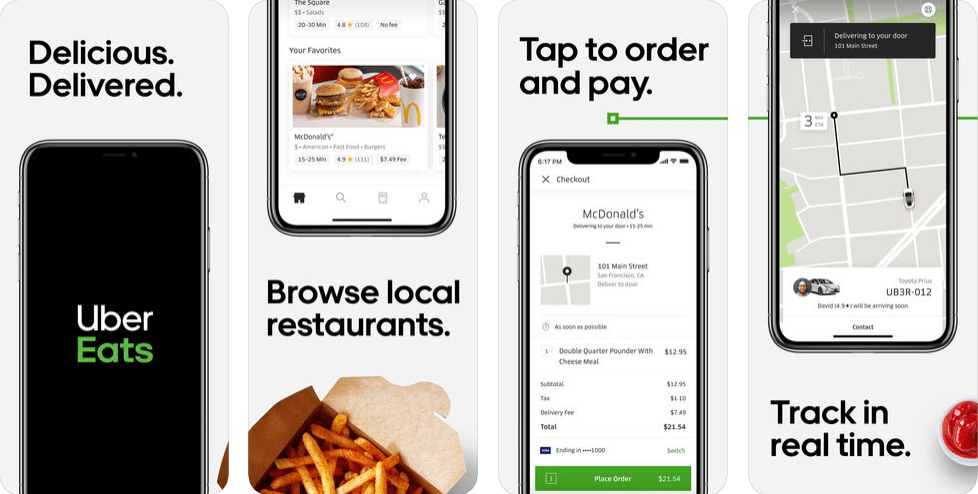 Everybody has heard about on demand taxi booking app Uber. It changed the entire scenario of service sector so much so that now most of the services are available through on demand mobile apps.
Uber Eats is their version of a food delivery mobile app. It works just like their on demand cab hailing app. You search for a dish, cuisines or a particular restaurant, select what you want, check out and the food will be delivered to your home quickly. Just like the Uber's cab, you can track your food coming to you in real time.
It offers its services through an Android app, an iOS app and website too.
Grocery Apps: Necessity And Benefits Of Online Grocery App Development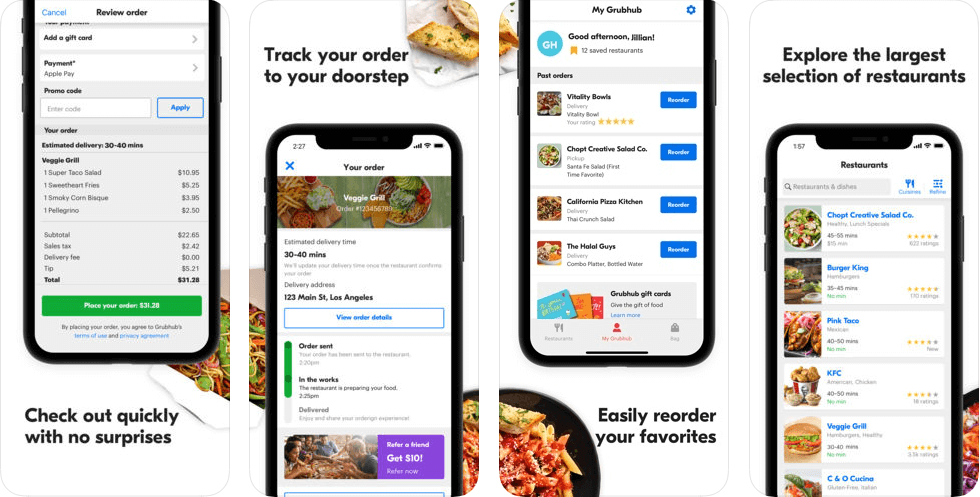 Much like Uber Eats, Grubhub allows you to search and order your favorite dishes from your local restaurants and fast-food outlets. It also allows the GPS-based real-time tracking of your order. In addition, it also allows you to pre-order your food so you can plan your whole day and the whole week in advance.
Grubhub also promises of no hidden charges. You only pay what this food delivery mobile app shows on the screen without worrying. It is available on Android, iOS, and website.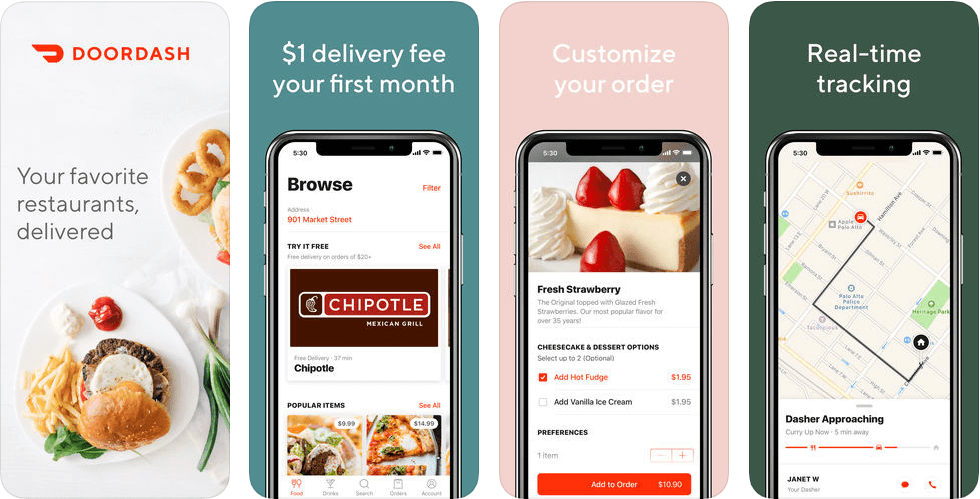 DoorDash is another popular food delivery mobile app from the USA. It promises to deliver food anywhere in your area. For example, if you are on a family picnic and want some food in a park, DoorDash will serve you there. It offers its services in more than 800 cities of the USA and Canada. Gradually it will spread across the world in many cities.
DoorDash rates the restaurants based on their local, cuisines, variety, promptness and service delivery and publishes it under the name of 'DoorDash Delight'. These ratings are very useful to customers.
The good thing about this food delivery mobile app is that there is no minimum order limit. Easy ordering and real-time order tracking are always there too.
How On Demand Food Delivery Apps Are Cultivating The Ghost Restaurant Culture? Go Jek Clone App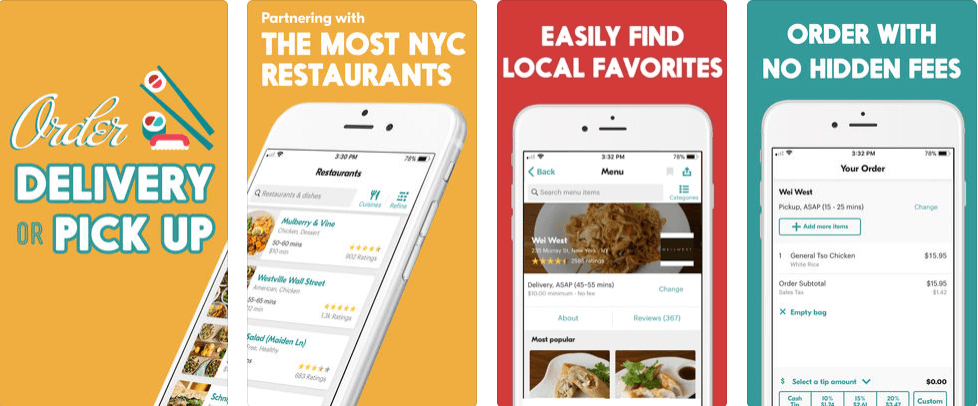 Seamless sits among the select group of popular food delivery mobile apps of the USA. It is available as an Android app and an iOS app and users can order food using its website too.
It thrives on its exclusive offers and tie-ups. Certain restaurants sign exclusive contracts and offer only with Seamless. It also offers free deliveries for all the orders so it is very popular in the USA.
On the downside, it is not available in the entire United States and it has yet to expand to other countries.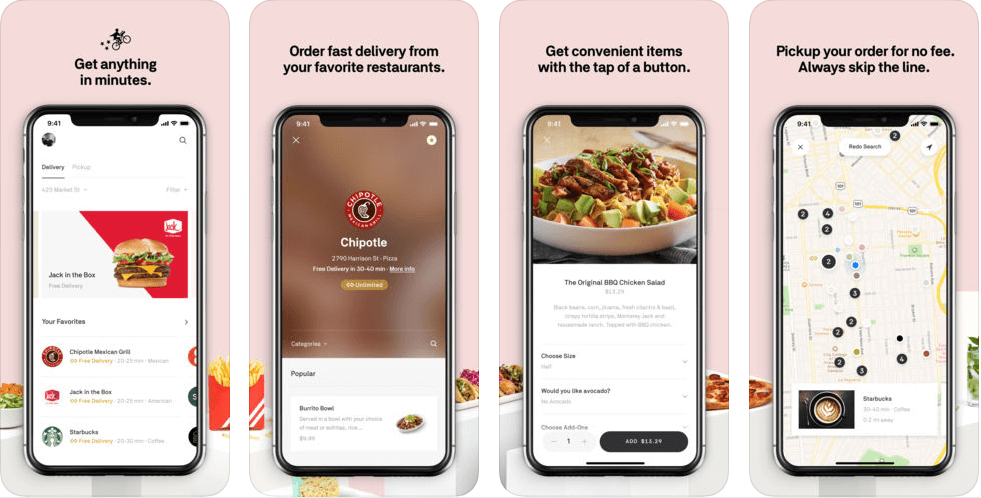 Postamates food delivery mobile app delivers anything, anywhere and anytime. It allows you to discover everything in your local area and you can order it through the iOS app or Android app or the website.
The deliver everything but food, drink, and grocery delivery are their most popular services. The levy delivery charges according to the time of the day. There is an option for a flat rate. During pick hours, the delivery charges are increased. It also offers an unlimited plan for orders above a certain amount.
The Common Features
All these food delivery mobile apps are popular because they serve a purpose and they serve it well. They deliver food to satiate hunger pangs and they deliver it well. For that they need to have the following Top 5 features: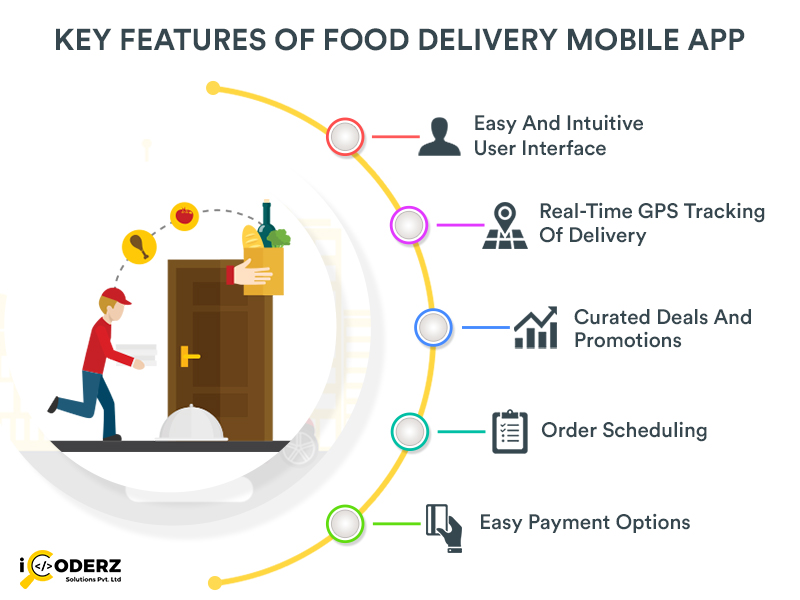 Key Features Of Food Delivery App Development – iCoderz Solutions
Easy And Intuitive User Interface
Users interact with the user interface of the mobile app for most of the part of their mobile app usage. So the user interface (UI) is considered the most important part of the user experience (UX).
If a user's first experience is not good with a mobile app, 5 out 10 times, he won't launch the app the second time. And 8 out of 10 users won't give a third chance to the mobile app.
So, any food delivery mobile app, or any mobile app, as a matter of fact, must have a well-designed user interface. The UI should load quickly, the user should be able to go anywhere he likes within the mobile app from anywhere. He should be able to find whatever he wants quite easily.
Real-Time GPS Tracking Of Delivery
All the smartphone and a half of the feature phones have now GPS built inside them. So, all the users expect to track their order through GPS in real-time. Food delivery mobile app customers crave for food so they are among the most impatient users of all. They most definitely expect to have the real-time GPS tracking of their order. So all the popular mobile apps offer it.
Curated Deals And Promotions
Whatever the fact is, people generally believe that selling anything online is cheaper than off-line. As a result, that benefit should be passed on to customers. So, you must run various offers and promotions based on local seasons, festivals, days and markets. Users also enjoy curated deals and combo offers.
Order Scheduling
Order scheduling is not a mandatory part of any food delivery mobile app yet it is an added convenience for the users. It is useful for them to order their lunch or dinner in advance when they are at the workplace or quite busy. So, don't forget to include order scheduling in your food delivery mobile app.
Easy Payment Options
Payments are the last step of the business and users need to feel quite at home while paying you. So always offer multiple payment offers like debit cards, credit cards, net banking. Also include the popular wallet services such as Google Pay, Amazon Pay, and Apple Pay.
iCoderz Solutions
iCoderz Solutions is among the best on demand food delivery mobile app developers with years of experience and full stack capabilities. We have superior teams as a mobile app development company and web development company. Our dedicated teams for iOS app development, Android app development, and web development have already developed and deployed mobile apps and websites in excess of five hundred. We have readymade solutions for food delivery mobile app that we can quickly customize according to your requirement and brand. We also offer our Software as a Service [SaaS] If you want to go for the pay-as-you-go model and monthly subscription model. Get in touch with us to have a demo of the products and have a quote now.
---
How to Develop An On Demand Taxi Booking App Like UBER or Lyft?
On Demand Food Delivery Apps – Asset for Food Ordering Platforms
Top 4 Mobile App Development Trends For The App Industry In 2019
Native Apps Vs Hybrid Mobile Apps : Which Approach Is Better – Jack of All or Master of One?