Payment is the most essential part of any business because that is the end goal of running any business. No business can run without money so the payment process has to be quite easy and smooth. It also plays an important part in providing a satisfactory user experience. When you are conducting your business online, you have to accept payment through online payment gateways and in the online world, the payment process plays a vital role in gratifying user experience. So payment gateway integration in your websites and mobile apps is quite essential.
While there are many factors a business should consider before selecting a payment gateway, there are a few very important factors it cannot overlook. If overlooked it can result in a disaster and it can ruin the business too. Let's talk about them one by one.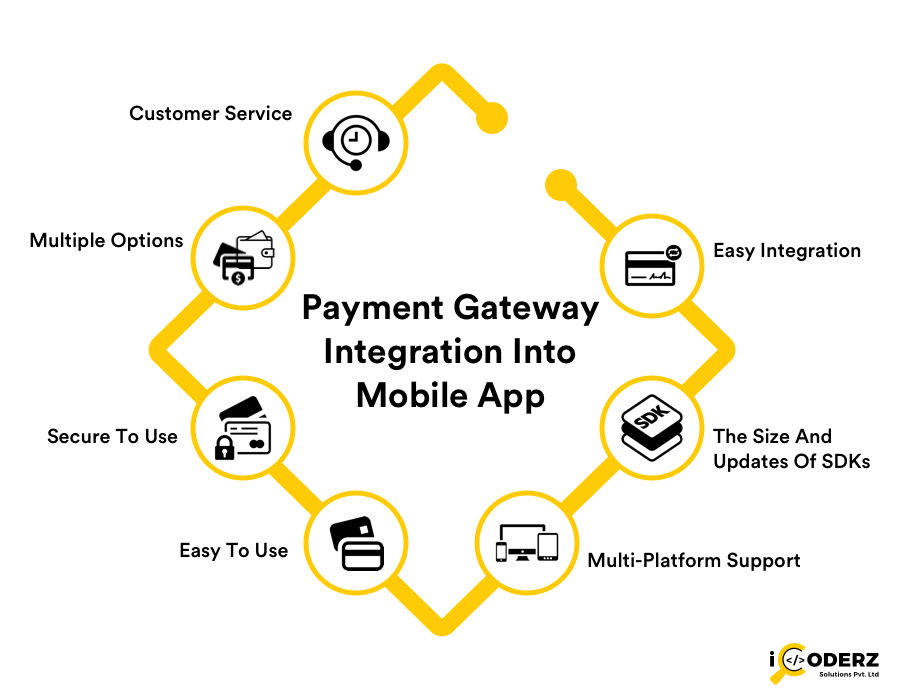 Easy Integration
The process of mobile app development and web development is complicated and lengthy enough. So, the payment gateway integration should not be irksome in anyway. On the contrary, it should be quite simple, straightforward and the least time-consuming. Most of the leading providers offer easy to integrate software development kits (SDKs) to make the life of mobile app developers painless.
E-Commerce Website Development: Positive Practices For A Successful Venture
The Size And Updates Of SDKs
The size of an SDK is also an important factor to consider. A heavyweight SDK would add to the size of the mobile app. As a result, the mobile app will consume more space on the mobile and it will be heavier on the resources too. Cumulatively, it will hinder the overall user experience.
If it is an on-demand mobile app such as an on-demand food delivery app and on-demand taxi booking app, it requires a quick and easy payment gateway integration so that it can match the rapid nature of the business.
The updates of the SDKs should be painless too. It should happen automatically because the businesses won't enjoy going back to their mobile app development company all the time.
Multi-Platform Support
From the perspective of an end user, there are only two major types of smartphones: Android phones and iOS phones. So, the payment gateway integration has to be available for both the platforms and normally that is the case.
But, when we look at the situation from a developer's point of view, the picture is quite different. Mobile app developers work in various languages with plenty of frameworks using different IDEs. So, the ideal payment gateway integration SDK should support multiple mobile app development languages and frameworks. It should support Java, Swift, Kotlin, ReactNative, Flutter and other languages and frameworks.
All of the above-mentioned factors are important for mobile app developers. From an end user's point of view, there are a few factors, that one should consider for payment gateway integration.
Easy To Use
There are endless mobile apps in both the App Store and the Play Store. So users have plenty of choices for a single functionality. Take, for example, the on-demand grocery delivery apps. There are many apps providing the same service viz. Instacart, ShipIt, FreshDirect, Amazon Fresh, Google Express, Peapod and a thousand more. Users will only install one mobile app that is easy to use.
Everybody's life is complicated enough and a mobile app or a payment gateway integration should not add anything to it. The user interface should always be easy to use and not unfamiliar to their eyes. When the check-out button leads them to a payment gateway, it should happen without any glitches, quite smoothly. Now Visa and Master Card have added another layer of security so it should also be the part of overall designing.
Secure To Use
And, security is the single most important part of payment gateway integration. Nobody wants to be duped by thugs. And nobody wants to lose their hard-earned money. So security is very important for online payments.
So, when you want a payment gateway integration right within your mobile app or website, make sure of its all the security options. Two-factor authentication will help a great deal in boosting the confidence of the customers.
Multiple Options
Who doesn't love choices? When you want to receive a payment, you should receive it in any way possible. Everybody has his own mind so their choices must be different. You have to offer them all the choices they can think of for the payment. Credit card, debit card, cash card, gift card, etcetera card payments and online banking options are very standard ones. In addition, you should offer them all the popular wallet services such as Apple Pay, Google Pay, Amazon Pay, Samsung Pay, AliPay and everything popular in the region of your business. In many countries, online businesses offer cash on delivery option too.
Customer Service
After the online payment comes the part of customer service. The first and foremost thing an online customer would expect is the acknowledgment of the payment and order. The companies, offering payment gateway integration, knows these things very well so most of the time they provide the automatic mail delivery options for the payment and order acknowledgments. After that, the business owner can follow up the customers with further email updates like order dispatched or order out for delivery.
The biggest annoyance of online payment is when the transaction is unsuccessful. It means that the money is debited from your account but doesn't reach to the seller's account. In such cases, the companies, offering payment gateway integration, plays a vital part. They have to set up such a system that will automatically return the debited money to the original account of the buyer.
An Instacart-Like Grocery App For Your Business In USA: All You Need To Know
Final Thoughts
Payment gateway integration is a genuine necessity of online business but it can sink your ship if the feat is not accomplished properly. In such matters, it is best for all to leave the job in the hands of an expert.
iCoderz Solutions is such an expert. It is, in fact, a full stack mobile app development company and web development company too. We have dedicated teams for web development, iOS app development, and Android app development. Our expert teams have already developed and deployed more than 500 mobile apps and websites cumulatively. Most of the mobile apps have payment gateway integration and our clientele of 300+ is completely satisfied with it. If you are looking for mobile app development with payment gateway integration, get in touch with us to know more and have a quote.
---
Native Apps Vs Hybrid Mobile Apps : Which Approach Is Better – Jack of All or Master of One?
How to Develop An On Demand Taxi Booking App Like UBER or Lyft?
On Demand Food Delivery Apps – Asset for Food Ordering Platforms
Top 4 Mobile App Development Trends For The App Industry In 2019