The pandemic sure has taught us many new things. And we are not surprised if you have been inspired to learn how to start a food delivery business in 2023. 
While food delivery has been there for quite some time, the pandemic, and with that, the lockdown has made people increasingly comfortable with buying their food online in the comfort of their home office and bedrooms.
So, you are looking to start one such business, are you? We are here to help you. This article is to tell you all the things you need to know.
Food Delivery App Business Revenue and Usage Statistics (2023)
Yes, food delivery is one area that shows great potential for flourishing in the near future.
In the US alone is shown to have 60 percent of people order their food online twice a week so they can comfortably carry on with finishing their chores and getting things done for the evening.
And then, we have 60 percent of restaurants out there saying that online food delivery is one of the biggest reasons for their sales. Yes, online delivery has contributed to a rise of about 20 percent for most restaurants out there.
In India, the market is said to reach a revenue of $13 billion by 2025. Yes, this is a gold mine today and if you are thinking of a food delivery business, developing an app is the way to go.
So, if you want to know how to start a food delivery business in 2023, read on.
Find Your Food Delivery Niche
When we say food delivery app, one of the first thoughts that come to most minds is that of a delivery partner heading off to an office or residence with a package containing someone's lunch or evening meal.
However, know that when we are talking about on-demand food delivery app development, there is a lot more we are suggesting than meals. You could deliver frozen foods, fish and meat, groceries, or maybe even cakes for different occasions. Or it can even be a catering business, catering to parties, big and small with meals.
You see, the options are a lot out there so don't just jump to starting an app with delivering meals if you have a couple of them already in your hometown, successfully running. Study the market out there and the people around you and what it needs.
Remember that planning on any business is a slow process and this includes planning on how to start a food delivery business in 2023 too.
How much it will cost to start a food business?
Okay, now before we step into the FAQs, let us have a brief look at one of the most important things on your mind as someone learning how to start a food delivery business from scratch the budget.
So, we will begin by answering your question right away. We can say that you would need roughly about $ 4,000 to $10,000 based on how big your business is.
There is payroll, business licensing, vehicle maintenance, and a lot more that you need to think about, some of which are going to be huge investments on your part. When it comes to the budget, there is a lot more that you need to sit down and think about, like revenue forecasting.
Think about what the cost of all your supplies is going to be, and the things you will need to invest in those first few years of your business.
And then, don't forget to determine the risks. This is a mistake most people starting off on their own business tend to do.
So, if you are on a budget, our advice to you would be to start small. You can always increase your budget in time based on the status of your success.
One of the best ways to do this would be to create a balance sheet so that you can make a good study of the billing cycles and calculate the amount that goes out and comes in during a period of time.
This can help you make wise decisions and take all the right steps by way of budgeting and investing in the course of your business.
Online Food Delivery Business Plan
Start brainstorming on the kind of model that you think would work for your business. Decide on your geographical location. Conduct market research. And most importantly,.know the kind of audience you are going to be serving.
Plan your logistics. Since it's a food delivery business, you may want to think about a kitchen.
And then there is the fleet to plan. You can start off with drivers going in their own vehicles at first. And as you expand, you could start thinking about your own delivery vehicles as these would save on maintenance and other expenses.
Finally, pay close attention to the kind of team you hire. Remember that these are the people you will be making big decisions with within one of those first few days so ensure that they are loyal and reliable all the same. You will need to train your drivers to create a positive impression as they are most often the face of your business.
Remember that starting an online business is not all about choosing your niche and deciding on what your budget is. There's research, research, and more research that you have got to do. 
Location Of Your Food Delivery Business
Starting a food delivery business has different requirements in different locations. So, this is one more thing you need to keep in mind as someone thinking about how to start a multiple-location food delivery business and the Cost to start a food delivery business in the USA, UK, Canada, Australia, and Middle East Countries. And with that, your budget will differ too.
Starting a Food Delivery App based business in the Middle East
So, if you are someone living in the UAE, you would have to follow the rules prescribed for the delivery services by the Roads and Transport Authority in Dubai. This has some set procedure with regard to the delivery of food and other such equipment.
And then, there are naming conventions also that you need to see. Make sure that your name is not affiliated with a religious or governmental body or similar to another business to start a food delivery business in Dubai, Saudi Arabia, and other middle east countries.
Some other things you will have to take care of are our trade licenses and food safety regulations, which include storage and handling.
If you are starting an online catering service, you would need a catering business license, to begin with.
Starting a Food Delivery App in Canada
Canada, on the other hand, is more relaxed by way of regulations to start an online food delivery business using a mobile app. There are fewer restrictions to take care of. You will need to follow the rules of the Food Premises Regulations and Health Protections and Promotions Act. Apart from this, make sure that you register your business with the Canada Revenue Agency and certain other governing bodies based on your region.
In fact, some regions may even require you to go through a health inspection, checking your kitchen and other places to see if they match the standards required for this.
You may even have inspectors coming to check the way the food is prepared. And finally, your employees may be required to possess some certifications.
Starting a Food Delivery business in the UK
And if you are in the UK, make sure that you register with your local authority 28 days before the day of opening. This procedure is free and simple and can get done in a matter of just minutes, but is nevertheless important.
You will have to register the activities involved as part of your business. And apart from this, you will also have to register your employees. This too is an easy process and can quickly be done online. To register as an employer, you can follow the British government's guide.
While there is no formal training needed, it is important that your employees have the appropriate skill required to get the job effectively, efficiently, and safely.
Starting a Food Delivery business in the USA
And finally, if you are starting a business in the USA, you may have to follow the regulations of the Food and Drug Administration. Apart from this, there is also a list of some legal documents that you need to possess, like a business license, certificate of incorporation, insurance policy, and so on.
And then, you will also have to make sure that the food you distribute meets the federal, state, and local requirements.
Creating the Best Food Delivery App For Customers
Your users are your customers and your customers are your kings. So, make sure that they get at least the most important things that they expect from you. And what are these things? Read on: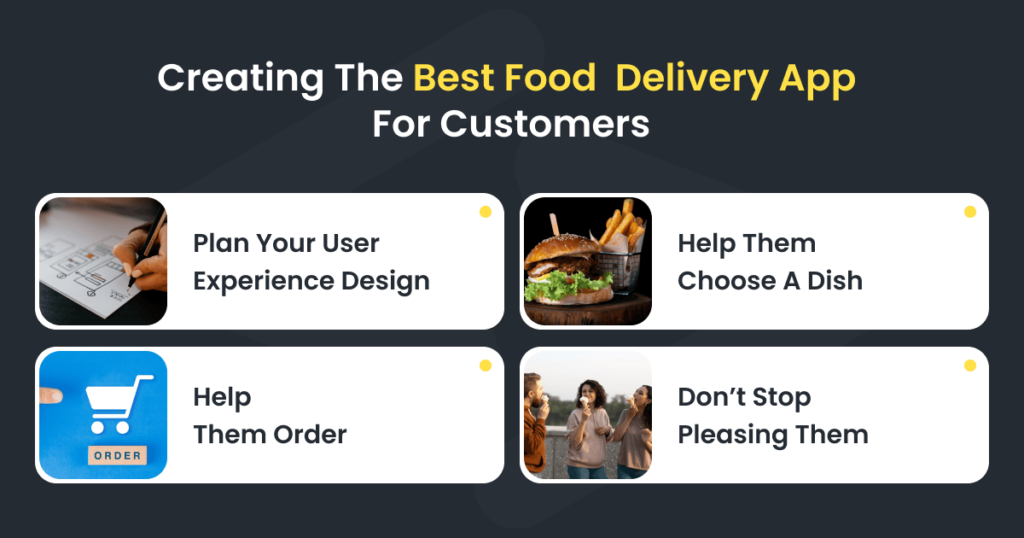 Plan Your User Experience Design
Provide an easy sign-up that is simple and straightforward, asking for nothing more than just a few necessary details. Include a social media sign-up if you can. This method is quick and easy too.
Make the homepage appealing. Make sure that you keep it neat and at the same time, friendly and interactive enough to please your customers and make them stay.
Provide them with a user profile page with decent functionality, easy options for editing, checking on credit and items recently ordered, and most importantly, options for sharing on social media.
Help Them Choose A Dish
And when it comes to a food delivery app, a decent menu and the option to schedule a delivery are the least that you can do to make them come back to you.
Make navigation easy. No one is going to stay on a page that is going to get them lost and trying to find their way to different menus and cuisine. So, as far as possible, see that your app is as smooth as butter.
Let them get a look at some featured dishes that they can choose from. This could make ordering easy for a lot of confused customers who don't know what to buy. And believe me, there are a lot of hungry customers who can still be like that.
Give them details about the dishes. This way, customers can make a better decisions as they know what they are ordering. Some things you can include are the ingredients, preparation, and even a few reviews that they can have a look at.
And then, another way in which you can help them is to keep a chat support system in place. This can be a good way to get personal with them, answering all their questions and making new visitors feel welcome too.
And yes, before we go, let me tell you. Don't forget to add some really powerful filters to help your customers find the right dishes in their search. You will be surprised by the difference this feature makes.
Help Them Order
Let the ordering and payment be smooth too. Let them schedule their delivery. This way your customers can order their food at a time that's more convenient for them rather than having to take care of lunch in the middle of an important meeting at 11 o'clock.
You wouldn't want to lose a customer coming to order for lack of payment options, would you? Provide as many payment options to make their work easy. Introducing digital payments can make a big difference to your app as a lot of customers choose cashless transactions today.
Remember that easy login and navigation alone are not enough for a good app experience. You need to pay attention to the checkout process too. Ensure that the checkout process does not involve too many critical steps.
Make sure that customers get a good order summary with all the details listed including the price, which includes tax, delivery fee, and actual cost. In other words, when it comes to the payment make sure that you are as transparent as can be. 
Let them track the status and progress of the food they ordered. Knowing how close their food is will keep those growling stomachs from getting too impatient with you.
Make sure that there is a sturdy review management process in place. This can greatly show your customers that you care about how you serve them and they tell you ideas to build on too. You never know when something that one of your customers said led to the next idea and initiative that was soon work wonders for your business. 
Don't Stop Pleasing Them
And then, there are also a lot of things that you can do to keep growing and keep your customers smiling and spreading the word about you. You would want that, wouldn't you?
Offer them timely discounts and offers to keep them smiling when they come to check your menu. And let them know when you provide them with notifications that are timely and yet not so timely that they become annoying. Those constant pop-ups could be one reason that could send a customer clicking on uninstall. So careful.
Please Your Restaurant Partners
Remember that online food delivery is all about food discovery. So, if you want to know how to start a food delivery business in 2023, you need to keep your eye out on all the trending restaurants out there. You wouldn't want to miss out, would you? 
Make sure that your app has all the right software to let restaurants manage their orders and alter the options on their menus. Doing this will help them get the attention of customers more, to benefit them and you.
When it comes to your restaurant partners, don't forget to give them as much attention as they need. Of course, one way out is to make space to put up ads on their behalf.
But then, there is so much more that you can do. Speak about these restaurants on your app, in the form of reviews and introd, with some pictures for added effect.
Care For Your Delivery Partners
And amidst all this, do not make the mistake of neglecting your delivery partners. Remember that they are the ones who will be running to and fro for your business and its needs.
So, offer them a decent if not handsome salary. And if there is a way in which you can encourage tips from customers, do this. This is one way to greatly help your delivery partners whom you want to please.
Let us end with a word of advice. Remember that these are Covid times and you can never be too helpful when it comes to caring for someone out there, and more so if he is involved in your business.
So, be generous with all the information. Alert them with all the affected zones so your delivery partners can take all the precautions they need to.
And then, don't forget to keep reminding your customers, delivery partners, and restaurant partners about taking precautionary measures. People can be forgetful, you know.
All this will go a long way in building on the trust and loyalty of the people you work with.
FAQs

1. Is it important to provide customers with a large menu?
We know where you are coming from. While apps like GrubHub, Talabat, and UberEats may be known for their extensive menus, this is not really a requirement in growing your app.
So, now that you are starting, you can focus on a small menu. One way out is to specialize in particular dishes. You could start by delivering just pizzas and then expand this with various other items as you go.
You can later grow by partnering with more restaurants and adding their menus on your online platform, with some detailed information. Don't worry. You'll get there in time.
2. How do I generate revenue as a food delivery app?
As a food delivery app, you are more of a mediator between the restaurant and the hungry customer. Remember that as a food delivery business, you are greatly extending your customer base.
They are selling their food through your online platform. So, you are doing them a favor, for which you will be receiving some commission.
So, there! That's your first source of revenue. And then, you will definitely charge your customers a delivery fee. That is your second source of revenue.
If you are wise, you will include some space for ads. This can be another great source of revenue. And then, you can include subscription charges if you want to make more money.
3. How do I get people to know about my business?
Advertise And hey, before you start, let people know about your business. No, we know you are starting off and you don't have to spend too much for this. Thanks to social media, today there is so much attention that you can get by way of digital marketing.
Start small and spread the word. Tell them about what's special about what you have to offer. Add pictures and stories and statuses that will soon get people clicking and in time order.
Perhaps you can start with a few giveaways, doing things at a low cost till people get to know about you and start liking you enough to not mind coming back to you, even if it means taking out a few more bills.
Final Word
So, you see, starting an app in 2023 is more than simply a convenient platform for customers and food outlets to sell and buy their food to and fro. Remember that there is going to be competition out there.
And if you want to know how to start a food delivery business in 2023 you have to catch up with the latest trends too. Keep yourself updated with what is happening around you and keep finding innovative ways to please the customers who come to you.
The above are just some of the basic things that we think you need as someone learning how to start a food delivery business in 2023 but keep looking and learning and before you know it, you will be adding some of your own creative ideas too.

Restaurants operators should comprehend the industry's increasing diversity beyond aggregators with a significant public presence before expressing their views about mobile ordering applications. As restaurants are less content with their reliance on third parties to be sold online, they would profit from looking for alternative ordering and delivery options that control them. If you are also looking for your on-demand mobile app development, contact our business and sales team at +91 93090 90932 or [email protected].
SEE MORE