Cost To Build App Like Lalamove
So, are you thinking of a startup and are trying to come up with an idea for a courier delivery app development? Doorstep delivery is the trend today, with more and more people looking to rely on their smartphones to get things done, and a number of apps coming up to fulfill their needs. This makes us think of the cost to build an app like Lalamove!
Gone are the days when people ran to post offices with large packages, restaurants to get a meal parceled and even grocery and meat shops and other stores. The lockdown, and with that, the pandemic, has made people comfortable in their homes, looking for solutions on the palm of their hands.
From getting the day's meal to a taxi, to some meat to prepare over the weekend to almost anything under the sun, courier delivery app development are here to stay and make lives easy.
Lalamove is more to do with courier delivery. It coordinates with different vendors in order to perform various kinds of home deliveries for their clients, thereby serving as a mediator between vendor and client.
So, in other words, this is an app that helps people get their food and other delivery services, delivering almost anything from one place to another, as its motto says,
"Whatever you want, wherever you are, whenever you place a request, we will deliver it for you."
Today, Lalamove enjoys an annual income of over 145 million. According to data from Crunchbase, the app today has raised revenue of over $900 million. Yes, courier delivery apps have a market share of $400 billion today, and what with the pandemic and all, this is only expected to increase.
The Story of Lalamove
Formerly known as EasyVan, Lalamove was founded by Chow-Shingyuk in the year 2013, in December in Hong Kong.
Today, the app operates in over 130 cities in different parts of the world with over 30,000 drivers, running successfully and serving as an inspiration for you and me.
What Is the Cost To Create An App Like Lalamove?
Well, now just like with any app, there is no fixed amount of money that you need to have in your wallet to create an app like Lalamove.
It all depends on the complexity of the features, developmental platform, and other things that you are looking for. In other words, this depends on the level at which you want to get your app launched.
And most importantly, it also includes where you would like to start your courier delivery app development.
So, if you are planning to start an app in the US or even in the Middle East for that matter, know that you will be shelling out more bucks than someone planning to create an app in India or another country like ours.
So, if you are starting an app in India, the cost to create an app like Lalamove would probably be from $70,000 to 150,000, that is, if all you want are the basic features.
Factors Determining the Cost To Create An App Like Lalamove
Some of the factors that are going to determine the cost of creating your app are the app size, design, platform, the location of your team and finally, the features you want to include in it.
To begin with, you will have to hire at least two developers and will be paying them $50 every 2000 to 3000 hours. And your app is going to take about 13 to 15 weeks to develop. Now, this is just a part of the few things you will be investing in for your app.
However, here's a way out. You can begin by creating an app with just the basic features. This will cost you an amount of $10,000 to 20,000, for a start. And then, as you get successful by the day, you can start thinking of advancing on the features and functionalities you want to improvise with.
You can start by fulfilling local needs and then, when you are doing well, start extending to other cities and eventually, maybe other parts of the world too. Why not?
Doing this has a two-way benefit. For one, you won't be financially burdened, as you already saw. And then, there is the fact that it makes starting your app easier as you have fewer things to focus and learn.
This way, you won't even have to pay too many developers, but can start by hiring one or two developers and gradually build a team of skilled professionals in time.
What We Can Learn From Lalamove
It is not enough to know about the cost to start an app like Lalamove. You want to be equally successful, don't you? Then, come along and we will look at what it is that makes this app so successful before we venture out to create an app like it.
Lalamove offers its customers a wide range of vehicles, services and even payment options.
One of the best things about this app is the ease with which anyone can get to use it, even a newcomer. The response to a customer is made within a matter of 30 seconds and the delivery solutions are quick, making lives easier for the user again.
Here, the delivery happens in about four to five easy steps that are swift and safe where a customer can track his delivery all through and rate his service in the end.
So, what is the secret behind Lalamove's great performance? Remember we told you the number of drivers it has. So, if you want to create a web app development, don't forget to pay attention to the number of drivers you are hiring as this plan an important role in your courier business.
Thanks to Lalamove's many drivers, orders get completed fast and so is the flow of cash that comes in.
And then, let's not forget that the app has efficient logistics and delivery management, and this is what we need to pay attention to too. Remember that when you have efficient logistics and delivery management that's happening in the
Lalamove follows one of the most cutting-edge business models that are technology-based and highly reliable, with a platform for SMEs and other corporate businesses to connect to people who can access their services.
Features To KeepIn Mind With Your App
So, while you are concerned about the cost to create an app like Lalamove, remember that it is also important to pay attention to the features that you are investing in if you want a successful app.
So, let us have a look at a few of them: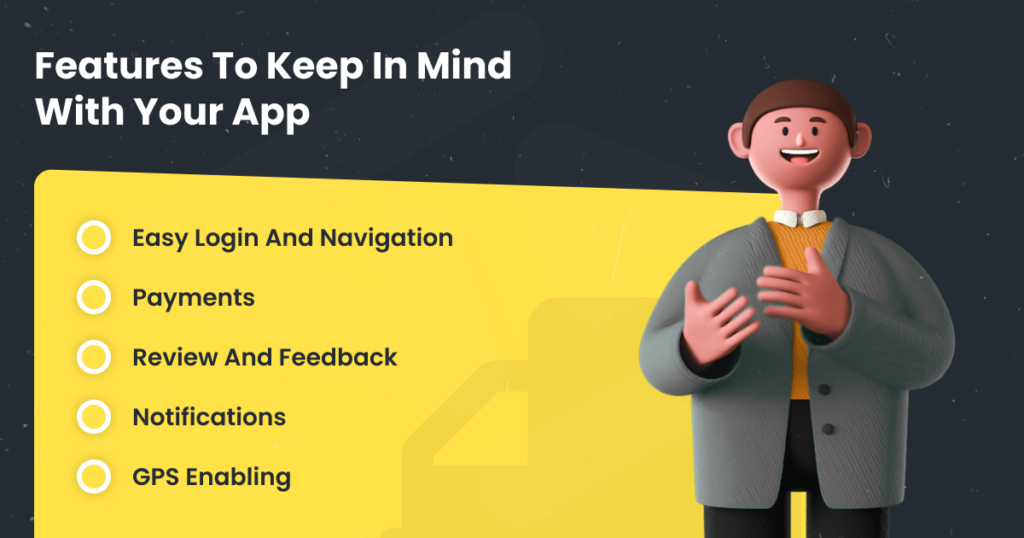 Easy Login and Navigation
Remember that customers are like birds, and if they don't feel welcome, they're going to fly away and there's hardly a chance of them ever coming back. You wouldn't want that to happen to you, would you?
So, a customer visiting your app for the first time would not want to be hovering there for a long time trying to log in. Make the process easy.
One way to do this is by giving them the option to login with their social media ID. And then, ask only a few necessary details.
And then, make sure that the user panel is clear and presentable, letting a user navigate his way and manage his different tasks with ease. A good app is one that enables easy tracking and lets a customer enjoy full control over it.
The same applies to a driver too, helping him view his assigned tasks, routes and other details with ease, thus making for better coordination and with that, an efficient performance.
In other words, make sure that the user interface is clear and self-explanatory.
Divide the app with three synchronized panels for the three kinds of users (customer, vendor/driver and admin)
GPS Enabling
This is to make things easy for the vendors, who are like the heart of your business. Good GPS enables him to reach his destination faster and thus take on more orders.
In addition to that, it also leads to better and more efficient service, where a vendor won't keep a customer waiting as he tries to find his way through different roads and gullies.
So, you see, this is a feature that everyone benefits from.
Notifications
An app is never satisfying without proper notifications that keep a customer updated on the status of his orders and other things
Notifications are one way of getting the personal attention of your consumers, as long as you make sure that you are sensitive and don't become a nuisance to distract them throughout the day.
Another good way to go about with this is to introduce the use of a chat box in your app. This can be an effective way to engage your customers with your service and, more importantly, get their queries answered.
Incorporating all the above ideas will go a long way in making your app user-friendly, and an app that is user-friendly will in turn have more customers coming back to them.
Payments
Another way to make life easy for the customers, (and the vendor and you too) is to provide the customer with as many payment options so he won't have a problem when his card has an issue if he has no cash in hand.
Make sure that there are different payment gateways integrated with the app and that they are standardized well.
Speaking of payment, security is another feature you need to take very seriously. Make sure that the payments are supported by OTP and other steps needed to make a customer feel secure about making a payment.
Today, a number of apps use blockchain-backed payments, thus adding another layer of security when it comes to payments made on their app.
Space For Review and Feedback
One way to make your app grow is to include a lot of space for review and feedback. Remember that sometimes the greatest advisers in your business are your customers who are on the receiving end of your services
It is here that you are given advice on your areas of improvement which your customers know and information on yourself that you otherwise wouldn't get to know.
All this makes it one of the most important features to consider when you are considering the cost to create an app like Lalamove.
FAQs
So,. before we end, we decided to take some time to answer some of the most probable questions that are on your mind along with the cost to create an app like Lalamove:
How does Lalamove make money?
The app makes money primarily through the fee it charges its customers by way of delivery and even a convenience charge.
So, customers using their service will have to pay a fee which will vary based on the kind of vehicle they choose, the weight of their goods, how far their delivery location is and finally, they will also have to pay a small charge for their delivery.
What is the benefit of creating an app like Lalamove?
The online courier delivery market is a growing industry that is destined for success today, especially when it comes to the delivery of goods considering the kind of problems people face today by way of vehicle availability, safety and so on, especially in urban areas.
So, creating an app like Lalamove would be giving companies and individuals a single platform for an instant solution to all their problems with regard to the transport of goods.
What are some of the challenges to building a doorstep delivery app?
Okay, you would have seen this coming. So, one of the biggest challenges is, with the growing number of apps today, you are going to have rivals in the market. But don't worry, because there is also a growing need for such services today, and so, if you are committed to pleasing your customers, this is not going to be much of a problem for you.
What are some of the ways in which I can get recognised as a courier delivery app?
To begin with, promotion is one very important area, if you want your app to reach its customers. And then, as we said above, take feedback very seriously. Finally, make sure that you provide timely offers that please your customers and make them happy.
So, there you go. We hope you now know all that there is to know with developing a courier delivery app of your own, right from the cost to develop an app like Lalamove to the features you can improve on
If you are also looking for your on-demand delivery app development, contact our business and sales team at +919309090932 or [email protected].
SEE MORE:-