Cost To Build App Like Porter
Having a movers and packers app is one of the surest ways to a successful business with the number of people shifting places and relocating within and around cities.
Getting all that furniture, electronic items, and other stuff in the house shifted is one of the major concerns among those changing homes, where finding help is never easy.
So, how about being the change by creating an app like a porter that helps people find someone to approach, so they can now peacefully relocate to their new homes and you can now run a successful business? 
Speaking of business, let us come to the major question. How much does it cost to create an app like Porter? 
Aha! Now that was on your mind all along, wasn't it? So, you are on the right page, as this is exactly what we are soon going to have a look at in the course of this article.
So, if you have recently been thinking of starting an app to do with movers and packers, and are wondering how much it is going to cost, then read on. Top movers and packers app development company
A Little Look At Porter
Let us begin by having a look at Porter, one of the most successful apps in the service of moving and packing goods.
This app has definitely been doing quite well for itself and growing over the years, as we see from its many reviews and success stories. But how did it get there? And what did it cost to create an app like Porter? 
To begin with, Porter was founded in the year 2014 in Mumbai by three students from IIT Kanpur inspired by the idea of Uber for X and motivated with a view of helping people at a time when the logistics sector was marked with some inefficient practices, adding to the trouble of those moving homes and already having a lot to deal with. 
Having closely studied the business model of companies like Uber and conducting thorough ground research in the delivery space, the trio finally set to launch what is today known as the Cost analysis of Porter app development. 
It has since then, supported lakhs of businesses as they transform their goods in and around cities.
Today, it is one of the largest and most reliable logistics services in India, offering its services in about 15 cities throughout the state, having served over 50 lakh customers to date, thanks to its hassle-free rentals, transparent prices, efficient tracking and reliability that has made it a name synonymous with moving and packing services today!
Creating An App On the Lines Of Porter
And you can do all this too if you make an effort to do the things that it takes. Creating an app like Porter comes with challenges of its own. There are delicate items to deal with, trust that needs to be built, and let's not forget, the never-ending problem of stealing and theft to put up with. 
Remember that running a movers and packers business is all about being responsible for another person's home and goods, so, if you are willing to make yourself this responsible, then go ahead! We shall consider the cost to build an app like Porter because this seems like just the right thing for you. 
Let's Look At a Few Statistics 
Let's begin in the year 2012! The revenue generated by the movers and packers industry has only been on the rise, reaching a figure of $23.7 billion, which is only expected to increase over the years. 
The US has seen a figure of $29 billion in the year 2021.
That said, let us now look at Porter. Porter enjoys revenue of $37.4 million every year. 
Some apps similar to Porter are Blackbuck, Delhivery, TruckEasy, and Locus. You can be a part of the list too, considering the increasing demand for efficient movers and packers services in India.
Steps To Create An App Like Porter
Okay, so before you go ahead, let us look at a few steps to create a movers and packers app and the things that you need to keep in mind: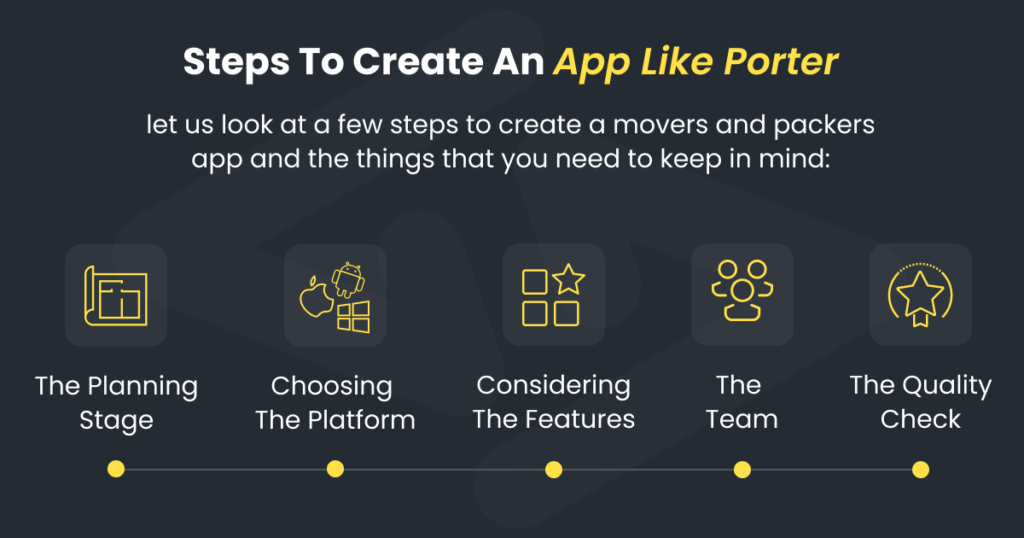 The Planning Stage –
Now, starting any new business the first step is planning. Make a note of all your business needs and the kind of audience you would be targeting, the budget you have in mind, the location you would like to begin, and so on. 
And most importantly, don't forget to give a thought to the features and functionality.
Choosing the Platform –
One of the most important decisions to make when creating an app is choosing the platform that goes with the design and app development and keeping your budget and target audience in mind. 
One of the best things to do here is to create a cross-platform app that helps you reach out to the most number of people.
Considering the Features –
The right features can go a long way in determining the success of any app. Features need to be decided on based on the needs of your business, the budget, and your target audience.
If you are on a small budget, it is advisable to build an app with basic features and build on advanced features as you go. 
The Team –
And then, of course, you are going to be thinking about the people to work for you. You need a qualified team with the right technology partners who are reliable and dedicated and possess the kind of skills that you need. 
Now, you can do this in three ways. You can hire an in-house, or you can get your work outsourced to a specialized team, which is the more affordable option.
Or you could get some freelancers to put in a few hours of work each day for you.
The Quality Check –
And finally, if you are well versed in the ways of business you would be familiar with the fact that no one launches an app by first conducting a thorough quality check.
Bugs and errors are things you need to test the app for. Finally, make sure that you run the app on several platforms to ensure complete accuracy.
And these are the first few steps one needs to take on developing an app, which are all, obviously going to cost some money. In other words, these are the things that determine the cost of creating an app like Porter.
A Look At The Cost to Create An App Like Porter
Okay, now all this is said, let us actually look at the real cost to develop an app like Porter, in terms of figures. 
There is a development cost to think about. You will need an amount of about $2000 for your research process, and about $5000 for the design, that is if you are on a budget. If you are looking for something advanced, be ready to shell out an amount of $20,000 or more.
And then, there is the business analysis, custom app development, quality assurance, and other such, all of which would come up to a cost of $50,000 for a minimum. 
And finally, there is the team you need to pay for. So, if you are in India, you would probably be paying your employees over $30 to $150 an hour. You can calculate how much this is going to come up to overall.
In the end, remember that this is just a rough estimate of the overall cost to build an app like Porter and that this figure can vary from location to location.
So, if you are starting an app in India, you can take relief from the fact that you would be paying considerably less than what you would be paying to create an app in the US. 
So, if you are on a budget, remember this: location matters!
FAQs
Okay, now before we end, let us look at some of the most frequently asked questions from those looking for some advice on how to build an app like Porter
1. How long does it take to build a movers and packers app?
Well, there is no set time to finish building the app as this mainly depends on the complexity of your app, the features, and functionalities that you would like to include, design, technology, and so on. 
However, overall we can say creating a movers and packers app can take a period of four to eight months within which you would mostly finish building the app.
2. What are the different technologies that Porter app uses?
CRM and CMS integration, real-time tracking, in-app payment, cloud for secure storage, database design, and finally, not to forget, GPS tracking.
These are some of the most common technologies that Porter uses in its movers and packers app and would probably work for you too.
3. What are the most important features when it comes to creating a movers and packers app?
Good transportation, and with that, proper GPS tracking are two of the most important features in a packers and movers app, which should be obvious, considering you'll be dealing with the movement of goods from one place to the other.
And then, there are other features that you can build on to make your app grow and increase in business by the day.
So, You Are Set!
And that was all about building a movers and packers app and the cost included in it. So, if you are ready, start today. Think about the platform you would like to start our app in, the features, functionalities, and so on.
Take it slow, one step at a time, and be ready for the challenges that are going to come your way, and before you know it, you will be running a successful logistics business.

If you are also looking for your on-demand delivery app development, contact our business and sales team at +919309090932 or [email protected].
SEE MORE:-