Healthcare, like most other market segments, has undergone a significant revolution due to technical advances. The demand for Healthcare app development has grown globally, with more and more users dependent on them for everything from medical care to general well-being. Revenue of USD 111.1 is expected from the global Healthcare app market by 2025. So, if you're looking to Hire Healthcare development company for a mobile healthcare app or updating an existing app, this is a perfect read for you.
But before we look at the main reasons why healthcare applications have become more of a need, let's take a look at some of the relevant facts and statistics. According to Statista, the healthcare industry will become one of the biggest income producers generating 60 million dollars.
Reasons to Hire a healthcare app development company.
Most of these are health and wellness applications that allow users to monitor health criteria and provide insightful insight into their fitness level. This is probably the perfect time to create a mobile health app. App development begins with a rich knowledge of what you expect the health app to do, for whom, and the environment in which it will function. As a developer, you need to create perfect and unmistakable criteria early on in the project, or even in stages subject to construction experience.
Also, the healthcare app development soared during the previous year, considering the pandemic wave and its effects. Here is an image from Statista proving the same.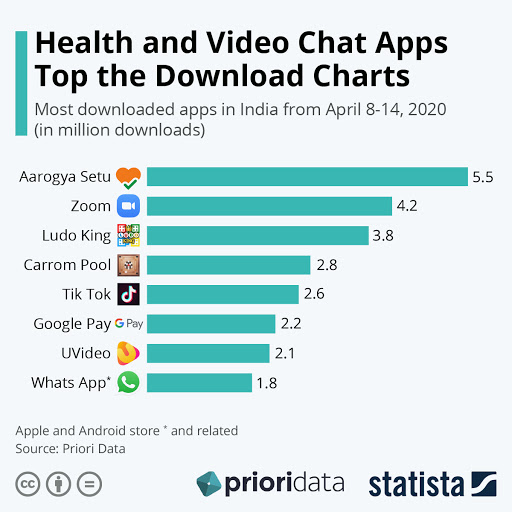 You can Hire dedicated developers or Hire a dedicated team from iCoderz Solution to create a tremendous healthcare application.
1. Patients receive immense benefits.
Patients are the people that benefit most from Healthcare apps, if they schedule a fast consultation with the doctor, locate a suitable expert with hands-on expertise, access free medical examination results from the labs, buy medications and other items at reasonable rates, and so on.
Besides, they will also do a video call with the doctor to discuss their health problems face to face by paying a decent fee. Users will sustain a balanced diet by contacting their dietitians and nutritionists online.
Both of these aspects aim to improve patient involvement further. Plus, they will also know which medication has been prescribed for which condition and its side effects.
2. Minimizing the risk of false diagnosis
In the last few years, you may have heard several cases where patients have also had to put their life at risk due to a mistake in the diagnostic approach. Yet healthcare applications have nullified all the options that have been life-threatening for any user.
When physicians receive detailed records of the patient's well-being, they help administer the most accurate medication with the proper dose and chemical compositions. They can also store patient notes for cloud facilities.
Also, medical personnel should maintain patient records more precisely and enter vital details without making any errors. Hire Healthcare development company for your existing healthcare app or to develop a new app and get benefited.
3. Hire dedicated team and give the users hassle-free experience in Billing 
The smooth medical billing process is one of the key rewards of Healthcare app development. Skyrocketing costs and large care expenses have long been a headache for patients because doctors charge premiums independently. However, because some of the activities can be completed via the app, it can ease the pressure off their pocket. 
By developing a good healthcare app, clients and users can be assured about bill records and payment records. This will also act as a transparent medium for the users.
4. The healthcare policies are a reason itself.
Health care services are becoming more costly. There is also a worldwide trend to lack medical personnel. It is estimated that in the USA there will be a shortfall of 1 million nursing staff by 2020. In India, only 150,000 medical professionals treat almost a billion people. For example, US health care spending is expected to hit $6.2 trillion by 2028, with an average annual rate of 5.4%.
Healthcare app development is also motivated by the need to reduce long waiting times for healthcare services access. In Canada, for example, about one-third of patients have to wait two or more months to see a doctor.
5. Fluency in management of medicine stock and availability
When you employ dedicated developers to create healthcare applications – you get the advantage of the stock and inventory module. Being into the healthcare industry, sometimes it becomes difficult to keep an eye on every segment, but with such an application, you can be care-free and up to the mark with data regarding stock.
Even at the lower or mid-level operation, doctors or chemists can be aware of certain medicines' availability. Hire developers from iCoderz Solutions, and your checklist regarding the app will be completely fulfilled. 
6. Doctors can track the treatment process.
When a doctor is handling several patients, it becomes difficult to summarize their treatment process. The paperwork could be tedious, time-consuming, and management of paper-data would be difficult. 
Hire Healthcare development companies can create an outstanding application with the option of tracking the treatment process so doctors and patients can be completely aware of the ongoing treatment.
7. A Competitive administrative System
Obviously, the task of emergency clinics and health institutions of some type is for patients' care, but internal hierarchical processes cannot be left out in any situation. Moreover, the management system also prompts a lower level of assistants. Luckily, the problem can be addressed easily by registering for a medical centre. Its viability is due to the manner in which the Executive Clinic's mobile apps allow more simple missions to be set up and their successful use to be observed easily.
8. Productivity Enhancement
Medical applications, integrated with a pooled database, enable experts to review the patient's electronic health report, analyze the examinations' consequences, and make a further record unambiguously and agreeably. With these close-knit data, a doctor may have more patients actively giving more attention to each of them and thereby enhancing the nature of the administration.
9. Real-time communication with the specialist
By a legitimate Healthcare app development, the patient can get exposure to various doctors even if they can book appointments priorly before meeting doctors in person. Also, the features like the chat to the doctor or an online session to describe the problem before the actual visit are a blessing to the patient. There could also be an option to book home visits from doctors.
10. The rise in a business opportunity 
Healthcare applications have also shown a particular emphasis on doctors and patients, but they have also provided new business opportunities and possibilities. Medical staff no longer use outdated practices but instead use referral systems.
Basically, this is a cloud-based referral structure. They can also write resourceful recommendations that help health professionals promote themselves through the upsurge of patient information in digital form.
In recent times, the healthcare sector's scope has increased by leaps and bounds and has become much more diversified. People download health care apps for various purposes, such as weight reduction, women's health and pregnancy care, elderly health care, etc., creating new and vibrant opportunities and paths in the industry.
Hire dedicated team from iCoderz Solution
When you hire dedicated developers, the cost of infrastructure development will be nullified, and the cost of recruitment will be eliminated along with the cost of training. All that needs to be done is to support the idea, hire a dedicated team, and get the job done.
If you need a Doctor on Demand app or healthcare or medical mobile app, iCoderz Solutions is really the place to build an outstanding smartphone app. Our application development team is very knowledgeable about a superlative level of experience that can transform your concepts into a mobile app that takes your business to new heights.
Whether you are an individual doctor, a multi-speciality hospital and pharmacy or laboratory, we are serving in every aspect. Contact us at [email protected].
Steps involved in Healthcare app creation
Here are the steps involved in the development of a healthcare application.
Step 1:
You need to be clear about the kind of app you need to implement, manage, and review pathological records or plan appointments before you Hire Healthcare development company.
Step 2:
You will need to define the basic roles that will support users in the next step. A payment portal would be helpful, for example, in the doctor's appointment app.
Step 3:
Next, you need to protect the protection of patient records. Certification of HIPAA is essential for the proper creation of health applications. Developers should also be able to combine the app with Samsung and google fit because of their data sources and make monitoring even simpler.
Step 4:
It is imperative to select the right medium for the device. It would be wise to have the application compliant with all devices and systems today since several different consumer devices exist. E.g., a young patient would prefer a cell phone and an elderly patient would prefer a tablet.
Step 5:
First, you need to employ dedicated developers who can create a concept and then incorporate current ideas into the ap. Simple scalability and smooth integration with other services are of considerable significance. First, a Minimum Viable application is developed and run for testing and testing, and then the new version is updated.
Various features of Healthcare application
Let's see what functionality these smartphone applications are meant to have. Of course, the key feature is focused on the tasks set by the owner of the application, but let's see the importance of the right ones. There are crucial aspects that can also assist with the Healthcare app development. 
 

Language for the Interface
The part enables the representation of the software in any language that the client finds beneficial. What's more, you might be working on a double with a few dialects.
Regardless of whether you are creating a patient-driven or administrator-driven or guardian-driven program arrangement, the UI/UX must be configured to make their lives easy. Holding the record and getting to it should be easy and instinctive.
Medical Records of the patients
The Emergency Clinical Application is a perfect way to track persistent clinical records. That is why both patients and clinicians are finding portable well-being and therapeutic applications.
The portable well-being project can combine scholastic knowledge with a breakdown of the determinations grouped into classifications. This portion increases the treatment process by allowing specialists time and resources to be saved.
Before you employ a dedicated team, the developer should strive not to finish the turn of events and then stand by to validate the submission. Run success will continue to make the process iterative to ensure that the final product can be submitted early and has zero glitches.
The portion makes a considerably more efficient organization of the care and evaluation process and the creation, promotion and correct clinical conventions. And again, this would serve to improve the competence of the experts.
Information management is a test for emergency clinics and hospitals, as their information should be confidential. Be that as it may, you may defeat that obstacle by end-to-end encryption in programming agreements or use safe networks to convey knowledge. In this respect, the details cannot be blocked, and patients have a sense of protection using the application arrangement.
8. Online Chat
As a result of online visits, the patient will be allowed to contact clinic representatives and health establishments if a serious enquiry is made on the internet.
Wrapping – Up
The rise of new technologies in the healthcare sector has grown at an immense rate. It has advanced services and revolutionized the industry. This has resulted in many innovative solutions, including the development of digital health apps. 
Though the initial cost was high, the Healthcare app development is in a transition and revolutionary stage. It is a futuristic solution to the growing requirement of the healthcare industry, so it is anticipated to reap rich long – term benefits. You need to hire dedicated developers who can incorporate the updated technology to create your app for potential development.
Drop the business queries on [email protected].