There are numerous features that are required to build a proficient on-demand doctor mobile application. An On-Demand Doctor App should have all the vital features and functionalities so that patients can easily associate with their doctors using it.
We were tempted to write this particular post as per a concrete report by Rock Health wherein it is surveyed, researched and stated that "88% of the health appointments are booked over the phone and patients are kept waiting for up to 76 days from the day an approval is fixed to the day of genuine appointment for a diagnostic course of action".
This discussion about On Demand Doctor App Development is incalculably helpful for start-ups, young entrepreneurs and the stakeholders related to the medical field that need to create a health app with but not limited to just easy doctor appointment bookings.
Must Have App Features and Functionalities for On Demand Doctor App Development
According to a report, mere 10% of the medical apps have been doing well in adding practical and imperative features; thus, fulfilling the desires of the customer. So, if you also want to get incorporated in that 10%, then it is crucial to add these essential features to your app: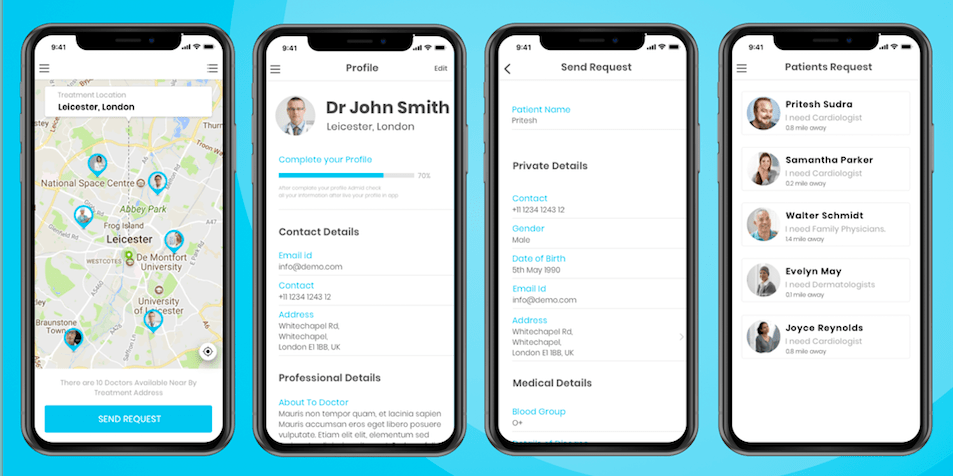 On-Demand-Doctors-App
1. Creating the Login Page and User Profile
The development of a health mobile application should start with building the login page and user profile. It is a page where the users can enter their details which include their name, age, sex and contact details.
Also, you can ask the user to give fundamental details in relation to their health which can comprise of weight, height; details of other common diseases like are they diabetic or have specific problems like high or low blood pressure. This would act as a unique medical chart of the patient.
2. Building Doctor Profile
The subsequent task is to build the doctor and their staff profile. It habitually includes the name of the doctor, the area of his specialization like paediatrician, cardiologist, gynaecologist or a physician. Other details comprise of his clinic or hospital location, the particular days and timings he or she is available and if required other staff details. The years of experience, details of medical degrees and qualification adds significance to the profile.
3. Ratings, Reviews and Images
It is also crucial for you to have and include the doctor ratings and reviews. As it is now a universal trend that most of the patients have a preference to consult doctors based on the online ratings and reviews of their practice. Images of the clinic and add doctor's photo adds value to the profile.
4. App Appointment booking
This is the most essential feature of your mobile app that will allow the patients to book an appointment with their ideal doctor at a proper timing. You can offer a dynamically interactive calendar feature where the patients can verify the doctor's accessibility and set an appointment in view of that.
5. Geo-Location
Geo-location is a needed feature that must be integrated into a medical app. As it assists the patients to reach the doctor's hospital or the concerned clinic using the express route and within least amount of time.
It is a good thing in times of medical emergency when there is life-risking circumstances. An in-built map will further ease the job.
6. Live Video Conferencing
Live chatting or video conferencing with the doctors help patients have a personal interaction. This would save them from visiting their doctors at their clinics all the time.
7. In-built Payment Options
As we are stirring in the direction of having a cashless system, you can in-built the payment gateway option in your On Demand Doctor App so that the user with no trouble can pay the charges online.
It would embrace payment made by credit or debit cards. The person can also utilize the integrated applications like Google Wallet, Apple Pay, and Braintree or simply use PayPal. However, you need to add a robust security layer here so that the off the record data does not get revealed out.
8. Dealing with the Emergency Cases
A medical emergency can turn up at any time and no one can foresee it as well. The On-Demand Doctor App should have a separate feature to deal with the emergency cases.
It would be good if you can add functionality where the user can call an ambulance immediately with a single tap on the mobile screen. According to a research, 90% doctors have observed that mobile application has been of immense assistance during medical emergencies.

Conclusion
The medical science has been highly developed and the healthcare industry is further advancing with new technologies. Hence, mobile applications collaborated with healthcare businesses have made the lives of the people more straightforward.
We at iCoderz Solutions are a Mobile Apps Development Company which bring in superior solutions in your budget. So, if you have a requirement for an all-inclusive On Demand Doctor App Development, then connect with us to have further conversations!