cost to build app like GogoVan
Are you in a transportation & logistics services business or want to start a startup to manage the Transportation & Logistics business? Our expertise on GoGoVan like courier delivery app development offers you the essential innovative features.
Develop your own on-demand Logistics moving services app like Gogovan clone
Thanks to the pandemic and with that, the lockdown, today, you can't go wrong with a delivery app, with more and more people getting paranoid about leaving their houses and a lot more simply sitting at home and not wanting to leave their houses with their faces clad in masks.
Food delivery alone has seen a rise in the US from $8.7 billion in 2015 to $26.5 billion in 202. Don't ask us how much it has reached today, what with the lockdown and all. All we can say is this is only estimated to rise and reach $40 million within the next couple of years.
Today, the US alone has over 100 million users who use an app to get things delivered to their doorsteps. And the other countries are soon catching up with similar figures. The UK has about 24 million people using apps to get things home.
And if we take the whole of Europe, we can see a total of about 150 million people depending on apps to get things to their homes.
Globally, we can confidently say that there are 300 billion people who depend on apps today, to get anything delivered from one place to another, and with the pandemic that seems to go on, this is only expected to increase over the years.
How About A Logistics App Like GogoVan?
So, in a world like this, one of the best things that you can think of if you are planning on starting a business of courier delivery and want to build is an app like Gogovan clone to do with door-to-door delivery.
The good news is you can never run out of ideas on how to do this, from simply getting food delivered to people's homes to raw meat to just anything under the sun, one of the first things you need to do is think of what would be convenient for you to come up with.
And of the many options that are available, one of them is starting an app to do with delivering urgent items for businesses. While the market is filled with apps that are doing a good job of delivering food and meat, this is something unique that you can come up with, and one company that you can look to here for inspiration is Gogovan a courier delivery app development.
That said, before we look at the cost to build an app like GogoVan clone, which we know you are thinking about right now, let us look a little deeper into this Gogovan like app and what it does and how it reached its success, and more importantly, how you can do that too.
GogoVan: An Logistics Delivery solution
For those of you who don't know GogoVan is a transportation and logistics services app that works towards connecting drivers and users through its logistics service. 
This is a tracking service that helps businesses and individuals transport large and bulky items from one place to another where all that a customer needs to do is make a mobile order. 
A driver will then be assigned instantly and be on his way to help deliver the goods from one place to the other.
This was in fact, one of the first on-demand logistics companies in Asia that revolutionized the field of logistics with the introduction of technology. And this is how it has, over the years, connected millions of individuals and businesses with drivers to help them with their needs, expanding from their headquarters in Hong Kong to various other countries over the world that include South Korea, Vietnam, China, and even India.
GogoVan: The Humble Beginnings
Okay, that said, let's come to their story. It all began in 2013 when a few boys delivering lunch boxes to call centers found themselves with too many orders to fulfill.
Well, you can now guess what happened next. An idea was born, and then GogoVan was born and today, you have people like you and me sitting down and getting some inspiration, and considering the cost to build an app like GogoVan to help people with their moving needs.
Today, the company even delivers small items from one place to another, so if you are considering the cost to build an app like GogoVan, you can start by delivering small items and slowly grow. So, you can start by customers getting their food home, or movers and packers delivering gifts to their loved ones or anything that you can think of.
That sounds like a good idea, isn't it? So, if you are seriously considering creating an app like GogoVan, let us look at some reasons behind the success of GogoVan.
It Is Affordable –
GogoVan charges an affordable fee that is reasonable, thus making lives easier for those it serves. So, whether you're moving houses and changing offices, you can always count on GogoVan for its affordable service.
GogoVan charges a basic route fee apart from a few additional charges that are reasonable and include things like tunnel fee, parking fee, and of course, some service fee.
The fee depends on how large a customer's goods are and whether they include waste, landfills, or even pets. This can also include additional requirements that a customer has like an English-speaking driver, night delivery, delivery on the weekends, the need for additional carts, and so on.
Here, payments can be made by debit cards, credit cards or even cash on delivery. So, you see, GogoVan does all it can to make life easy for its customers.
Quick Response Time –
GogoVan understands the urgency of its customers' needs and does not waste time, keeping them waiting. Instead, one of the best things about this logistics app is that a customer gets to see a response within eight seconds and work done immediately.
All that the customer needs to do is to place an order, enter all the details and make the payment after which they will get connected to a driver who will be on their way to help them.
Reliable Service –
I know this may sound cliche, but GogoVan provides its customers with one of the most reliable logistics services with an extensive network of committed drivers and a dedicated hotline that a customer can rely on at any time.
With over 40,000 registered drivers over the nation, the company aims to satisfy every customer's needs in the best way, without overlooking any of their concerns
Cost To Develop An App Like GogoVan
Okay, now that we saw all that we need to, let us consider the cost to build an app like GogoVan.
Now, creating an app that is to do with the delivery of goods is indeed complex and is going to involve a lot of features, all of which will contribute to the cost of building an app like GogoVan.
So, to come to the point, let's just say that you need to be ready to shell out an amount of $15000 if you want to create an app like Top movers and packers app development company. Of course, this can vary according to the kind of and a number of features that you want to have.
Remember that at the end of the day, you are creating a logistics app that is going to include goods and heavy vehicles and that this is not just to do with getting fish and meat delivered to people's doorsteps.
Of course, if you are on a budget that is what you can start with, advancing as you go, till you grow into a full-fledged app like GogoVan that delivers almost anything and everything today.
You can then build on the design, the developmental model, and other things in time. While we earlier saw some of the reasons why GogoVan is so successful as an app, let us now look at some of the features of GogoVan: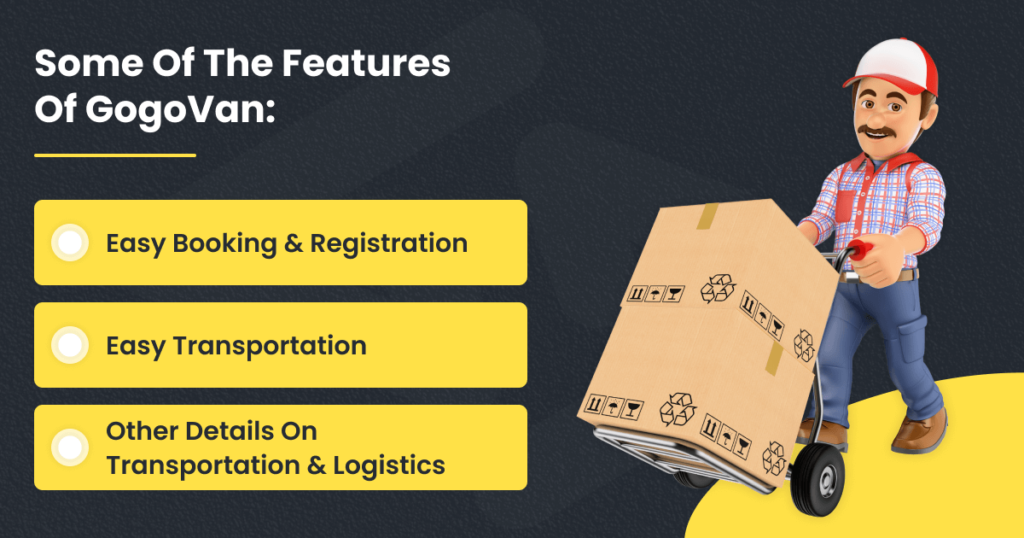 Easy Booking and Registration
As a delivery app, one of the most important things is to make life easy for the customer right from the point of registration up to payment and review.
So, your app should include all the right features like a list of vehicles to choose from, bookings to schedule and even push notifications, real-time tracking apart from various payment options, and a space for feedback.
All these are things that can keep a customer coming back to you and also send other customers to you.
Easy Transportation
As a logistics app, you are going to be depending a lot on your drivers and so will be doing yourself if you treat them right, and this includes thinking about them and their needs when you create your app.
Make sure that a driver can register and receive order requests with ease, along with details like shipping information and GPS tracking to reach the different locations easily. Finally, it would be really helpful if a driver could receive approved bills and payment details too.
Other Details on Transportation and Logistics
Finally, you need to make things easy for those on the admin side too. As this is the core that controls what happens on the driver as well as the customer side, this is something you can't afford to neglect.
Make sure that your app has a good dashboard and all the right information on the driver, fleet, payment, review, and so on.
FAQs
So, before we end, let us answer some questions we think could be on your mind while you are thinking of starting this app:
1. Can I really make money with a delivery app?
Take it from us. Online delivery is one of the fastest-growing businesses today and is here to grow, more so in this day and age of the ongoing pandemic, provided you do things right.
You can earn by charging commission from the restaurants you deliver from, delivery fees, and finally advertisements.
Build a good courier delivery app, please your customers, and take feedback seriously and you are sure to grow in revenue in a matter of years.
2. Can I really create an app on a small budget?
Yes, you can. And like we said earlier, if you are on a low budget, start small with only the basic features and advance as you grow.
This is one of the wisest ways to upgrade as you can advance based on the developments in the market and the inputs that you receive from your customers in the form of feedback.
This way, you can keep updating your app to make it more user-friendly with each version, winning more customers in the process.
3. What is the best way to create a successful app?
To create a successful app, one of the most important things is to begin by analyzing the market and your competitors, know what motivates people and get a good picture of your strengths before you make decisions and go ahead.
And if you are really serious about your app, you will make sure that it goes through different levels of testing before launching. This way, you can identify all possible nips in the bud before you reach a stage where such fixes cost you more.
So, there you are. Now that you know all there is to know about creating an app like GogoVan, go ahead and begin your venture. We don't promise you a smooth journey. There will be pits and falls but believe in yourself and someday you are sure to get there.

If you are also looking for your on-demand delivery app development, contact our business and sales team at +919309090932 or [email protected].
SEE MORE:-