Mobiles are now omnipresent and we can't imagine the world without it. In fact, most of the people have started carrying more than one mobile with them for various reasons. On the other hand, most of the governments of the world are pushing harder in the direction of the digital economy. As a result, Payment Apps offering P2P payments are on the rise. It has led the global growth of mobile payment services worldwide.
A larger part of Latin America, Africa, and Asia doesn't have enough banks and infrastructure. In such a situation, mobile payment apps have filled the gap and turned out to be immensely popular. As a result, millions of people have performed their first digital transaction on their mobiles through various mobile payment apps.
Most Popular Payment Methods For Everyday Transactions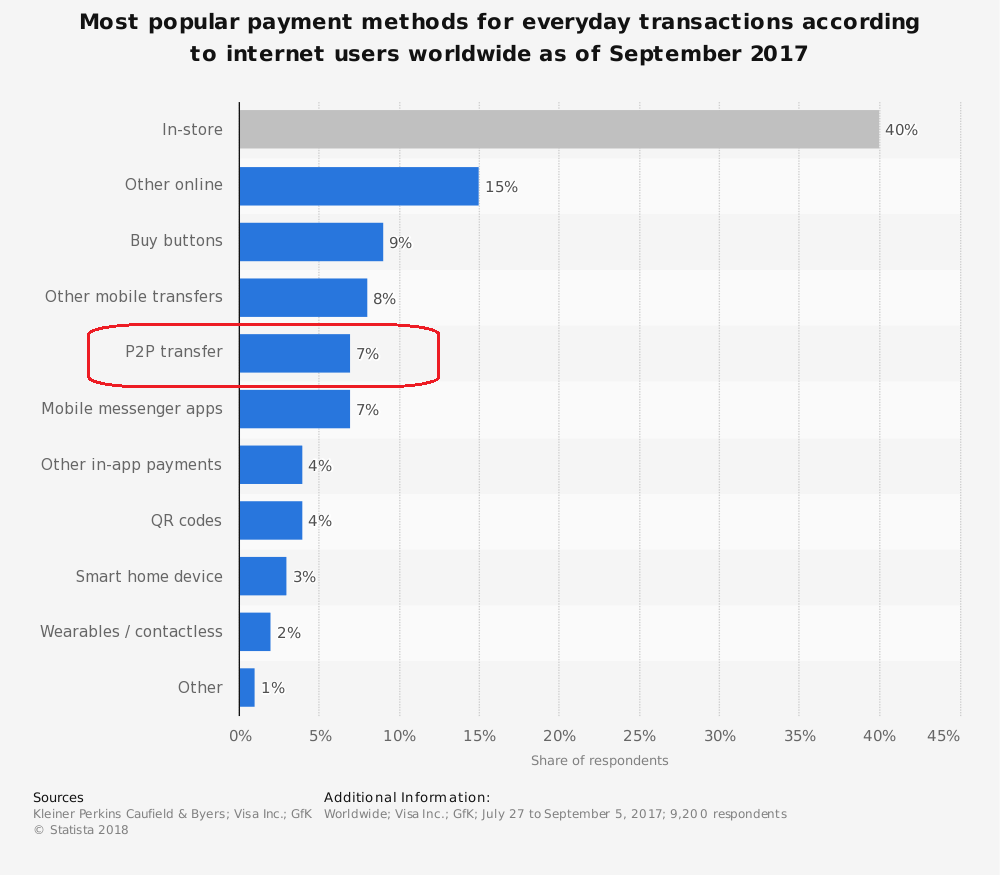 The above chart illustrates worldwide internet users' preference for the payment method for day-to-day transactions.
In-store payment method is still the most popular and dominant method with 40% but it has declined steadily.

That means now 60% transactions are done online using various payment methods.

Out of this 60%, total 7% of people preferred mobile payment apps for person to person payments.

If we consider other mobile transfers (8%), mobile messenger apps (7%), other in-app payments (4%) and QR-code payments (4%) along with 7% mobile payment apps, total 30% of that 60% is completed using mobiles.

It means that 50% of digital payments are now carried through mobiles.
10-Year Challenge: How Technology Has Changed And Evolved In The Past 10 Years
Worldwide Percentage Of People Preferring Mobile Payments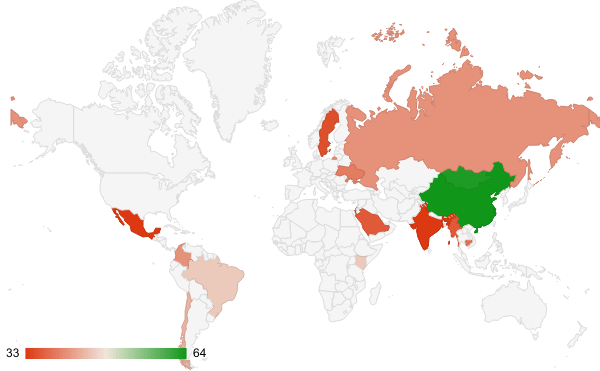 These are the statistics of internet users of the selected countries who prefer to use mobile payments through various mobile payment apps worldwide.
According to this survey carried by Statista, 64% of people in China prefer to use mobile payment apps for digital transactions.

Mongolia was a close second with 63% people preferring mobile payment apps for their digital transactions.

Globally, 39% of people prefer mobile payment apps for digital transactions.

Apart from China and Mongolia, Brazil, Kenya, Chile, Colombia, Russia, and Ukraine are in the north of the global average of 39%.

On the other hand Cambodia, Myanmar, Saudi Arabia, Sweden, Mexico, Israel, and India are just below the global average.

In the US, only about 15% of people prefer using mobile payment apps. (Not included in the chart.)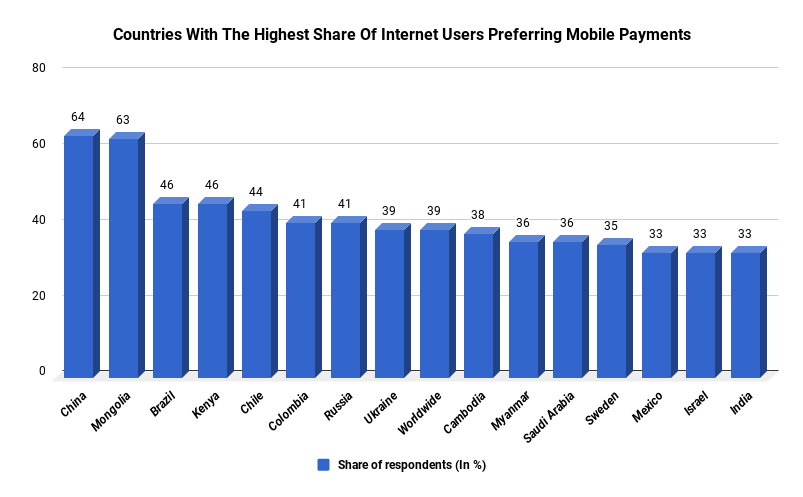 iOS App Development: How Does iOS First Approach Pay For Itself?
Why Mobile Payment Apps Are Very Popular?
Mobile payment apps are very simple to use when you compare them with other digital methods. That is the chief reason they are so popular among users. Many times, they are integrated into social networks. Sometimes they have features like social networks through which you can find your friends and pay them. If a group of friends has gone to a movie and dinner afterward, one of them pays all the expenses using his credit or debit card. Later on, the rest of them pay him using a P2P mobile payment app such as Google Pay or PayPal. This way nobody has to fork out cash and everything works the way it should. Let's check out few of popular P2P mobile payment apps.
Top Mobile Payment Apps
The mobile payment app world is dominated by AliPay, Apple Pay, Google Pay, Samsung Pay, PayPal, Square & Paytm.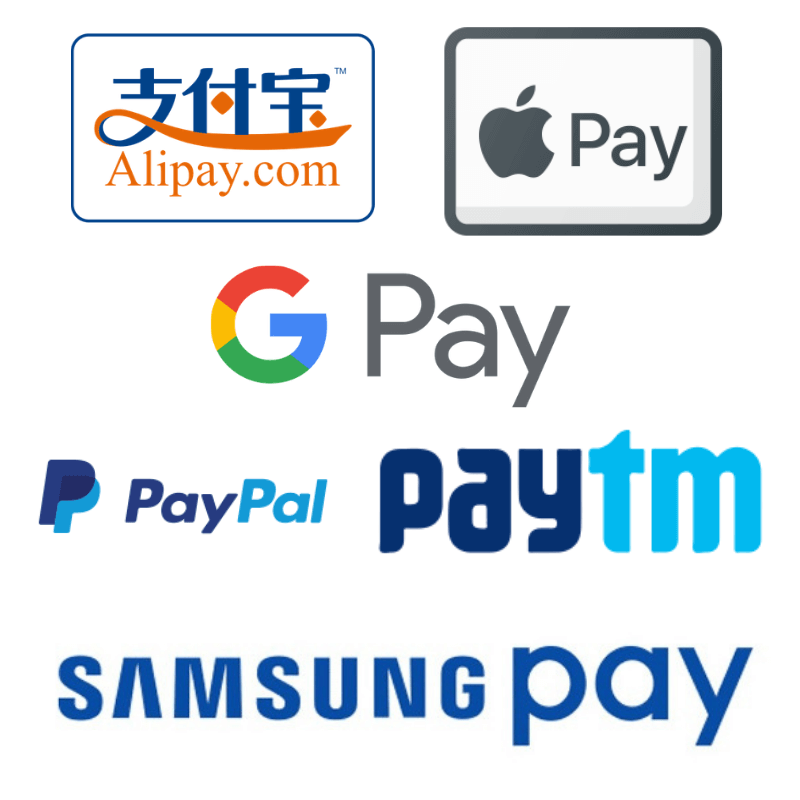 AliPay
AliPay dominates the Chinese online payment world through their iOS app development and Android app development. Alibaba launched AliPay way back in 2004. Now it processes more than half of China's online payment. They have more than 600 million registered users. They are expanding their services in countries like the US, Canada, France, Italy, Singapore, Thailand, Malaysia, South Korea, India & Pakistan.
Google Pay
Google merged its two services Android Pay and Google Wallet and launched Google Pay in January 2018. So it is relatively very new but Google is betting big on it. Google is promoting Google pay for in-app, in-store, online and peer-to-peer payments. As it is Google, it is going to be very popular because they have millions of dedicated users well-invested into Google ecosystem. Google has acquired many technology companies and resources for making Google Pay a success and they are on the right track.
Apple Pay
What Google did last year, Apple did back in 2014 through Apple Pay. It is exclusively available on iOS and Mac OS. As it always happens with Apple, it is immensely popular wherever they have launched it. At present, it is available in 33 countries including all the major markets like the US, UK, India, and China. Apple Pay has more than 250 million users. More than 40% of iPhone users use it and Apple Pay processes a huge amount of money every day.
Samsung Pay
In terms of mobile hardware, Samsung is the only company that can compete with Apple. So they are not going to stay behind in the mobile payment app race. They have developed an Android app called Samsung Pay exclusive for Samsung mobiles. At present, it is present in more than 15 countries including the US, India, China, Australia, Sweden, and Spain. Users can pay through credit and debit cards and mobile wallets using Samsung Pay. According to the company, Samsung Pay has processed more than 1.3 billion transactions all over the world.
PayPal
PayPal is owned by one of the most famous e-commerce companies of the world, eBay. It has been functioning since 1998 so it is one of the oldest players in the town. PayPal is omnipresent in the digital sphere such as websites, mobile apps and even for in-store payments. It is available in 190 markets and allows transactions in 24 currencies. They have acquired many companies to expand and grow their technological stack. They are also growing fast in the mobile payment app arena.
Paytm
Paytm is India's one of the most popular mobile payment apps. One97 Communications own it. It is present in every nook and corner of India. They have also started expanding globally. More than 200 million people use Paytm, making it one of the most used platforms from mobile payment app.
Flutter Cross-Platform App Development: Wings For Start-Ups, Entrepreneurs & Businesses
Conclusion
There are plenty of other notable companies like Stripe, Square, Citrus, Amazon Pay, American Express who have been playing important roles in the mobile payment app arena. Thanks to them, digital transactions are simpler than ever. And that is the reason more and more people have started using it. Mobile is future so money in mobile will always play an important part.
iCoderz Solutions is an off-shore and full stack mobile app development company that happens to be an equally equipped web development company too. Our dedicated teams of iOS app development, Android app development, and web development have developed 400+ mobile apps and 100+ websites. We have integrated payment apps into mobile apps and online payment gateways into websites. That's how we have satisfied more than 300 clients. If you want an iOS app or Android app with in-app payment feature and a website with an online payment gateway, get in touch with us to know more.
---

How to Develop An On Demand Taxi Booking App Like UBER or Lyft?

On Demand Food Delivery Apps – Asset for Food Ordering Platforms

Top 4 Mobile App Development Trends For The App Industry In 2019

Native Apps Vs Hybrid Mobile Apps : Which Approach Is Better – Jack of All or Master of One?