Who doesn't want a home of his own? And, which of the businessmen is not willing to own the real estate in which he runs his own business? We all want our own real estate and that will be the biggest investment and achievement of the life of regular folks, isn't it? What would you prefer when you want to buy one? Would you go looking for a suitable property or would you consult an estate agent? Or, are you tech-savvy enough to launch a Real Estate Mobile App and search a good property from the comfort of your couch? The last option is picking up a lot of momentum lately thanks to multiple factors.
The Age Of Smartphones
When Apple launched the first iPhone back in 2007, nobody could have guessed the number of mobile apps it would have in the App Store after a decade. At present, the App Store houses more than 2 million iOS apps. On the other hand, Google launched the first Android smartphone back in 2008. Now the Play Store, formerly known as the Android Market, houses more than 2.6 million Android apps. You will find an app for everything you can think of.
Shopping is one of the most popular categories of mobile apps in both the App Store and the Play Store. People buy anything and everything using their smartphones and this includes houses and real estates too. You heard me right, people by houses and real estates using a real estate mobile app from their smartphones.
How Much Does A Logistics And Transportation App Development Cost?
A Powerful Revenue Magnet
Just like all the shopping apps, a real estate mobile app also generates revenue through advertising, paid listings and a percentage if the sale happens. We all know that the sale won't happen on the mobile app itself, as it is highly unlikely that someone will buy a real estate without actually seeing it the first hand, in addition to all the legalities we need to go through. But a real estate mobile app can and do generate good referrals and many of these referrals actually result in the real business too. When that happens, the real estate mobile app owner gets to know about the deal through various mechanisms they have set up on the ground level. As a result, they receive good money when the sale happens, in addition to the paid listings. Gradually the real estate mobile app is replacing the traditional real estate agents. On the other hand, they can be a helping hand to real estate agents too.
Real Estate Mobile App Development
There is no doubt that the younger and tech-savvy generation will buy more homes than the older ones as the older generations have already bought their homes years ago. And this younger generation habitually launches one mobile app or the other before shopping anything so they will most definitely look at one of the popular real estate mobile apps before buying anything. Zillo, RedFin, BiggerPockets, Realtor.com, LoopNet are some of the most popular real estate mobile apps in the USA. Despite the fact that they are competitors of one another, their mobile apps have certain similar features. We can consider these features as the must-have features of a real estate mobile app development.
Top 7 Must-Have Features Of A Real Estate Mobile App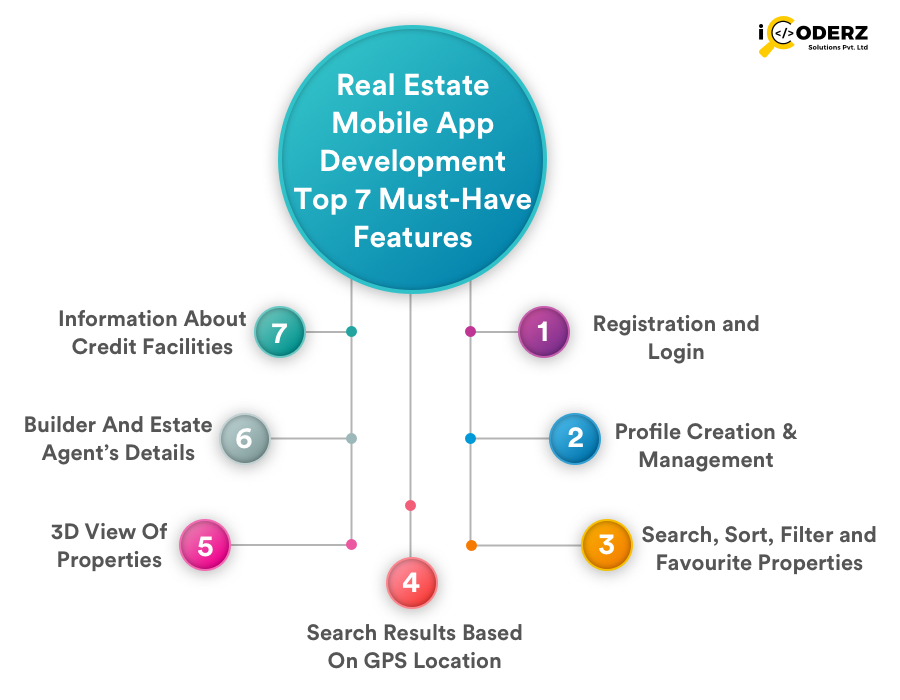 1) Registration and Login
This is the standard feature for any mobile app, let alone real estate mobile app, for the convenience of all. A registration with mobile number is also fairly common nowadays along with social media login.
2) Profile Creation & Management
The profile is also an important part which adds to the convenience of all the concerned parties. Importing details from social media is also a very common and useful part. This data can help in a great way when searching a property.
3) Search, Sort, Filter and Favorite Properties
All the online shopping apps offer search options so that customers can find what they actually want. There must be various sorting and filtering options based on criteria like location, budget, the area of the real estate, type of the real estate, etc. The user must have options to shortlist and favorite the properties that he wants to buy.
4) Search Results Based On GPS Location
As GPS is part of all the smartphones, all the devices are location-aware. So, when a user searches for a property, the real estate mobile app should display results based on his GPS location. This feature will make the mobile app really useful. The way Google displays results of business searches on the map, the mobile app must have an option to display the results in map view too. It helps them select the best location.
5) 3D View Of Properties
All the smartphones are getting smarter day-by-day and improving upon AR and VR capabilities so real estate mobile app must leverage them. They should offer 3D views of all the listed properties along with as much information as possible in the form of text, audio, video, and images. That really helps a customer in an in-depth look of the property from the comfort of their couch. Making 3D models of the properties is now easier and cheaper too.
6) Builder And Estate Agent's Details
The information about the property should also include information about the developers, builders, architects, and brokers. In fact, an ideal real estate mobile app should have individual profiles of all the concerned parties so that buyers can take the right call on the basis of the information.
7) Information About Credit Facilities
Very few people buy a property with their own money. What they do is saving about 5 to 20 percent of the total amount for the down payment and the rest they borrow from banks. In addition, there are private lenders and a few other options as well. A good real estate mobile app should include information about all these credit options. They can also generate revenue for mobile app owners.
Key On Demand Transportation App And Supply Chain Trends Of This Year
iCoderz Solutions
iCoderz Solutions is an experienced full stack mobile app development company that happens to be equally experienced in web development too. We have experienced teams for dedicated web development, iOS app development, and Android app development. They have developed a variety of mobile apps and websites that totals above 500. Have a glimpse of our varied portfolio and get in touch with us if you are thinking about a real estate mobile app development.

Flutter Cross-Platform App Development: Wings For Start-Ups, Entrepreneurs & Businesses
Best On Demand Food Delivery Apps Development And Solutions
How to build on-demand grocery delivery app for today's tech-savvy
Want to Make Your Own Taxi Booking App like Uber?