Well, the technical advancement is happening so fast that you can now book your doctor's appointment within a few clicks. Thanks to the doctor appointment booking app. Yes! You read it correctly; just like food and grocery, you can have a doctor's appointment on-demand.
If you work in the healthcare sector and want to increase the efficiency and effectiveness of your patient services, an on-demand doctor booking app or a web portal could be the best option for your practice. Many citizens still agree that a doctor-on-demand app is vital for all healthcare professionals, regardless of whether they work in a hospital, clinic, or private practice.
When you have doctor appointment booking app development in the services you provide to patients, it demonstrates that you are on the cutting edge in the medical industry.
Therefore, let us discuss why it is critical to invest in creating a doctor appointment app development. We'll also discuss industry dynamics, product specifications, and pricing.
Let's begin with the stats!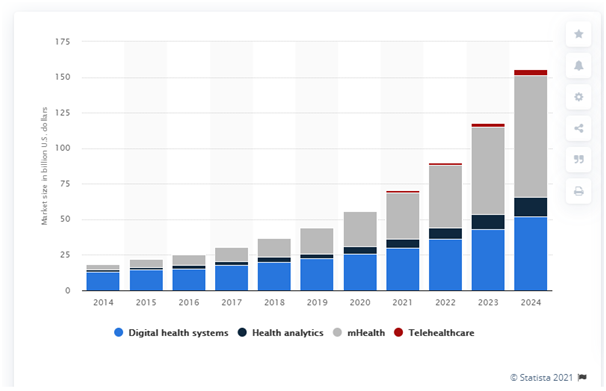 The above figure depicts the estimated scale of the digital health industry in the United States from 2014 to 2024, broken down by submarket (technology). The overall demand in the United States is forecast to surpass 90 billion US dollars in 2022, with the mHealth submarket accounting for approximately 44 billion dollars.
These digital health systems involve doctor appointment app development, video conference check-up, etc.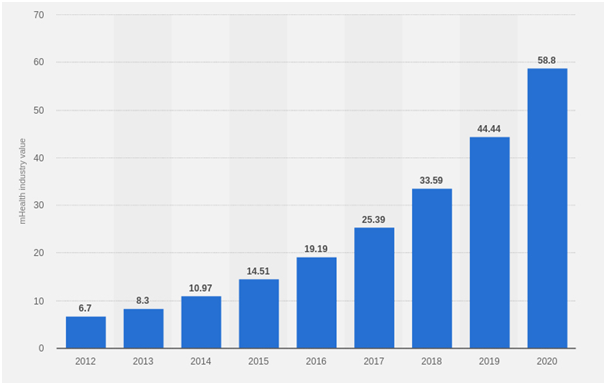 According to Grand View Research, the global mHealth industry is expected to surpass $112 billion by 2025, with a CAGR of 44.2 percent. Furthermore, according to Statista, virtual healthcare apps, including doctor appointment booking app, would be the most significant contributors to the digital healthcare market's sales.
Statista estimates that the mHealth market would grow to $58.8 billion by 2020, up from $23.39 billion in 2017.
Do you know how a doctor appointment booking app operates and works?
Even though each telemedicine software has its working rationale, the typical flow of on-demand doctor booking app is as follows:
As a patient, you can access and receive the treatment from a specific practitioner; the patient must log into the system, establish an identity, and provide a clear explanation of his or her symptoms. Now, the Application runs over the signs that the patient has identified, and based on them, it looks for the most appropriate medical specialist nearby.
After locating a doctor who meets the patient's needs, he or she will make a video call to the doctor and schedule an appointment using the in-app calendar. The doctor discusses the patient's discomfort in the video session that occurs. After determining the issue, the doctor prescribes the appropriate medication, orders medical testing, and handles all other information.
When the video consultation is over, the patient proceeds as usual and pays the doctor for the obtained healthcare services through a built-in payment portal. He is sent receipts for prescription medications and corrects doctor's advice until he has paid for his care.
There could be various additional features as per the doctor and user's requirement while having doctor booking app development.
Few must-have features in Application
End-users with a doctor appointment booking app, without a doubt, are all in search of medical assistance. However, in a Doctor appointment booking app service, there are three categories of end customers: Customers, Doctors, and Administrators. Let's take a closer peek.
Features of Admin Panel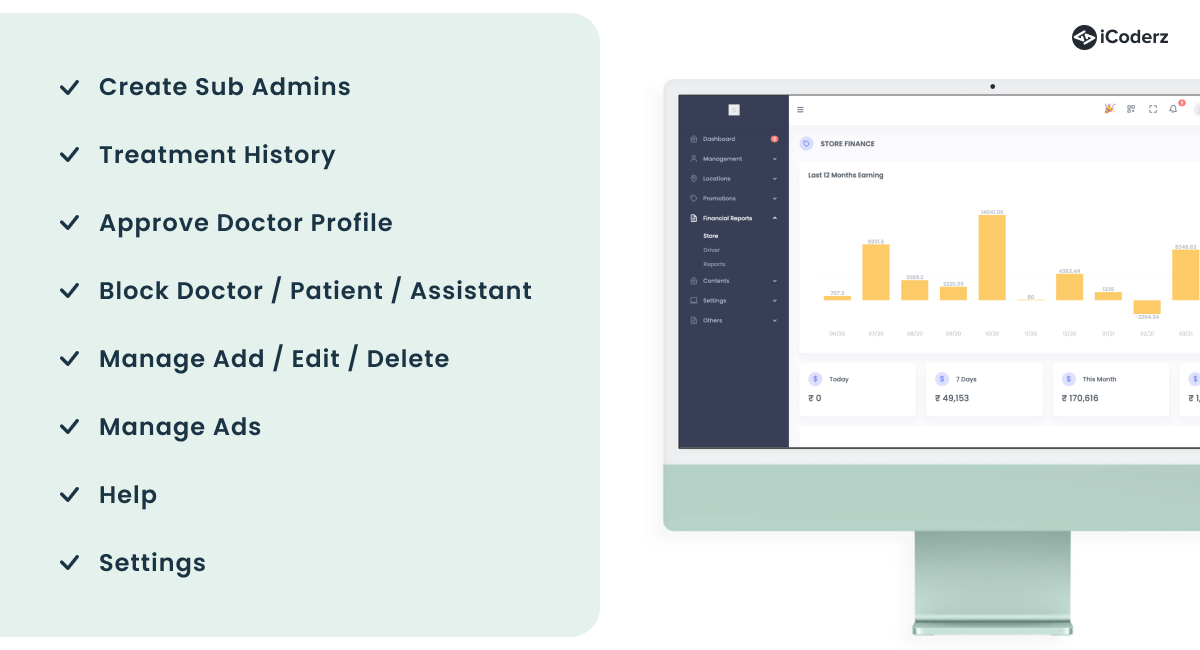 Features of Doctor's App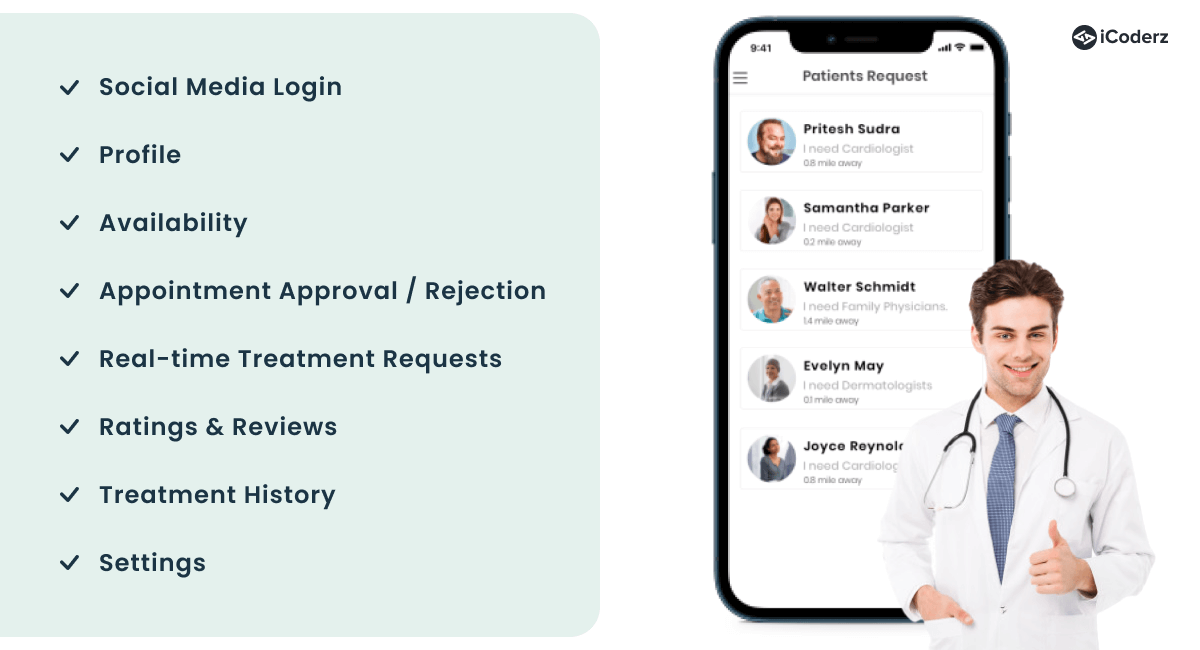 Features of Patient's App

Detailed In-app Features
1. Doctor's profile
A doctor module dedicated to profiling development and modification should be accessible. Access to information about the doctor's speciality, location, photos, patient reviews, and the fees charged by different insurance companies should be possible.
Real-time analytics and updates on the state of a doctor's medical practice will be fantastic. If the doctor wants to offer marketing and promotional goods to patients, they will use this space to display them.
2. Patient's profile
Personal details can be used with medical profiles so that clinicians can familiarise themselves with a case background as they will meet the patient for the first time. Uploading and scanning documents would undoubtedly come in handy.
3. Calculation of cost
The built-in cost tracker computes resources such as online appointments, personal visits, prescription costs, lab costs, among many others. This function aims to provide an estimate of the total cost for a user's complete care.
4. Push Notification
Every modern programme includes push notifications as part of its function set. It sends relevant warnings, tips, and reminders to users' phones in the form of pop-up messages to hold them up to date with their smartphone activities.
5. Various Payment Options
Many payment methods provide the customer with the ability to pay with either payment method. Those payment methods may include – UPI, wallets, net banking, PayPal and other platforms.
6. Sharing in Documents
Patients may exchange their medical history and past prescriptions with their doctor using document sharing. It aids the specialist in understanding the patient's medical background. This extra functionality aids in the diagnostic phase significantly.
7. E-Prescriptions
Doctor appointment scheduling apps can enable a doctor to administer a required medication and include receipts directly in the system. The patient would then be free to purchase medicines from the nearest pharmacy, or anywhere they choose.
The cost aspect for app development
Numerous considerations may influence the expense of developing a Doctor appointment booking app. These considerations include the regional position of product creation, the number of functions, and the app's inclusion on various devices such as Android, iOS, and Wearables.
The expense of creating a doctor-on-demand app may be substantial. As a result, the payment of an on-demand doctor booking app is determined by the specifications and functionality. When you contract an excellent doctor booking app development company, the cost usually varies from 15000$ to 50000$.
Final Takeaway
So, in this post, you learned what there is to know about doctor appointment booking app, how they function, and what features to look for while Doctor booking app development. Contact iCoderz at [email protected] today to start developing a one-of-a-kind customised doctor appointment booking app development.
With experience developing healthcare applications of varying degrees of sophistication, we appreciate the industry's fundamental problems, risks, and goals and are eager to share our strategic knowledge with you.
Explore More About Doctor Appointment Booking App Development
Appointment Booking App Development: How It Will Work For Your Business & Why?
Doctor On-Demand App Development: Cost, Benefits & Features