Human behaviour and customer preferences have changed so much in the post-pandemic era, where people are now taking extra care of themselves and avoiding physical contact as much as possible. With this issue in mind, restaurants that provide physical dining services have come up with a new concept of the digital menu for restaurants with the help of QR codes.
One of the latest developments in restaurant technology is the use of digital menus for bars and restaurants. Those who are not aware that QR stands for Quick Response. It is distinguished by a two-dimensional bar code, as opposed to the conventional one that consists solely of lines. It comprises black squares and dots that signify distinct pieces of data translated by a machine or other unit.
A QR code generator or a top-class app development agency makes it simple to generate a QR code menu for restaurants. This post will cover how this QR menu works, why you should invest in this QR-based technology, benefits, technical specification, and the cost of making it.
Let's begin with a statistical check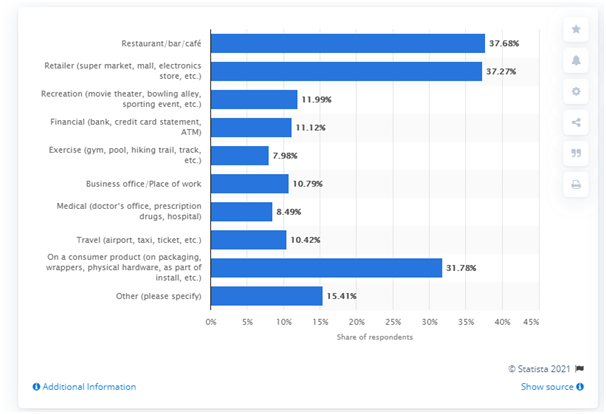 According to a September 2020 study of customers in the United States and the United Kingdom, 37.68 percent of people had scanned a QR code in a restaurant, pub, or café in the preceding six months. It includes an on-demand digital menu and QR-based digital payment.
Why, as a business, do you need to introduce QR based digital menus for restaurants?
When we consider the figures above, it is evident that QR has risen worldwide. Customers are now well familiar with QR for shopping, purchase, food ordering, and payment with the new everyday life.
As a result, they are at ease with that technology. When consumers see a QR-based digital menu for bars or a restaurant table, they know what to do. This is the level of experience with QR codes that people have created.
Not only this, the user is well aware of how secure and beneficial a QR code menu for restaurants is to him/her. Because to order, they have to use their phones only—no physical contact with any human or restaurant's display systems.
Restaurants that adopt this technology avoid the high costs associated with tablets and displays that allow self-ordering. Additionally, since the on-demand digital menu is entirely software-based, companies incur no capital costs while implementing a QR-based Digital menu for restaurants.
The new normal will need some adjustment, but individuals and organizations who can quickly adapt will benefit significantly. They would remain ahead of the curve in terms of providing consumers with the experiences they want.
Now, Let's cover the benefits of having a QR code menu for restaurants
Increasingly food chains are reaping the rewards of transitioning away from rigid food menu ordering systems and toward interactive menus that aid in improving their corporate practices. Digital menus for bars and restaurants provide many advantages for restaurants and the foodservice industry. Let us examine a few of them.
1. Assurance of safety to the customer by no physical contact
Due to the current state of covid19, consumers will want interactions that are more secure and less human-centric. The interactive digital menu for restaurants is a safe and convenient way to provide consumers with contactless access to your food menu.
2. It will provide savings in time to customers while savings in cost to you as a business person
Another benefit of on-demand digital menu applications is the time and cost savings associated with them. You don't have to wait for any person to take up the order. They can check through the digital menu about what is available or not, which will save their time.
QR codes allow you to save money on your end as a restaurant owner. You will update the menu electronically without having to think about the actual equivalent. This way, you won't have to continually print fresh menus, which is particularly helpful if your company is still in its infancy.
Even if you have to print and distribute QR codes in your establishment, they take up very little room, so you can permanently save on this overhead expense.
3. Directly or In-directly QR based menu systems add value to the brand
Consistent identity is critical for reiterating the brand's awareness. By introducing a digital menu for bars and restaurants, restaurant managers will guarantee those menu offerings and deals are updated and highlighted correctly in all of their locations concurrently, resulting in synchronized marketing messaging.
And when your QR-based digital menu has some fantastic photos and high-quality videos, including those of food preparation, it contributes to the increase in sales.
4. A win-win situation for all stakeholders by getting rid of human errors
QR code menu for restaurants is the perfect way to eliminate the possibility of a waiter making a mistake when taking the customer's order. Digital menu restaurants are programmed to ensure that the consumer places his or her order independently, eliminating the possibility of a mistake.
QR menus for bars and hotels may be particularly beneficial since they serve as an ideal tourist draw due to their ease of navigation, instant service, and willingness to display the menu in various languages. Although the language barrier may hinder ordering food, this issue is quickly resolved with the aid of a QR menu.
QR menus in various languages will conveniently be made accessible, allowing the consumer to put an order simply by looking at the menu.
What would be the cost of developing and implementing a QR based menu?
With iCoderz, you can develop such an application and QR-based digital menu for bars and restaurants at the expense of 4000$ to 8000$. However, the price varies according to the features required and the number of scans needed annually.
Choosing the right QR Code menu generator is a question of finding the one that is the best match for your needs. At iCoderz, we've developed a solution that's easy to use, generates a positive return on investment, and offers the best possible user experience.
Wrap Up
The restaurant business has never been more challenging than it is in this modern era. When food becomes less distinctive and more homogeneous in this market, the only way to differentiate is using new technology such as a digital menu for restaurants to provide an engaging consumer experience.
Your restaurant can streamline the ordering and payment process through a QR code menu for restaurants. Contact us at [email protected] today for a complete quote and technical discussion.
Read More Related Blogs
How to build a restaurant or table booking app with iCoderz Solutions?
Retail or Restaurant, Does your business needs a Website or Mobile App?
Benefits Of Having Food Delivery App For Restaurant Business