Today every company needs quality and best employees to run their company. Whether it's a startup or large enterprise, for some or the other reason, hiring top and experienced web developers is a must. For startups, it's an important decision to hire right and skilled developers can help a lot in achieving success in the business.
Selecting the right people for your company is a driving force to run the company.
Our challenge is to hire top dedicated web developers for startups to meet the objectives of the business.
Mind Your Idea and Requirements
Before finding the developer for your project, make sure and get it clear about the idea behind it and skills required for the same. Categorize the ideas and requirements, put it into a structure. Make a list of everything and understand what exactly you are looking for in a developer for your project.
Look for developers over the web
There are many right people with specific talents over the web. Plenty of opportunities is there over social media. Searching over the web helps a lot in finding a developer or a team. Search with the right keyword and get all the top results and check reliability or other criteria. Understand their services and a team of developers.
Go with word of mouth
Talking to known people or friends about hiring. Talking personally helps a lot. Considering every factor, understand that the people that are recommended by your friends or others, does not necessarily mean they fit for your business too. Skills, knowledge, and expertise in the desired area is a must.
Find Developers Through Meets, Conferences and Events
Attending seminars, meets, conferences, and events help a lot in getting real trend updates and get to meet new people and learn about them. You may find your kind of developers on such occasions. Developers have to always keep learning and stay updated in their field. While conversing the same mindset people can take you in the right direction and you may come to some efficient people.
Search Developers from Managed Service Providers
MSPs are managed service providers they are the firms who are specialized in developing any type of software, website development, and mobile app development. Find such companies over social media or ad boards through various business listings. Put the right keyword and check the website thoroughly. If in SERPs, the company ranks on top or 1-2 result page in Google, then check with various combinations of keywords. Also, check their market promotional strategy through why they are ranking. Testimonials, reviews, portfolio, all this helps a lot in understanding the company.
Freelancers are also an option
Websites like Fiverr, upwork, or freelancers that can help you satisfy with hiring process. Hiring top dedicated web developers or team of developers whether fresher or experienced both can be found on such freelancing websites. Freelancers have their own drawbacks. With freelancing everything relies on trust and their work they do.
More to it when you shortlist some developers check below things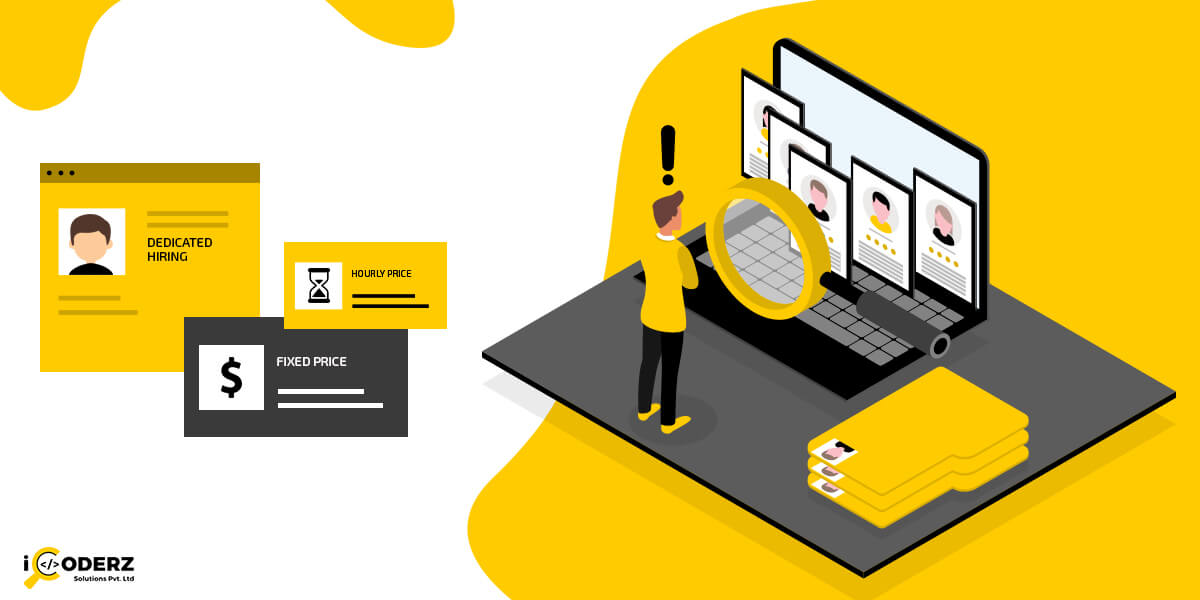 Check Profile and Portfolio
A developer with strong experience is seen through his portfolio. Current projects or projects done, design and everything is seen. A good history and work experience can be seen from the profile.
Skills and Expertise
Technologies, skills, and experience in a specific field is a must. Ask and understand what qualities a developer has. A professional developer has many qualities and will reply accordingly. Let the person know about your required technologies.
Reviews and Feedbacks
Every company and every developer has its feedback. Good feedback can give a promising future and lots of opportunities. Try and collect feedback for the developer and company as well. Negative feedback can help a lot in improving the thing. Testimonials from the client also matter a lot.
Bonds and NDA
Before the work begins, there are some formalities which are important to be done. Protect your company from frauds, so for that there comes an NDA which is needed to be signed by the developers and bonds or contracts which makes sure of the developer finishes the project and can't leave the work in between. These terms can help a lot in reaching clarity and successful completion of the project.
Progressive Web App Development: Features, Limitations & The Complete Procedure
Conclusion
There are many startups coming up and there arises a pool of opportunities for developers. A good website development company, a startup needs to hire dedicated web developers to develop their projects so to run their business successfully. iCoderz Solutions is top website and PHP development company where you can hire web developers from them. Contact them to know more about it.
---
E-Commerce Website Development: Positive Practices For A Successful Venture
Python Framework For Web Development: Top 10 Popular Options
User Interface: Obligatory Elements Of Intuitive UI For Gratifying UX
AngularJS: Ideal Framework for Dynamic Web pages, Landing Pages And Web Apps