The demand for the dating app is booming. Furthermore, consumer demand for dating apps is far from decreasing. Single people have had another way to get to know someone with the invention of the Internet–different dating sites. All businesses, however, have switched to mobility in recent years–online dating has also shifted to mobile phones and other gadgets. Now, using one of the available applications, you can meet anyone. Statistics show that the number of individuals of different ages using the app to find an appropriate partner is growing every year. 
There are lots of fantastic niche applications as well, such as Tinder, which wants to get you on a date after your profile matches with another person.
Online Dating World Of Facebook Like Tinder And Bumble And The Business Opportunities It Presents
Let us now discuss in detail how to design an app like Tinder and how to provide the consumer's experience.
TIPS TO DESIGN ONLINE DATING APPS LIKE TINDER TO SUFFICE USER EXPECTATIONS
We believe that the most important functionalities for a dating app – based on consumer expectations – join in, access control, algorithm matching, and messaging, and app monetization.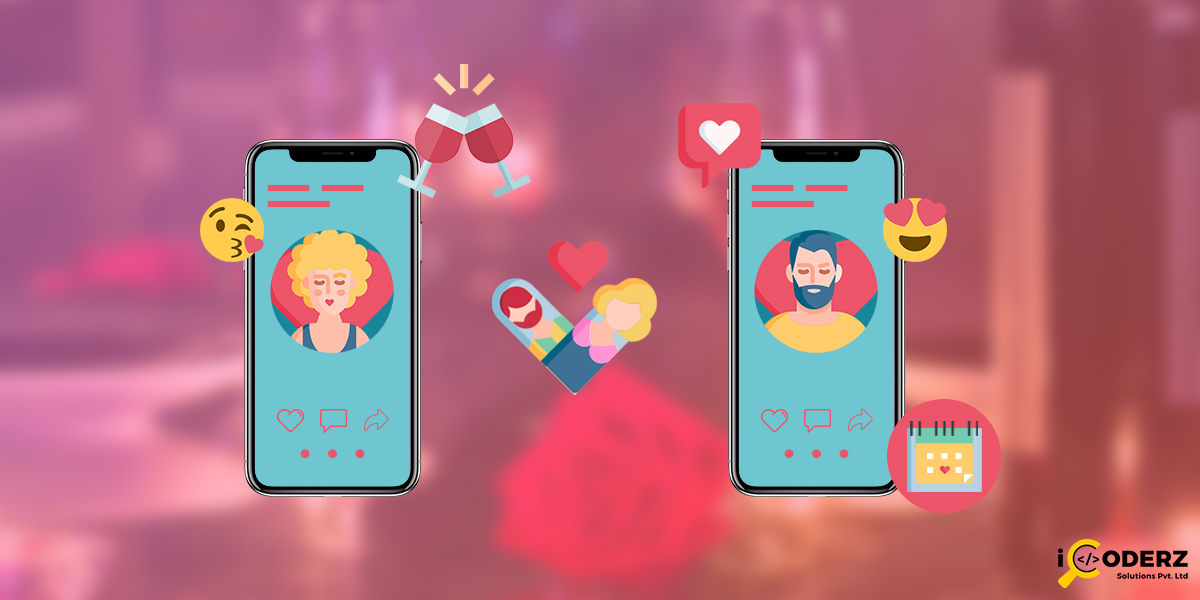 The main reason for the failing of dating apps is to underwhelm the desires of users. This is typically due to the complicated interface, poor usability, and violation of support or safety. Many say that meeting online over time will replace dating in real life; however, apps are helping to arrange meetings in real life. This is one of their popularity's secrets. Here are some useful tips for developing user-friendly software.
1. JOIN IN
You need to think about how users can sign up quickly and easily. Major sites allow customers to access the application using their social network or Google accounts. This helps them to save time and avoid tedious procedures of registration. The handier your registration form is, the more likely your dating app will be selected from lots of other products on the internet. Nobody wants to add an email and password. It is an annoying thing. The best bet is to provide access by selecting a social or Gmail account with only one tap.
Many apps allow users to sign up using their profiles on Facebook. They do not have to fill in the dating app's profile from scratch. It will automatically use the data from Facebook. On the other hand, none of the Facebook friends will ever know that they are using a dating app because there will be no information on the timeline. Anonymity is yet another essential feature from the application that customers expect.
2. ALGORITHM MATCH
The algorithm makes your app tasteful and indulging. Some of the most known and widely used algorithms, which vary fractionally from application to application, have been developed, but there are also quite intriguing and unusual ones. You will have to make enough commitment in this zone to make your application successful.
Many developers say there is no need for matching algorithms for dating apps. They offer simple ways to use allocation or preferential match to find people. Ok, both are the types of algorithms that suit.
Some mainstream applications like Hinge, on the other hand, never let you maintain contact with people you do not know. You can only make contact with friends or individuals you already know using the service. There is no matching algorithm in the app, but it is still trendy.
3. MESSAGING
It is not possible to overestimate the importance of effective and insightful communication within a dating app. Your product's entire point is to encourage people to interact with each other. Otherwise, it does not make sense to create a dating program. Tinder allows users to choose whether to continue playing with their partner or to contact him or her. Some subscribers tend not to enjoy SMS messaging to continue playing.
Most people overlook their dating app matches. Perhaps if you created a rule as to who should text first, your dating app could hold its retention rates up.
This is how Bumble works: on Bumble, women have to text first.  This pushes both sides to begin talks immediately. To encourage people to start talks, you can send them reminder texts and push notifications, so they do not ignore the matches that are preparing for.
Top 6 reasons that justify React Native for Mobile Development
4. APPLICATION MONETIZATION
Mobile dating service is generally free. However, if users want an expanded list of features, they will have to pay. With several validated techniques, including premium accounts, in-app purchases, ads, you can monetize your dating app. The first two approaches are the most appropriate if you do not want the app to bug the clients. Premium accounts can contain different features. Many users may wish to pay to see more profiles or have access to an expanded list of options such as emojis or something like that. Special gift cards, presentations, videos, and more can be included in-app purchases.
Wrapping up!
Applications that help people find love online are expected to only become more successful over the years. Experts are providing such data based on the study. To build a successful application that will ultimately fulfill user's needs, research the process of creating the app thoroughly, go along with developers all the way, and be involved as much as possible in the process. Also, you can use the tips mentioned above safely, make an effort, and use your creativity.
If you are interested in investing in dating application then you must consider building one dating app by consulting our genius developers at iCoderz Solutions.
---
More From iCoderz Solutions
 Best On-Demand Food Delivery Apps Development And Solutions
 How to build an on-demand grocery delivery app for today's tech-savvy
 How to Develop Healthcare App for Booking Doctor Appointments?
 Want to Make Your Own Taxi Booking App like Uber?