Recently Facebook launched its own Dating feature in Colombia. Colombia is the first country to have it but Facebook will gradually expand this service all over the world, just like Facebook itself. Everybody started wondering why Facebook wanted to enter the online dating world and what it meant in terms of business opportunities. Is Facebook going to rival Tinder or it has different things in mind? Let's have a look.
The Staggering Statistics Of Online Dating World Of The US
See the following chart about the mobile dating market revenue in the United States from 2009 to 2017. All the figures are in million U.S. dollars. (Data Source: Statista)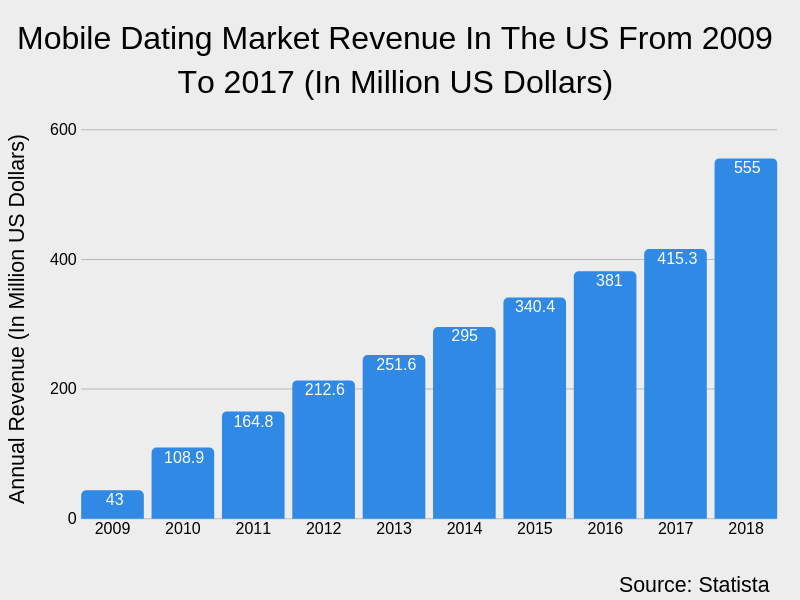 Back in 2009, the revenue of the US market was $43 million. In 2010 it grew more than double to $108.9 million. 2011 saw it reaching $164.8 million, $212.6 million in 2012, $251.6 million in 2013, $295 million in 2014, $340.4 million in 2015, $381 million in 2016 and the year 2017 saw it reaching $415.3 million. So, within the span of 9 years, the revenue grew approximately 10 times. By the end of 2018, which is quite close now, it is expected to reach $555 million. Jaw-dropping statistics indeed!
Worldwide Statistics
The same is true for the worldwide revenue figures as well. The revenue in the online dating segment is US$1143 million. It is expected to show an annual growth rate of 4.8% (CAGR 2018-2023). So the market volume will result in US$1447 million by the end of 2023. In 2018, the user penetration is 5.2%. By the end of 2023, it is expected to reach 6.2%. The ARPU, as in the average revenue per user is US$4.30 at present. The highest revenue is generated in the United States when it is compared to worldwide figures.
Facebook In Online Dating World
These figures are very attractive to anyone. Facebook is an app for connecting people at its core so there is no wonder that it has entered the online dating world. It was never a question of why Facebook should enter the online dating world but when. So far, Tinder has ruled the roost and the entry of Facebook will surely impact it.
But Facebook hasn't launched its dating service as a subscription service. And they are not going to make it paid in near future. It is believed that Facebook doesn't plan to make money out of its dating service at all. It looks like that they want people to use Facebook for as many reasons as they can think of and as often as never before. But Facebook is a huge entity and whatever it does mostly turn out to be huge. It has more than 2.2 billion monthly users. 200 million of them have marked themselves as 'single' so it can be really huge.
The Future of Online Dating Apps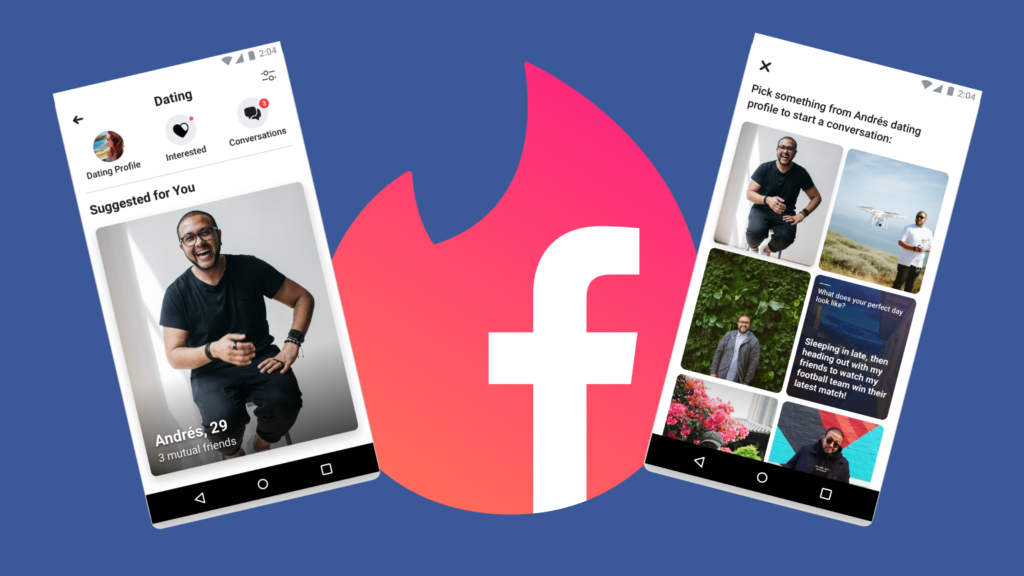 Images Source : https://tcrn.ch/2DHKzsM
Tinder has shown the world how dating apps generate huge revenue. People are willing to pay for a worthy dating service. It has 3.8 million subscribers who pay them regularly. Only Facebook has the potential to surpass it.
If Facebook dating turns out to be a success, they will most definitely find a way to make money out of it. At present Facebook has only one subscription service, Workplace, that competes with Slack. But it doesn't generate much revenue for the company. In fact, Facebook generates almost 99 percent of its $40 billion in revenue through advertising. So, if the dating feature succeeds and people are willing to pay for it, it will really help Facebook to diversify its revenue streams and business.
Business Opportunities In Online Dating World
Success is never guaranteed, though. One-third of the world is on Facebook and that can be the reason for the failure of its dating feature. As many people and culture see romantic relationships as a private business, they may not want to conduct it in front of such a huge audience. Facebook has taken a proper care for privacy in this regard yet nobody has really forgotten Facebook Analytica. They may prefer to use other dating services with more local options.
That is where the actual opportunity lies. One can easily create a Tinder-clone with closed local groups. The proper marketing of that app can create unprecedented ripples. If you hire an expert mobile app development company, they can build a beautiful and useful mobile app for your success.
In The End
Having delivered more than 400 mobile apps and more than 100 websites, iCoderz Solutions proudly declares itself a full stack mobile app development company. Our dedicated teams of iOS app developers and Android app developers are full of youth, expertise, experience, and ideas. These teams have satisfied more than 300 clients and retained most of them. We can develop beautiful and fully functional dating apps that you always wanted to launch. Contact us for pricing and timeline.
---
More Great iCoderz Solutions
✒ Best On Demand Food Delivery Apps Development And Solutions
✒ How to build on-demand grocery delivery app for today's tech-savvy
✒ How to Develop Healthcare App for Booking Doctor Appointments?