DoorDash is an on-demand food delivery application in collaboration with nearby restaurants to deliver food to businesses and homes. However, the way DoorDash orders are handled, the application makes it easier for restaurants to venture into the delivery business. And with such popularity, many businesses plan to develop a similar app and find the cost to build a food delivery app like DoorDash.
There is exponential growth in food delivery app development during the pandemic. Even in the post-pandemic era, customers prefer to order online rather than go for pick-up or dine.
If you are into the food business and looking for such a Food delivery app development company, iCoderz Solution is the best-fit option. We are leading IT solution providers for almost every business segment.
According to a study of Edison Trends in April 2020, an analysis was undertaken for approximately 1,90,000 payments done in the US food delivery business, revealing that 47 % of them belong to DoorDash, led by Uber Eats at 26 % and then Grubhub at 23%.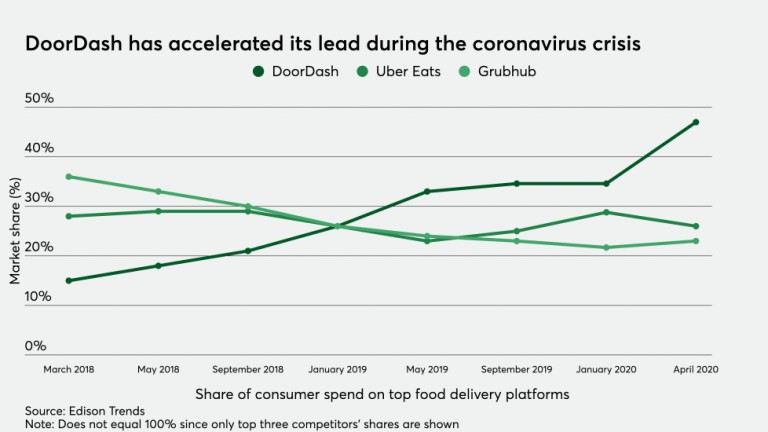 In this swift food delivery industry, you really have to look after your food delivery app development and build an outstanding app to remain competitive in the market. Let's see how DoorDash works and the cost to build a Food Delivery App Like DoorDash.
How does the DoorDash application exactly work?
DoorDash works in numerous cities, delivering location-based food distribution throughout the United States. The business partners with restaurants, let them fix menu rates but monitor the distribution and service charges themselves.
DoorDash and other applications' biggest difference is that orders put by DoorDash do not allow restaurants to provide their own delivery drivers. Instead, DoorDash has its own squad of independent distribution staff, labeled as Dashers, who are paid by tips, a base salary from DoorDash, and through fulfilling "challenges." That is why competitors are always searching for Cost to Build A Food Delivery App Like DoorDash.
This makes it easy for restaurants as they don't have to hire their own delivery staff. Restaurants must pay DoorDash to use their drivers and to accept the food orders through the application. That's the key part of their food delivery app development.
Depending on the particular partnership a restaurant has with DoorDash, the restaurant can pay DoorDash a monthly charge, a flat fee per order, or a commission based on the amount of money they make.
These payments are used to pay Dashers, carry out background checks on these Dashers, handle credit card transactions, pay for ads and promotions, and more.
DoorDash offers restaurants a preference as to how they sell their delivery services. For example, Storefront is a service provided by DoorDash that lets consumers buy from the restaurant's site, not only the app. Find a Food delivery app development company that is known to such features and can develop it.
DoorDash Drive is made for large orders, including catering plates and lets. Dashers handpicked the restaurant to help them make such big deliveries. And DoorDash also helps restaurants to focus entirely on the platform for all delivery.
For restaurant owners who like it, DoorDash also provides data analytics to help restaurants better analyze their market and function more effectively and stand-alone software such as a net profit calculator for delivery revenue.
The DoorDash Merchant Portal lets restaurants monitor orders, change the menu, and track metrics such as overall sales, average order size, and the most common menu items.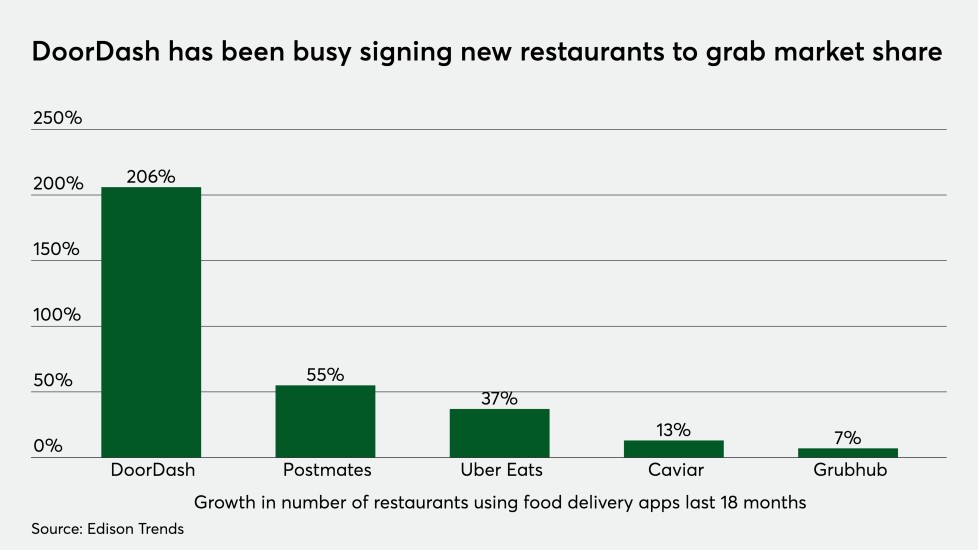 According to an analysis of Edison Trends' leading food ordering applications, DoorDash has been nearly four times as busy adding new restaurants as its closest Postmates rival.
Why should iCoderz Solution be your choice for food delivery app development?
With the lots of talk about the Cost to Build A Food Delivery App Like DoorDash and food distribution firms are ballooning all over the world and looking for food delivery app development company, iCoderz Solution will help you create an excellent food delivery platform with our deep knowledge in providing applications to the same sector all over the world.
Collaborate with iCoderz Solutions, and you will be able to combine all the latest features or develop a few different features to beat this cut-throat market. If you have the concept of a food delivery app development percolating in your head, all you need to do is drop us an email at [email protected].
Our team of engineers will come back to you with a tailored approach, live demo, and personalized quotes for your idea.