Before we determine the cost to build a food delivery app like UberEats, let us talk about the whole scenario related to the food delivery app development, including what is ubereats and how it works, top ubereats app features, functionalities, team force, and digital marketing. 
What Is Uber Eats And How Does It Work?
UberEats is a prominent food delivery application headquartered in California, USA. Founded in the year 2014, the company launched its meal delivery segment with UberFresh.  After a gap of one year, the company renamed its service with 'UberEats.'
UberEATS released a statement during the coronavirus pandemic that it has experienced a 30% hike in delivery. It is currently running its exclusive delivery service for food and other instant meals across the USA, UAE, India, UK, and Europe.

Pandemic Effect
What does on demand delivery mean?
An on-demand food application allows the customers to order their products, goods, meals, services, etc., online with one app touch or click. When we talk about build a food delivery app like ubereats , we refer to the top food delivery apps or food brands that allow us to order our favorite food with the medium of a web app or mobile application. On-demand food delivery app is also famous as in restaurant app development solutions in recent times.
Utilizing the extensive features of an on-demand app like UberEats or Zomato, the customers can instruct any selected restaurant to deliver their favorite food items by either paying online or requesting a COD (Cash on Delivery). Soon, there will be days when you would be using cryptocurrency for ordering food online. It is indeed of the most awaited technology advancements in the coming years.
How do food home delivery apps work?
There is no rocket science here, but yes, develop a food-delivery apps like UberEats and Zomato need to be designed precisely to function correctly and with ease. When we move ahead with the features part, we shall highlight the extensive list of functionalities that make the application attractive and valuable for both the customers and the food outlet owner. 
But in a quick explanation, I must say that when a custom food delivery app development company in India determines the cost to build a food delivery app like UberEats, the food delivery app features plays a crucial factor. Here the application functions in three different horizons, i.e., customer app, restaurant owner app, and delivery partner app. The perfect sync of these apps makes meal delivery possible from a restaurant's kitchen to the customer's door.
The customer signs in the application or gets registered for placing the order.
The customer gets to view the different restaurants and menus for placing the order.
After adding the right food items to the cart, the customer can select the best payment option for placing the order.
The restaurant app receives a notification from the customer app. The restaurant owner sends KOT to the kitchen department.
Once the order is prepared, the driver is assigned to pick the food parcel and the delivery service.
The driver will pick up the food from the particular restaurant and get it delivered to the right customer after following the in-build app GPS.
Finally, the customer can send a review or feedback mentioning the experience of food delivery, food quality, food quantity, etc.
Below is an image that shows the net impact of the food delivery market size in the US for the period 2017-2022.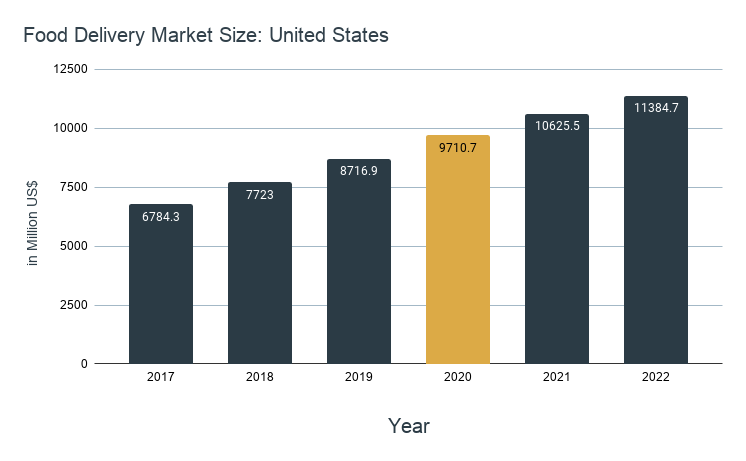 As we discussed earlier, the food takeaway and delivery industry has experienced good sales and hikes during the lockdown and, yes, after the lockdown. The pandemic has proved that people wish to have outside food but in their premises to buy food via digital apps.
Many factors are enhancing food delivery growth in different countries, including India and the USA. People are shifting their interest towards good health hygiene and safety, for which they prefer to order online food via apps like UberEats, Zomato, Grubhub, etc. There is no other point in avoiding the dine-in experience. Still, particularly during the pandemic, people are afraid to visit restaurants or outlets as public places.
Let us have a glance at the Indian food delivery market as well. During New Year's Eve, Indian food delivery giants marked a new record in the delivery segment by crossing lifetime one-night delivery sales. As per the online sources, the food apps like Zomato and Swiggy had earned 4K orders in one minute in India on 31st December 2020. This is exclusive news that shows that people have not forgotten to trust their favorite restaurants and the delivery partner apps during the pandemic. Instead, the customers are switching to their convenience mode for having their famous cuisine. 
While researching the cost and features of developing a restaurant delivery app like UberEats, we need to be sure about their current sales. Presenting Bloomberg infographic that helps you understand the various company share of food delivery sales of March 2021.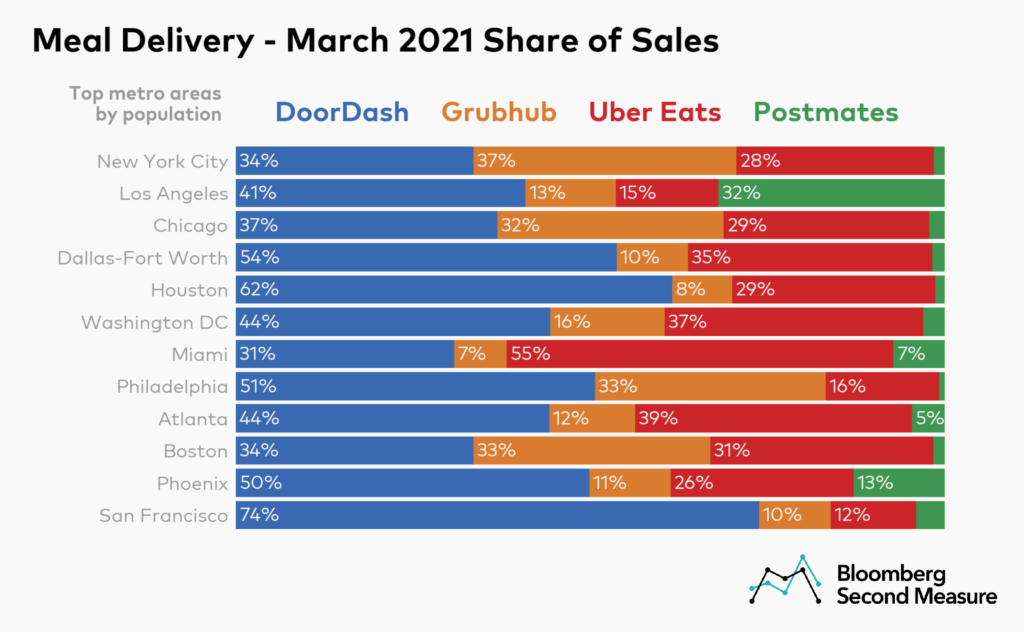 We can assume from the above infographic that UberEats has maximum sales in Miami compared to San Fransisco and Philadaphedia. On the contrary, DoorDash has a more significant market share in those cities.
Next, we will highlight the online food delivery app development cost for which it is vital to learn what makes an food delivery application development successful. 
Cost to create a food delivery app like UberEats: Extensive List of App-wise Features
An online food or meal delivery application runs in different apps for completing the process. Here, the three other people are in the role, so three apps make the delivery service exciting and complete.
Customer App
Like any other food home delivery app, UberEats also have an exciting customer application that allows customers to order food online. The app consists of features and functionalities that make it easy for the customer to scroll restaurants and menus for ordering their favorite cuisine online. Let's make your own food delivery app by utiliging our some of the excellent features of customer food delivery app .
Customer registration and login in
Set delivery location
Browse restaurants
Browse menu
Add items to cart
Customize food items
Special instructions
Multiple payment methods
Real-time tracking
Schedule orders
Repeat orders
Cancel order
Search by restaurant name or cuisine or dish
Feedback
Restaurant App
A restaurant application serves as the mediator between the customer app and the rider app. Here the customer expects on-time food or meal delivery from the ordered restaurant, for which the restaurant application comes in the scene. Want to create your own food delivery app like ubereats? Here are the features of a restaurant owner app:
Restaurant profile description
Availability toggle for items
Availability toggle for time
Accept or reject new customer orders
Update order status
Update offers
Assign driver
Rider App
UberEats consider the rider app as the driver app with extensive features for helping the customers get their food orders delivered on time. So, when it is time to consider the cost to build a food delivery app like UberEats, the driver application is highly crucial to design and develop with the below-mentioned features:
Driver profile
Availability toggle
Inbuilt GPS
In-app calling
Update order status after delivery
Cash collection
Order history
Earnings history
Wondering why apps with LIVE GPS are quite costly to build? Well, during the online consultation with our food delivery app experts you can discuss about the Live GPS integrations that are vital for getting accurate driver location. Our solutions use Socket IO for the same.
Food delivery app demo by iCoderz Solutions
iCoderz Solutions has already developed an on-demand food delivery solution for many client's from scratch with different features. We have expertise to develop your own food delivery app system from scratch which cost you from $25000 to $150000
Want to Build Your own Food delivery from Scratch?
There are multiple ways that a client can reach the custom on-demand food delivery app development company. Of course, the Internet is the best version to get you all your business needs by only using the google search. To find the best mobile app development company, clients can check various company's portfolios, including their social media, to know how active they are. Dynamic companies are pretty aggressive, and hence, they will get you a perfect team for your app development service. On the other hand, many companies have got good reviews on different platforms. Still, if you check their portfolio or social media accounts, you will find those companies inactive for a long. Hence, Let's connect today to start your own food delivery startup.
Why hire a mobile app development company?
Multiple reasons justify that an app development company can serve your project much better than an individual or a freelancer. To start a food delivery app project, a team can help break down the project's needs to accomplish it. If you hire a freelancer, your project shall never be complete even in one year as top food (restaurent) app development company takes 4-8 months when projected and developed by an entire team. So, before you determine the cost to build a food delivery app like ubereats, it is essential to know how many team members are required for making an application.
Steps to build a food delivery app like UberEATS
Initially, any client would trust his conscience while selecting the top custom app development company in india to design and develop a single or multi-vendor delivery apps like Zomato or UberEATS. But slowly and gradually, the team's expertise gives surety to the client about the same. Here is how any custom food delivery app development project would begin and require for successful accomplishment of the development process.
1. Selecting the right app development platform
Today, many platforms can help developers start their development process, such as iOS, Android, Windows, Cross-platform, Hybrid, etc. The first thing to discuss and boil down during the app development consultation is choosing the most appropriate platform for building your next on-demand food delivery app. 
2. Discussing technology stacks
Technology stacks refer to the backend technologies and tools that help to build a mobile application. For making a food or meal delivery app like UberEats, iCoderz Solutions use the respective backend tools.
Development versions: Android 4.1, XCode 12.2, and Laravel 5.8
Web Backend -Ubuntu
OS Web Framework -Laravel
Programming Languages -PHP
Font Scripts -Google Font API
Miscellaneous – Screen
Web Servers -Apache
JavaScript Libraries -jQuery
UI Frameworks -Bootstrap
Payment Gateway: Stripe and Razor Pay.
3. Embedding right features
We have already discussed the features in the middle of the blog that needs to be discussed between the client and the mobile app development company to determine the cost of building a food delivery app like UberEats.
Features play a significant role in the mobile app development process: the more elements, the more time is taken for app development and vice versa. Moreover, the team needs to be highly educative and experienced in embedding the features successfully, including the third-party APIS and gateways.
4. Importance of UI/UX
Many clients say that they would like to focus on the UI/UX for delivering a seamless app experience to their customers during the company call. Design is the ultimate gem that allows your customer to navigate from one page to another without having anyone lose interest in the application menu. At iCoderz Solutions, we have the best designing team to focus on your application development process's creative part.
5. Resources Required for the development process
A team makes its way to a successful food delivery app development process. For developing a meal delivery application like UberEATS and Zomato, clients must hire a company that consists of the following team members. We at iCoderz help you get your app development process by helping you hire the following members as a team:
Project Lead
Mobile app developers
Tech Lead
Delivery Manager
QA Engineer
UI/UX Designer
Online food delivery app development cost estimation
To understand the food delivery app development cost, it is essential to know which type of developer hiring model you selected to move ahead. At iCoderz Solutions, we offer the following types of models to clients:
Full-time developer model
Part-time developer model
Fix-development model
Readymade food delivery solution (SaaS-based)
Our business head will discuss the hourly development rate for the on-demand app development models like food and grocery. After a mutual agreement and signing of the NDA bond, we shall move ahead with the development part. So, the cost to build a food delivery app like UberEATS would be development hours multiplied by the rate per hour mutually decided between the client and us. The fixed development model is the fixed rate for development no matter the hours or team size.
Readymade food delivery solution
At iCoderz Solutions, we have online readymade food delivery solutions for clients who wish to launch their food app service ASAP. Our solution is made in a SaaS-based model with all the required features embedded for establishing a food delivery brand. Consult our business team for a quick demo on our readymade on-demand delivery solutions, including food, grocery, liquor, and multi-vendor delivery app.
Bottomline
As a client, you may get many options to build your next meal delivery app. Still, if you choose the application development company based on expertise and portfolio, you may get the desired results. Consult our business head to know about our development rates and resources for developing a food delivery application like UberEats.
Do not Skip Reading: