Today, there exists a mobile app for each business or sector. 2021 is all about embracing the latest technology advancements, including seeing a doctor or how our health is inspected! While we compare the different business segments and their rapid development speed, healthcare definitely charts as #1. Thanks to the significant advancements that the healthcare sector has brought in over a couple of years for making our lives easier.
What is Healthcare App?
A mobile healthcare application is designed to narrow the bridge between the patients and the doctors, patients and the hospitals, patients and the medical stores, patients and the different health clinics including pathological laboratories, X-ray centers, and more.
Types of Healthcare Apps
Doctor booking app
Online doctor consulting app
Healthcare reference & database app
Training and fitness app
Patient health education app
What is a Doctor Booking App?
Considering the various healthcare app development types, the doctor app is one of the best discoveries so far. It helps the patients to book their appointments with their concerned doctor or hospital via a smartphone application. It eradicates the hassles of calling at the hospitals, checking for availability, and requesting a sooner checkup. With the doctor booking app development, the hospitals or clinics make it transparent and easy for the patients to check the doctor's availability and the nearest vacant spot for health checkups.
Who needs a doctor appointment booking app?
Clinics who would like to switch their appointment calendars online
Doctors who wish to get their booking via a smartphone application
Multi-specialty hospitals
Doctors who are ready to visit the patient at home with a scheduled visit
How Doctor Booking App Works?
The working of a doctor booking application is quite simple and easy. There are a total of two healthcare apps that are designed for creating a successful doctor booking app solution.
1.   Patient App
The patient application is designed to schedule their appointments with the concerned doctors online. An in-depth technology and advanced features allow the patient to search for the nearby doctor and schedule their appointment. Let's focus on the features.
2.   Doctor App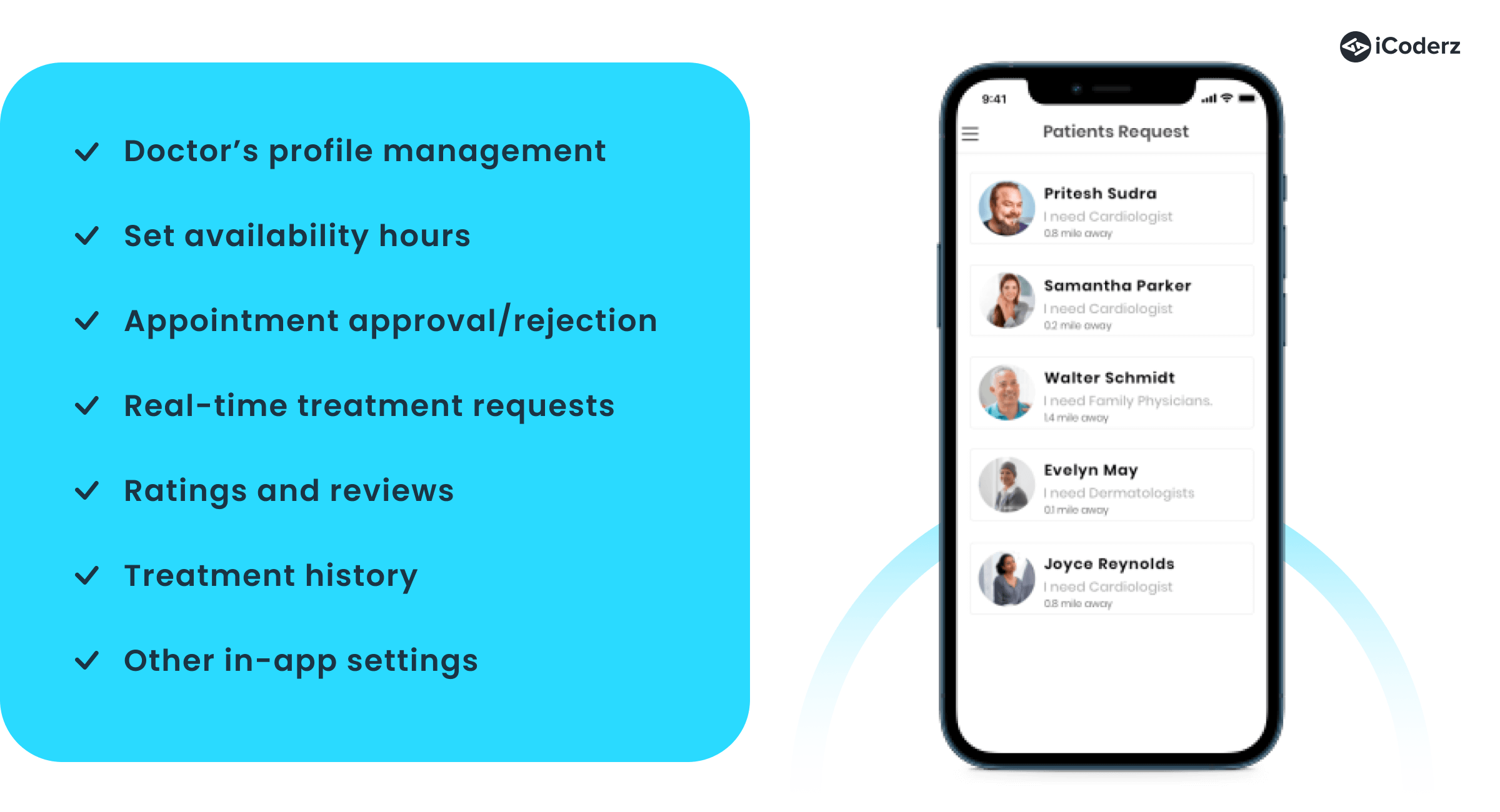 The doctor app is crucial for setting up the profile and other important information about his practice, including the clinic or hospital. Many doctors visit two different hospitals in a single day. In this case, the doctor can set up his calendar on the app concerning the particular hospital. Let's check the features.
3.   Admin Panel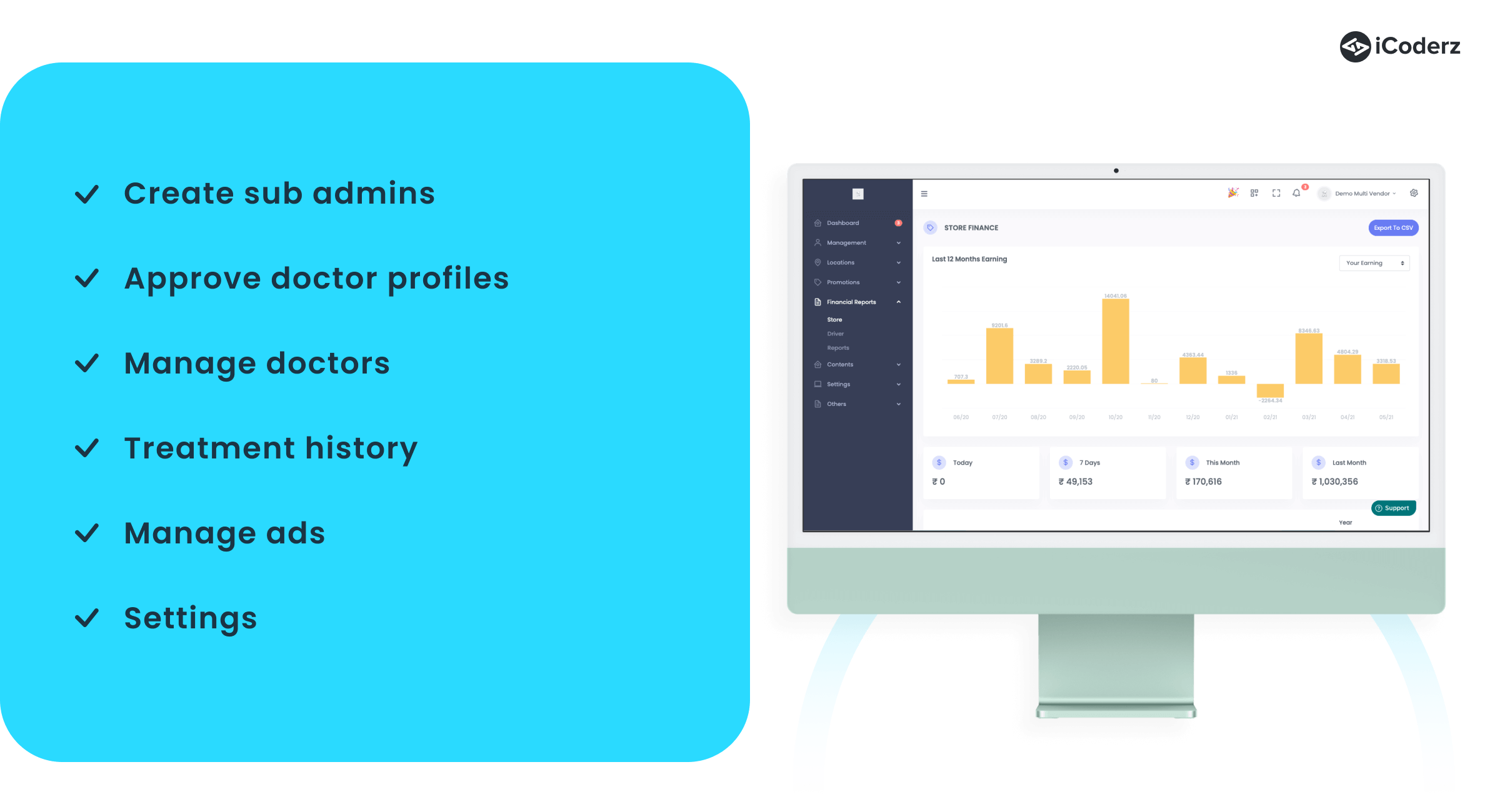 When a hospital or clinic manages the doctor booking app details for various doctors as per their specialties, there is a need for an admin panel for overall control and management. For the same, there is a requirement for an admin panel.
What Does Patient Want from a Doctor Booking App?
Patients are using the smartest mobile phones in regular use. Now, they are aware of the benefits of utilizing a smartphone for booking various appointments, including the doctor booking service. Moreover, after using mobile healthcare apps like Practo and Lybrate, the patients are aware of the benefits of using a doctor booking app. Hence, if you are going for a doctor booking app development, you need to consider all the modern features while designing your healthcare app.
Nevertheless, patients need the smartest, swiftest, and secure payment gateway for paying their appointment fees online. Hence, your healthcare app development company needs to design a secure payment integration for allowing the patients to proceed with in-app payments while scheduling their appointments online.
Here is a quick nutshell of what your doctor booking app must include:
Fastest healthcare app for booking in-clinic appointments with doctors or radiologists
Secure payment gateway
User-friendly interface for exploring the various app features
Track appointment history
Cloud data-backup for storing health records
Integrated medicine buying feature
Building a Doctor Booking App!
Many healthcare startups are coming up with innovative mobile apps. If you are a healthcare professional looking forward to taking your operations online with a doctor booking app development service, you need to consult us at iCoderz Solutions.
iCoderz Solutions have designed various healthcare apps for medical professionals around the world. We have designed a medicine delivery app, doctor booking app, on-demand doctor app, and medicine and doctor booking app like Practo. We have got readymade on-demand app solutions to offer each business, including healthcare, grocery, food, liquor, pizza, laundry, taxi, etc.