We all know that these days Uber is becoming one of the major industries for travel purposes. It has grown in the last 5 years so rapidly that no other platform for the taxi business is coming over it.
People have started to understand Uber's way of approaching and how do uber works to an extent.
These days, people want to know what Uber Business Model is. How much does Uber earn? How does Uber make money? They want to know if this Uber Business Model is due to their will to develop an app like Uber.
If you are also one of those who are willing to develop an app like Uber, you need to understand Uber completely. Here, you will get to know everything about the Uber business model and how does uber works.
Let us First see some Straight Facts about Uber.
Uber Technologies was formerly known as Ubercab. It is majorly a transportation service platform.
It was founded in 2009 in San Francisco, California by Garnett Camp and Travis Kalanick.
According to Report It is serving in more than 71 countries in the world. Its revenue last year was $17.355 billion. It also serves in many other fields, like Uber Eats, Postmates, etc.
What is the Uber Business Model?
Today, Uber is not only a taxi-hailing company. It has served enormously in other fields as well. We all must have heard about Uber Eats, Uber Freight, Postmates, etc. All these industries are also covered by Uber on a large scale.
But if we talk about the taxi business, which Uber is dealing with, then they simply focus on an on-demand taxi-hailing service that is as simple as it sounds.
In this article, we are specifically going to focus on the taxi-hailing business model of Uber.
Uber Business Model Explained-
To make it clearer, Uber simply connects its users to the driver who is on duty at that moment. It means that if you are booking a taxi for a ride, Uber connects you with one of its drivers and lets you hail the taxi.
Let us make an easy equation to understand. Uber is working as a digital aggregator app that helps riders who want to go from one place to another find a driver who is willing to take these riders from that place to their destination.
Uber has created about 93 million trusted users worldwide. It is an enormous number when it comes to a taxi-hailing service. That is why it has become a difficult task to take over the Uber Business Model.
What is the value Uber Provides to Passengers and Drivers?
The value provided to the passengers-
On-demand cab booking.
Multiple rides.
On-time payment.
Real-time tracking of vehicles.
Exact ETA, etc.
The value provided to the drivers-
Flexible hours.
Good income source.
Vehicle loan assistance.
Training sessions.
Low idle time to get a ride.
Let us talk a bit about the mission statement of Uber-
It says, "We ignite opportunity by setting the world in motion."
How Does Uber Work?
To use this App-
You first need to download it from the play store or apple store.
Then you need to register yourselves.
You need to enter the location of the place you want to go to.
Uber will connect you with the available driver near our primary location.
Once the driver arrives at your place you need to give an OTP so that he can start the ride.
He will use a navigation map to reach your destination, and once you have reached your place.
You can pay the driver through the app or with cash.
There are a lot of different taxis and cabs that are working under Uber. The rate of each vehicle is set accordingly. It is your choice of which vehicle you want to travel with.
The value of the rides is calculated according to the distance to the place, the amount of fuel used and also the time taken by the passenger to arrive, which is also called time elapsed.
The whole calculation is based on the Uber algorithm.
They also have a rating system for their drivers. But the feature that makes them different is that the drivers also get to rate the passengers. This helps other drivers get to know their passengers a little better.
How is Uber Helping Others?
Uber is the biggest platform in the ride-hailing industry. It is providing great service to the passengers who are using the app frequently. There are a lot of features that make Uber very different from others.
One of how Uber is helping is that it has made it an easy choice for the drivers to join them and earn a decent amount of salary for themselves.
Many people who want to work part-time or want a permanent job profile have applied to this platform and have gotten a decent job for themselves. All a driver needs to apply for this job is a cell phone and a four-or three-wheeler.
The best part for the drivers working under this app is that they can get to know their passengers by their profiles and select whether they want to get the ride or not.
It is a feature that makes Uber the best and most popular platform for drivers as well as passengers.
One more advantage that Uber enjoys is that it was the first to enter the field of ride-hailing through apps. The founders made this idea a pioneer in the taxi business.
All the features and points discussed above make Uber the best in the taxi-hailing business.
What is the Uber Revenue Model? (How does Uber Generate Money?)
Now we are going to discuss how Uber is generating money. As we know, it's a ride-hailing platform through which you book a taxi or cab to reach your destination.
On a very basic level, Uber generates great revenue through the cuts on the fare given to the drivers through the app.
Although, this is only a way that plays a huge role in generating revenues.
Let us discuss some other ways of doing the same.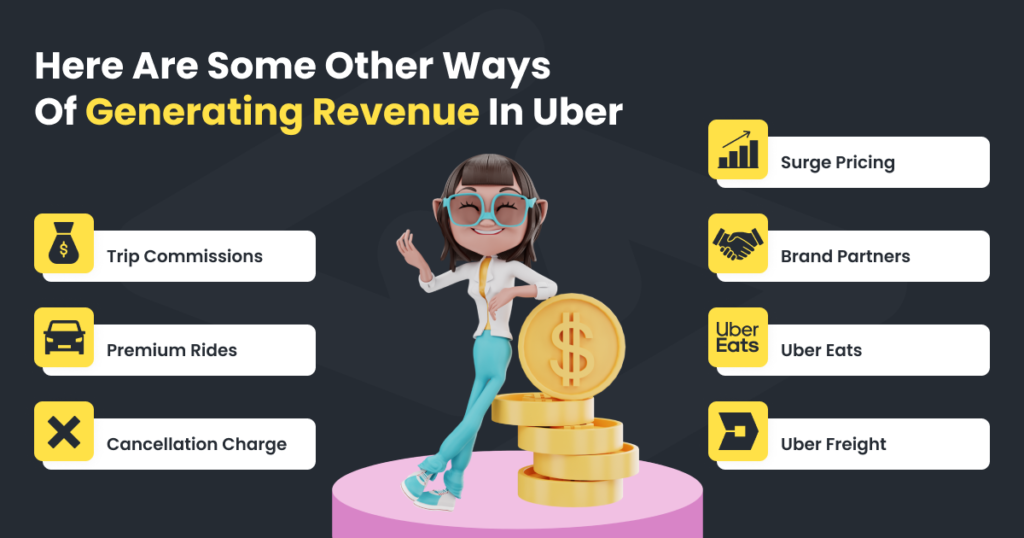 Trip Commissions- This is one of the biggest ways for Uber to generate revenue. Uber lets the drivers get the rides in the form of bookings through the passengers. The drivers can accept a ride if they want. Passengers pay for the rides through the app.
The company pays the drivers and keeps a cut for themselves. This is the same job as that of a broker.
Premium Rides- Uber provides a ride that is affordable for the passengers as well as luxurious cars or cabs for passengers who want a comfortable ride to their destination.
This is a premium way through which Uber is generating great revenue as there are a lot of passengers who want a premium and luxury ride.
Cancellation Charge- Although Uber gives a specific time to the passengers who are willing to cancel their ride, if someone cancels a ride after that particular time, Uber generates a cancellation charge for the passenger.
This is also a way through which Uber is generating revenue.
Surge Pricing- This is a great feature through which Uber and even other taxi-hailing apps are generating revenues on a large scale. Although this feature was created by Uber itself.
Whenever there is a lot of traffic somewhere, like at stations or airports, the Uber algorithm makes its drivers go to such places.
This helps the driver to get more passengers and also enables Uber to generate more revenue. Due to the high demand for taxis, passengers also pay high fare prices to the drivers.
Brand Partners- As we all know; Uber is one of the biggest platforms in the taxi-hailing business. Every small business or brand that is trying to promote itself wants to have a partnership with Uber so that they can get a great boost from a big name. Other small brands get advertisements, and for those advertisements, they are willing to pay Uber as much as they want.
This is also a great way for uber to generate revenue and to get free publicity as well.
As we have mentioned above, Uber is not only working in this taxi-hailing business model but also has a lot of different business models for their growth. Some of them are mentioned and discussed below.
Uber eats: Uber eats is one of the biggest on-demand food companies, generating great revenue, and has over 10 million users all over the world. There are a lot of big sharks in this food demand business, but still, Uber Eats has settled its legs in this field very firmly.
They have a partnership with the hotels and local food vendors. People order dishes through this app and the hotel, as well as Uber, generate revenue.
Uber Freight: This is nothing but a part of Uber that helps the customers hail a truck for their use. It is also a very useful uber business model in terms of people wanting trucks for various reasons. They can hail a truck from the app just like a taxi and use it for whatever work they want.
As Uber generates its revenue by getting the commission through this model as well.
Wrapping it up-
All of these points we discussed above are the ways through which Uber is generating its revenue. As we told you somewhere above, Uber has generated more than $17 billion in revenue.
It is a very great deal for this Uber Business Model to have such a huge success in such a short span.
Every business model needs to create trust amongst its users and partners to generate such an enormous result.
Without people trusting you, you cannot even imagine having such a great name in the whole world.
It is not an exaggeration if we say that Uber is one of its kind in the Uber Business Model.
If you also want to build an app like Uber, then you need to have such a great idea that you can at least be in the race with such big brands.
We have discussed all the important points that we thought you would need to understand the Uber Business Model
Now we are at the end of this article.
If you also want to develop an app like uber and are planning to create your own revolution by creating something new, then you can contact us . We are a On-Demand Taxi Booking App Development Company. Our employees are continuously working on these kind of projects day and night for you.
You can message, call or email us on the given numbers and email address.
All we want to say is all the best for your journey towards your goal.
If you are also looking for your On Demand App Development Company, contact our business and sales team at +919309090932 or [email protected].