Cost to Build App like Licious
People all over the world have a love for meat, unless they are vegetarians, of course. No function or party is complete without some chicken, mutton, or perhaps even some pork and beef.
But alas, nobody likes to step into all those meat shops to see all that flesh hanging from ceilings and walls and watch the butcher chop it all in front of you.
So, one of the best ways in which you can make lives easier for a lot of them out there is this: start a meat delivery app like Licious, to get people all the meat they want to their doorsteps, and enjoy your new business too.
Speaking of business, what does it cost to build an app like Licious and how much money are you going to need?
Well, that is exactly what this article is going to be about and what we are going to see. But before that, let us look a little deeper into this app that we are so inspired by.
Know A Little More About Licious
Launched in the year 2015, this is an app that processes more than about 17,000 orders today. With its focus on consumer loyalty, it provides meat that is fresh with quality for households to feast.
And thanks to this, it was just a matter of years before the company began to generate a revenue of more than a crore a year.
So, this was something for our learning. So, if you are looking for a Meat delivery app development Company of your own, here is something to see apart from knowing about the cost to create an app like Licious, of course.
Today, the company even provides ready-to-cook products that it gets delivered to doorsteps. That is how much it has grown by the years, and this is how much you can grow too.
Cost to Develop an App Like Licious
Let us see what the analysts have to say. If all you want is a simple app with basic features, then an amount like $12,000 in your wallet would be good enough to create such an app.
On the other hand, if you have something more sophisticated in mind, like an app with a lot of advanced features, then be ready to shell out an amount of $40,000 at the most.
And then, of course, the location is another one of the most important factors that determine the cost of creating an app.
For instance, if you are developing an app in one of the third world countries, like India, then an approximate amount of $80 would be what you would be paying for an hour or so.
On the other hand, if you are considering an app in a country in Europe, be ready to pay an amount of $100 to $150 for an hour.
And if it is in the US that you are planning to have your app built, then it is sure going to cost you much more for each hour, with an amount that could range from $200 to $250 for an hour.
How Do I Create An App Like Licious?
To come straight to the point, there are three kinds of business models that you can choose from:
Have your own outlets –
So, if you are an already existing business with a number of stores in the city, then all you need is an app to get more visibility and of course, more customers who would want to buy meat from you at that.
So, in other words, here you are only taking your business to the next level by managing it in a more efficient way.
Build a White-label app –
And then another option that you have is this, giving businesses a good platform to market themselves with.
So, this way you are giving stores around a good opportunity to channelize their business through yours.
Marketplace aggregator
And then you have the third form in which you can give any seller a platform to showcase their products and the customers the freedom to browse through them, thus enjoying more variety.
However, this is one model that can demand a lot of effort on your part but the end result is always worth it. There will be a profile for you to maintain, partners to manage, and so on.
Let Us Look At a Few Statistics
Meat is one of the staples in a lot of countries over the world today and with an app like this, you are bound to create success.
Meat shares a market rate of over 38 percent over the world. And processed meat is only expected to rise to a trillion and more this year
With mobile internet usage only on the rise, at a rate of 4.6 billion that is only expected to increase, you only know too well what to expect when you create an app like Liciouscious. . .
Making Money From An App Like Licious
So, one of the first questions in the minds of anyone starting to build an app would be, how to make money out of this.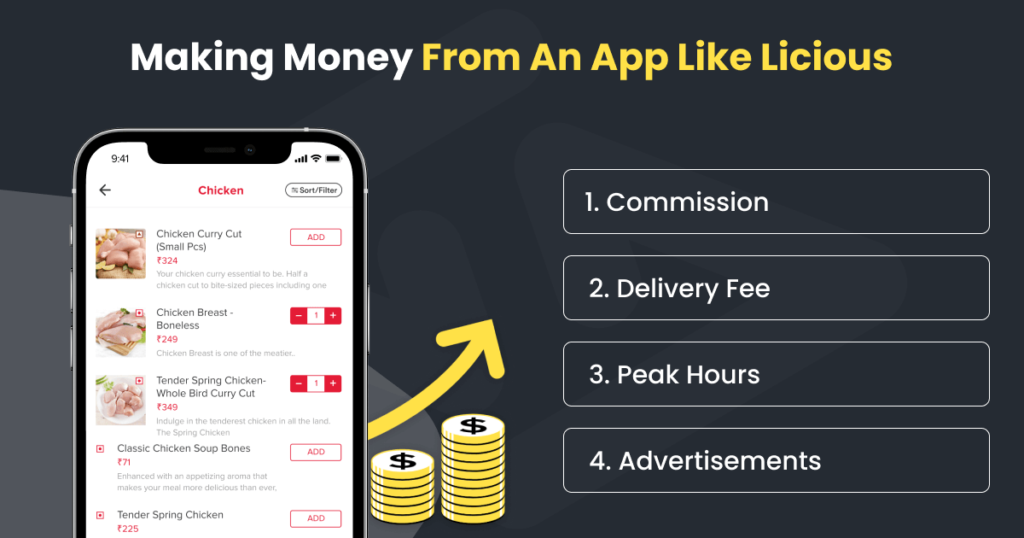 So, if you are building an app like Licious and have some of these questions in your mind, then the following are some of the ways that help:
1. Commission
So, as an app, you are going to be giving a lot of business to restaurants, who won't mind giving you some commission for it.
So, there! This is one of the first ways in which you get to make money.
2. Delivery Fee
And then, of course, the delivery fee. Customers will be charged something for the effort of getting their stuff all the way to their homes or offices desks.
So,. there you are! Here is another way in which you are going to make money.
3. Peak Hours
Now, this may sound a bit unfair but not really. So, don't hesitate to charge a little extra for all that running you'll be doing in all those peak hours.
And your customers won't mind paying that extra bit to you. And that's going to be another source of money for you.
4. Advertisements
And finally, did you know that there is a lot that you can gain by posting advertisements on your app?
So, first of all, you are making your customers familiar with restaurants around which they can order.
And what else? Obviously, you will get paid for that ad that you put up and so enjoy another way to make money from your app.
What We Can Learn From Licious
So, let us end by having a look at a couple of things that we can learn from an app like Licious.
Features and Functionality –
Licious is an app packed with some of the best features and functions, letting customers order more conveniently and estimate their product delivery, make payments more securely and write reviews more freely.
Delivery partners can update the status of their delivery more efficiently, manage their profile easily, and get the fastest route to their location displayed more clearly.
Your vendors and business partners can add and remove items conveniently, change prices easily, notify their customers efficiently and manage their stocks properly.
So, there you see? It's a win-win situation for all, and Liciouscios doesn't leave anyone forgotten, and this is what you need to do if you are running a business like Licious too.
The Technology –
Licious also pays a good amount of attention to its technology to provide its customers with a rich user experience, giving them an app that is easy to navigate and find their way through.
The team is one that is built on some of the most effective skills to help the app run successfully, with developers, engineers, analysts and administrators putting in a good number of hours each day to help the app run successfully.
Final Words
So, now that you know the cost to create an app like Licious, there are two ways in which to approach this.
You can begin by creating a simple and small app with all the basic features to start off with.
Or, if you have the money and are dreaming big, go ahead and create the app that you have in mind and are looking forward to build.
Either way, don't stop dreaming. Keep moving and improvising on your app each day and you are bound to make it someday.

Restaurants operators should comprehend the industry's increasing diversity beyond aggregators with a significant public presence before expressing their views about mobile ordering applications. As restaurants are less content with their reliance on third parties to be sold online, they would profit from looking for alternative ordering and delivery options that control them. If you are also looking for your on-demand delivery app development, contact our business and sales team at +91 93090 90932 or [email protected].
Frequently Asked Questions (FAQs)
Okay, like always, before we end, let us consider some of the most common questions people have in mind and what we have to say to that: 
What are the things that come under the cost to develop an app like Licious? 

So, if you are starting with a basic meat delivery app, there are still a couple of things to consider like the location, the number of members you would want to have in the team and the hourly rate that you would be willing to pay them, the design, features, size and complexity of your product and finally the location in which you would like to begin. 
Now, all this determines the cost that you would like to begin your app with.

How do I determine the cost that I would have to pay to start my app?

While it is hard to come up with an accurate figure when you are in the planning stage you can always have a rough estimate of what the cost is going to be by considering and calculating the features that you would want to start with. 
So, take the time to make a plan of all the things you need and put down the cost that would come up of each. Make sure that you keep a buffer in the end after all the basic costs you would need.

Is testing important for my app before launching? 

Yes, running a test is absolutely necessary and some of the most successful apps are those that go through rigorous testing in the beginning. This way, you can get to run your app more smoothly once launched and prevent problems like bugs from arising. 
And it does not end here. Periodic testing once launched is also very important for the seamless performance of any app.
SEE MORE:-