One of the most challenging activities involving such vital steps is customer retention on a mobile app. If a user is not retained or engaged, there is no point in making a mobile app. App retention is called the system of keeping users on the app, and this article will give you a better understanding of several ways to prevail. The role of mobile apps Development Company is not limited to create an App for the client but to provide specific strategies for the same.
The figures speak for themselves when it comes to knowing how, even after investing several dollars on launching an app in the first place, businesses do not bother to maintain customers. At the moment, the rate of having a smartphone app is rising, although the retention methods for the app are nowhere to be seen. Choose a company that provides you the guidance and retention strategy along with the Mobile App Development Services.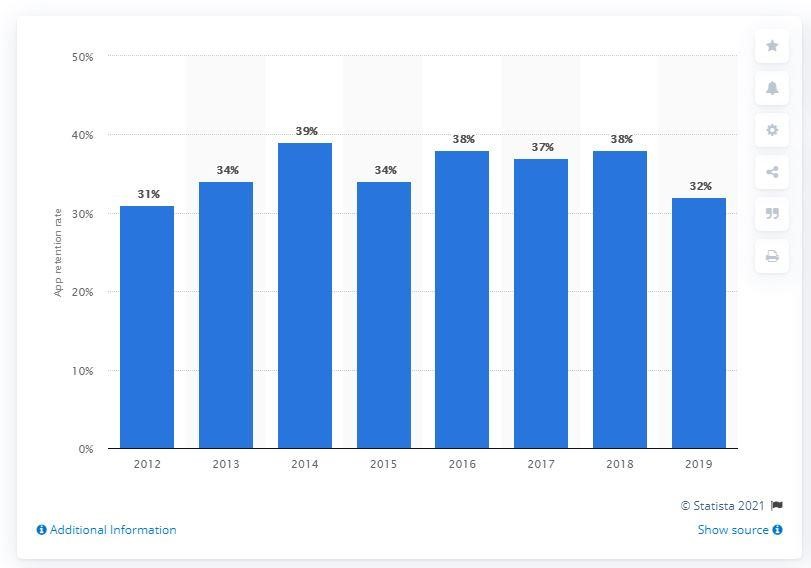 Mobile application user retention rate worldwide from 2012 to 2019 (Source – Statista)
The figures show the customer retention rate of mobile apps from 2012 to 2019 worldwide. According to the Statista report, 32% of users have returned to an application in the last year. This reflects an apparent decrease from the previous year's 38 percent. With the growing cost of growth, to get full ROI, every company must maintain a budget to enforce app retention strategies. So, it's a whole new parameter for mobile apps development companies.
Strategies for User retention along with the Mobile App Development Services
Now let us see some of the exquisite techniques for user retention and engagement.
1.    Analysis of Cohorts
It is one of the essential measures to keep app users and keep them engaged for a more extended period. From the very beginning, determining app users' actions will give you a good understanding of the app's best features and the features that drive them to stop using the app.
It will help you keep them better by comparing the various behaviors of the same group of people within a time frame. For instance, you can use historical data to identify the obstruction Sixers faces when using the mobile app. Many top app development companies are providing this as part of their Mobile App Development Services.
2.    Use of Push Notification
The use of a push Notification mechanism is the best option to retain users as it is more comfortable and faster information. Whenever required, the app should offer push notifications to the user to welcome them to the app platform, provide them with the relevant information, take surveys, and more.
Even when the customer is not using the application, a push notifications can be sent to them.  The only thing to take care is, push notification only attracts when sent promptly and they must be personalized according to the user's usage data of the application.
Also, it can be a turn-off for customers to send too many push notifications, so one must ensure not to frustrate the users with them. Hire a mobile apps development company that can develop an attractive push notification system for your application.
3.    Rewards System for users
One of the most desired ways of keeping clients on the app is giving discounts and credits to loyal customers. This is good for eCommerce apps that can provide their users with discount coupons, deals, recognition, and more to improve overall interaction with the product and get better revenue. Another strategy is to enhance loyalty and retention by providing customer incentives for current additional sign-ups and referrals.
Many App development companies provide ideas of the Rewards system while building an application.
Bottom Line
Because it takes a lot of time and resources to build a mobile app, changing the retention curve must be an organization's top priority when determining the path to success.
Ultimately, a company that can maintain and engage major clients through its smartphone or web app can improve its overall revenue. Until gaining more users, one must ensure that a dedicated policy and management is provided for user retention.  If you are looking for a mobile apps Development Company with a retention strategy, iCoderz Solution is the best-fit option.
The ultimate aim is to turn consumers into long-term customers. A tailored approach of retention and interaction will help organizations get just that & become part of Mobile App Development Services.
If you wish to have such interactive and highly scalable apps for your business for faster user engagement, consult our mobile app lead at iCoderz Solutions.