The iOS devices are incredibly well known for their outstanding performance and the most innovative functionality and highlight that appeal to users. Market visionaries see the iOS app development as a profitable business-inspired commodity. Businesses can make progress with the right app, the proper features and execution at the right time.
In a new, booming technology world, having a business app is necessary for a growing organization. Smartphones are the most widely used devices for professional and personal use. Android and iOS are the only two Mobile app development platforms ruling across the globe. Both have their own advantages, but there are several reasons why starting an iOS enterprise app first can be more valuable than Android.
Companies are investing a lot of capital into the application building process, which determines the degree of success they have accomplished. If a company has a strong app, it helps to promote the company's market. You can hire an iOS app development company for your iOS application for your business.
As seen in the following chart of having data of 2018, 95 % of iOS users are either running iOS 11 versions (originally launched in September 2017) or iOS 10 versions (September 2016). On the other hand, Oreo (Android update) is installed on less than 15 % of all active devices, whereas more than half of all Android devices run on a system launched in October 2015 or earlier. As a result, iOS app development company will find a seamless environment while Android developers will have to deal with a highly fractured structure.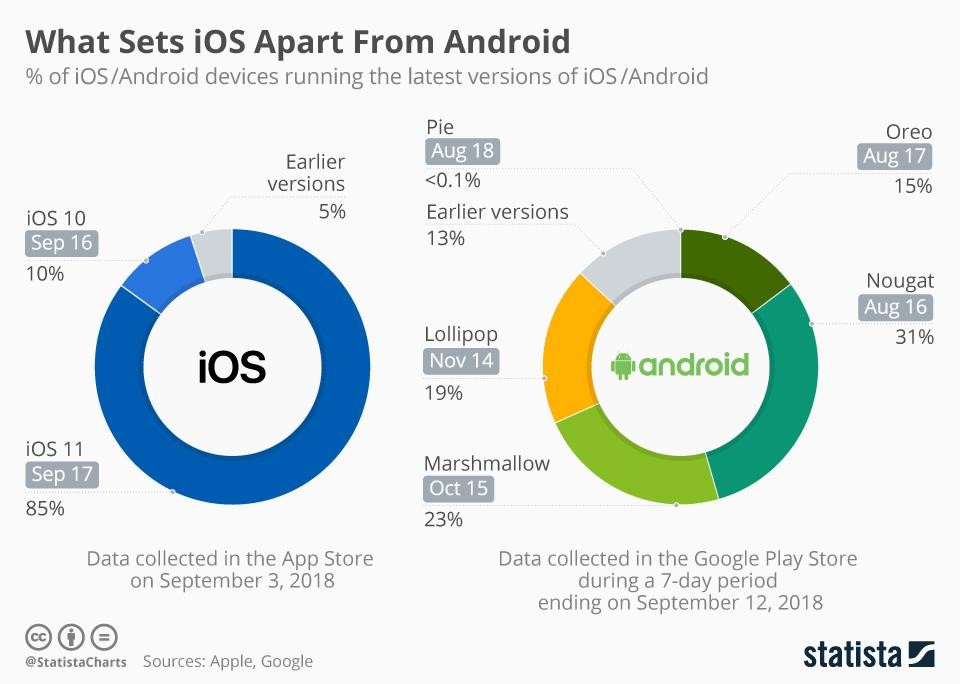 What sets iOS Apart from android (Source – Statista)
Another interesting stat that will make you believe that you need to approach iOS Mobile app development.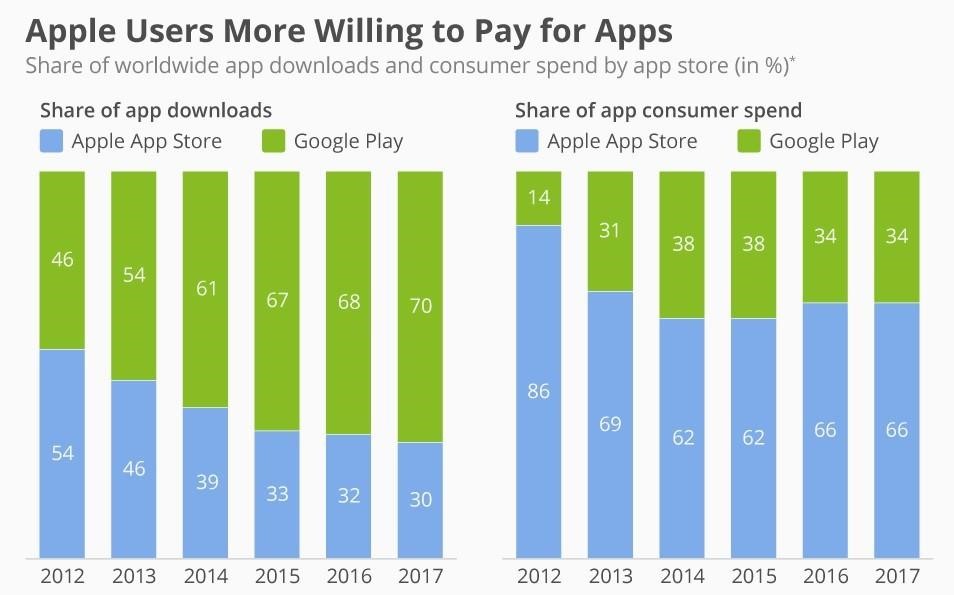 Apple users more willing to pay for Apps (Source – Statista)
App Annie's previous survey attests to this when it reveals that in 2017, considering the fact that the Google Play Store reported nearly 70% of all application downloads, the App Store accounted for 66% of the revenue earned by app developers, almost two-thirds of the total. You can see how the condition has changed over the last five years in the analysis below.
Here are the top 3 reasons to choose an iOS app development
Developing an app is not a clear and simple job for any measure. You really have to worry about different things when you're going to create an app. iCoderz has brought you some of the crucial points to look over and decide.
1. iOS apps are business-centric and give better performance
Corporate heads and top-of-the-line business leaders are investing in iOS app development company, specialized in iOS platforms. This is also the perfect way to gain higher productivity, improved profits and more customer loyalty.
iOS systems have their very own set of high-level functionality and unique features. If you're planning to develop elegant and user-friendly apps, then iOS is providing a strong medium.
As a matter of fact, the iOS platform has its own group of loyalists that can head to the iOS app with no mixed feelings. In reality, the iOS app profits from the goodwill and name of Apple Inc.
2. iOS platform can help your business in fetching good money
Running a start-up is really expensive, but an iOS app will help you get a decent deal of revenue. IOS smartphones are also favored by leading experts, department heads, general administrators, and usually by individuals who can pay more on in-app transactions.
Undoubtedly, iOS applications push your business efforts in a good direction, give you a lot of visibility, and help you make more money. When your customers spend extra for in-app transactions, it's a win-win opportunity for you.
As a result, iOS app development based on the iOS ecosystem would provide you with more visibility and improved financial benefits.
3. Users can experience exquisite functionality
iOS Users can store and play audio on their regular USB unit. This opportunity to play with USB audio input is not accessible on any Android phone.
IOS devices are in synchronization with each other so they can lead to quicker and simpler development. As a result, Apple devices have advanced features and increased processing speed with sufficient capacity.
Custom iOS Mobile app development will lead companies to meet consumers directly. A nicely crafted iOS app would enhance brand value, particularly among the target audience.
Few of the other reasons why businesses choose an iOS app development
High-quality apps
Excellent reliability of application
Loyal customer base
Outstanding compatibility etc.
Bottom Line
There is no better platform than iOS if you're looking to create a user-friendly and interactive and user-friendly application. IOS app development is rightly seen as one of the most profitable opportunities to help your company flourish.
We have covered all the industries in mobile app development from Lifestyle, entertainment, travel, health and fitness, photography, video – photo editor and shopping. Connect with us, NOW if you are running a healthy business and looking for an iOS app development company.