When entrepreneurs meet, they often talk about websites. Is your website developed? What platform have you developed your website? Which custom web development company helped you build a website for your business?
Such questions are often heard when two or more business owners meet. It is also quite common amongst the retailers and on-demand business owners to observe talking like this.
So, what is this website? And why is it incredibly important for your business?
A website is a digital platform or structure for showcasing your company or brand's presence. It is more like an online store for helping your customers understand about your business details including the products and services that you wish to sell.
Websites are developed using various technology frameworks such as CMS (Content Management System), PHP, Ruby on Rails, Microsoft .Net, JavaScript, Python and Django, etc. All these frameworks have individualistic characteristics for which they are best known and recommended. In short, each platform holds one or other superior features for which clients choose them.
Just like technologies, there are different platforms for building dynamic and beautiful websites. Each of these platforms is acquiring one of the above-mentioned frameworks for creating a website.
iCoderz Solutions offer the following website development services:
PHP website development
Laravel web development
NodeJs website development
CakePHP website development
WordPress website development
Angular website development
Django web development
These are some of the website development platforms that we offer to our clients. We have employed an experienced website development team for helping clients with custom website development services.
What is a Custom Website?
A custom website refers to a website design that is crafted by the website designers. Usually, the platforms like WordPress and Magento offer you ready-made templates for building a website. A custom web development company helps you build a website with 100% customization including design, graphics, structure, content, and much more.
In a non-technical language, custom websites are tailor-made websites. Such websites are built as per the preference and requirement of the website owner. And to be honest custom websites have a great impression than the pre-built ones.
Does your business need a custom website?
Every business needs a website in 2021. If you want your business to earn good leads from both local and non-local customers, then having a website is a must. Be it any profession, building a website becomes important. Either you are a retailer, or a contractor or a photographer by profession or a lawyer; having a website is incredibly important.
Here is an image from Finances Online revealing the 3 Key Web and UI Design Statistics that every web owner must know.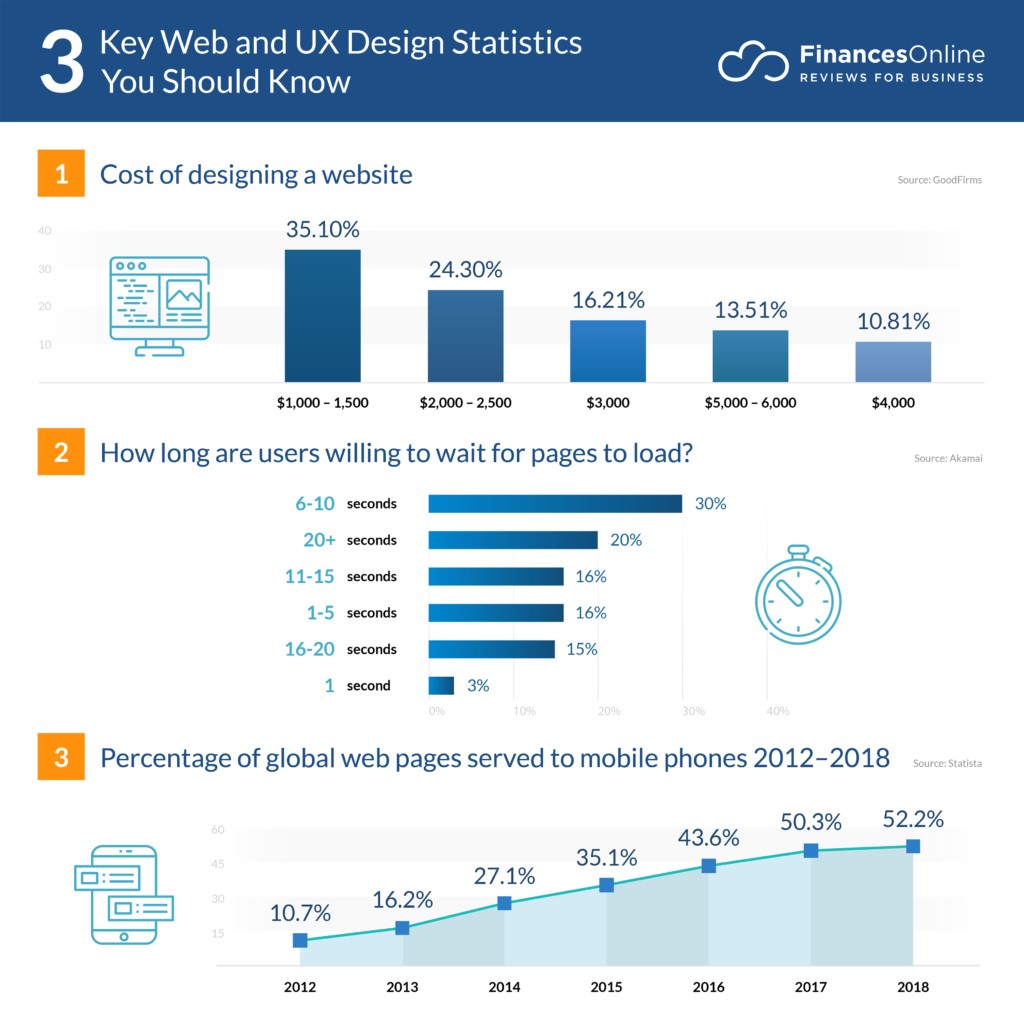 These days building a website along with a mobile application is highly trending. Be it Walmart, BigBasket or Zomato; having both a website and a mobile app helps you earn huge! By having a website, doctors can have scheduled appointments via a web application. It helps them get a clear idea of the upcoming week or days appointments. In short, a website helps the business owner to earn more leads or sales.
So, if we look at the image UI statistics mentioned above, we can clearly assume that there are little to major points that one should focus on while building a website. By contacting a website development company for customized websites can help you get a platform that is best for selling your product or service. On the other hand, you can choose the loading speed by maintaining the website UI performance as the best.
Increasing Smartphone Users
One more reason that your company must invest in a custom website development service is the increasing number of smartphone users. Mobile eCommerce usage is maximum than desktop because people surf websites more using mobile than a desktop. It is obvious that smartphone users are increasing, because of which eCommerce has boomed in the last many years.
In the current scenario, smartphones dedicate the maximum for website surfing and app usage. People find it convenient to surf websites via smartphone as it's easy and quick. Hence you must develop a website that is 100% responsive. To know more about responsive website development, you can talk to our Web Expert by clicking here.
How to build a custom web development company?
For building a custom website, you must hire web developers from an experienced website development company. At iCoderz, we have got the best team to serve you with custom website development services including web app development and web maintenance services.
Ending Notes
Website holds a primary place in the development of any brand or company. The current generation is tech-friendly; hence you need to perform every action of your business branding according to it. So according to us, yes- you must hire website developers for building a custom web development company.