In the first week of November, Facebook quietly launched an app called 'Lasso' for short videos. Users can shoot and share short videos with filters, special effects and add music and text using the Lasso app. They can also browse and search videos and follow creators like YouTube. Lasso is very much a Dubmash like and TikTok like app. You also must have watched those short funny videos of lip-syncing made using the Musical.ly mobile app. This popular teen app Musical.ly has been merged into TikTok and all the Musical.ly users have been migrated to TikTok last year because TikTok has proven to be immensely popular. It is so popular that social networking giant like Facebook has been forced to develop a TikTok like app Lasso for short videos.
Why TikTok Has Been So Popular?
There are many reasons why TikTok has been so popular ever since its launch. Some of them are psychological reasons and some of them are reasons related to features and novel aspects. We must note that TikTok is available as an iOS app as well as an Android app.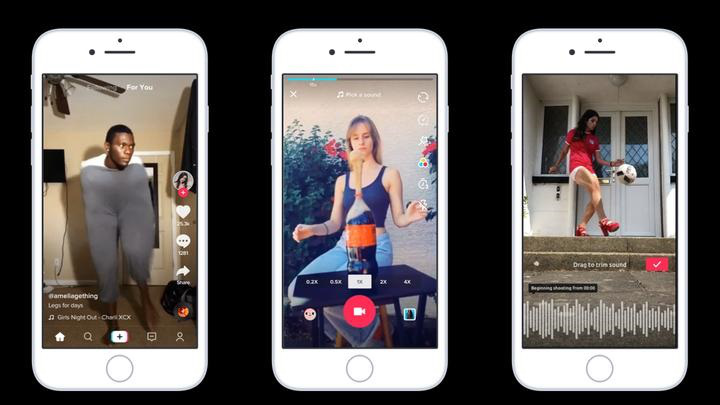 Image Source: https://bit.ly/2FyQClb
Short Attention Span
The fact that the younger generation has a shorter attention span has been accepted by all. That's why the micro-blogging platform Twitter has been so popular, novelists plan short chapters or scenes not exceeding 1000 words and short videos are viewed more than the full-length movies. So there is no doubt that a tool to create short videos will always be in demand, especially among youth. That's why a TikTok like app has been very popular.
Creative Satisfaction
Who doesn't want creative satisfaction? But creating something worthwhile takes a lot of time and perseverance which everybody doesn't have. So people look for quicker solutions. For example, writing a novel is not everybody's cup of tea so people use blogs or Twitter like social media to express their thoughts quickly. This is where a TikTok like app comes into the picture. It allows you to create short videos of only 60 seconds. With a couple of retakes and editing considered, it won't take more than 5 to 7 minutes in creating a video in a TikTok like app. But it will be very satisfying mentally.
Social Media Aspect
An app only providing a handful of features will remain an app, end of the day. To make it a platform, it needs features for collaboration and sharing. Social media integration helps turning an app into a platform. The messenger from Facebook has been doing that for a long time now. In the current digital age, people share everything on social media, especially the youth. So, instead of encouraging users to use third-party social media platforms to share their short video creations, it is only logical to build own platform. TikTok has done the same thing. People can share all of their creations to their feeds, follow friends and other creators and others can follow them, much like Facebook and Instagram. They can also share them with other popular social media. Social Media aspect of a TikTok like app is one of the major reasons why it is so popular.
The Celebrity Cult
What good is a social media app, if celebs don't use it? Fortunately for TikTok, they managed to attract many celebrities from the real world and from the digital world to use their platform. As a result, their fans also joined the same platform. After a while, TikTok was able to create their own celebrities, just like YouTube. This celeb culture is also among the major reasons why TikTok is so popular. On the other hand, when users can attract a huge numbers of likes and followers, they indulge in satisfaction and pride . It gives them a celebrity like feeling.
Unique & Easy-To-Use Features
Although TikTok like apps are platforms now, they are photo & video editing app at their core. So they must provide all the necessary tools for photo & video editing. On top of that, they must provide unique and easy to use features so that maximum number of people choose to use a TikTok like app. TikTok has succeeded in doing this. Live Effects in the videos has been a very popular feature with its unique effects. These effects are very easy to use and edit. Then there is the Duet Video that is very easy to use and unique as well. And don't forget the ever-growing library of audio tracks. You will find more audio tracks in TikTok than any other TikTok clone apps.
Conclusion
If you are thinking about exploring the short video space, now is the best time. Although TikTok is popular, its active user base is decreasing gradually. That's how Facebook smelled the opportunity and decided to introduce its own TikTok like app, Lasso. It is available only in the US at the moment but the playground is open to all as there are no real champions yet.
iCoderz Solutions is a full stack mobile app development company cum website development company. We have dedicated teams for iOS app development as well as Android app development. Our portfolio consists of more than 400 mobile apps and more than 100 websites. Our satisfied clientele is in the north of 300 with a very high retention ratio. We have a dedicated team for photo & video editing app that has developed ready-made solutions for TikTok like app. We can deliver your mobile apps quickly and efficiently. Get in touch to have a demo and know your quote.
---
Popular Posts
☛ Trending On Demand Mobile App Development Solutions
☛ How Much Does It Cost To Develop An On Demand App Like Go-Jek?
☛ 5 Technology Trends That Will Transform the Retail Business in 2019
☛ Doctor Appointment Booking App For Efficient OPD Queue Management
☛ How Much Does It Cost To Develop An On Demand Doctor App Like Heal App?