Delicious food, this is something nobody refuses to eat. These days, just about every person, after going a whole day without eating, prefers to choose food-ordering apps to order foods from their favourite place rather than walking to the restaurant. After internet shopping and cab booking app, the industry for food delivery applications is here now to rule the world.
Mobile food ordering applications improve the likelihood of a high order of food by 20%. There is indeed an enormous increase in food ordering and mobile delivery apps, and for the right reasons. With customers searching for everything on the go and ignoring long waiting queues, every business model needs mobile apps.
The Cost to Build A Food Delivery App
The cost of developing a Food Delivery mobile application like Zomato or UberEats differs as per your specifications. The app primarily relies on the type of features to enact in your app.
The development price for a food-ordering app can be calculated mostly by the key elements as:
To build up a food-ordering app, you need to choose whether to develop the app for all types of platforms like iOS, Android, and Web. Subsequently, the price will depend on what kind of platform you choose.
Design plays a vital role. The app design should be user-friendly so that the app can engage potential clients and current food fans with all the relevant advanced techniques.
Each app has its distinctive features and interfaces which will be based on the framework of the industry.
It is imperative to evaluate the application before rollout.
If you hire a food ordering app developer like iCODERZ, the complete scenario of food ordering app estimated amount will be given to you. It will be a transparent pricing module without any hidden charges. So you need to pay according to your requirement.
iCODERZ is the junction that will meet your query department, whether it is connected to the location, scenery, menu, rating, pricing, delivery, and so much more.
We also help you to design and develop a grocery delivery application like BigBasket and Grofers.
Benefits to a Business
The food delivery sector has surfaced as a prominent industry due to growing customers demand for multiple cuisines. Besides so many challenges, it has helped in creating business income and a rise in brand visibility.
1. Increase in Sales
From a marketing perspective, notifications play a vital role. If you send push messages to your customers well in time, notifying them about deals and their validity, it will drastically increase your sales all through weekdays and on weekends.
For instance, if a consumer is getting messages on his mobile suggesting lunch and dinner deals, the likelihood of him ordering food through the mobile app increases substantially.
2. Increases Brand Loyalty
From exclusive deals and coupon schemes to offer fantastic services and excellent user experience, mobile apps are always beneficial.
Also, companies can keep their customers informed on their order status and other relevant information with features such as push notifications. These practices have confirmed to enhance brand recognition.
3. Food Delivery Applications and Big Data
Please note: Food delivery apps are utilising the findings of data collection based on demographics, gender, age, and food preference to provide customers with food of their choice.
Big Data Analytics assists restaurants to remain ahead and achieve a competitive edge by analysing the food preferences of the customer, the history of food order, the day and moment of maximum orders, etc.
Benefits to Customers
Besides giving customers the freedom to order food from their handheld device, food-ordering apps present the following benefits:
1. With location-based deals, customers can quickly order the food
The mobile app picks up the precise location of the customer and displays neighbouring restaurants. It allows clients to see exclusive deals so that they can immediately look at the virtual menu and order the food. And, the food is delivered right at the consumer's listed address.
2. Ordering food on a mobile app is more reliable
Food ordering app websites should come with a highly stable interface. Encrypted credentials, reliable app information, and robust user authentication enable clients to feel safe about the privacy of their data. Additionally, sophisticated payment gateways secure internet payments.
3. Order tracking
The Order tracking option has added a comforting atmosphere for clients in the mobile app. Upon placing the order at the restaurant, the mobile app starts to monitor their orders from preparing to the food arrive at the door of the client. It also demonstrates all the paths and landmarks through which the supplier approaches.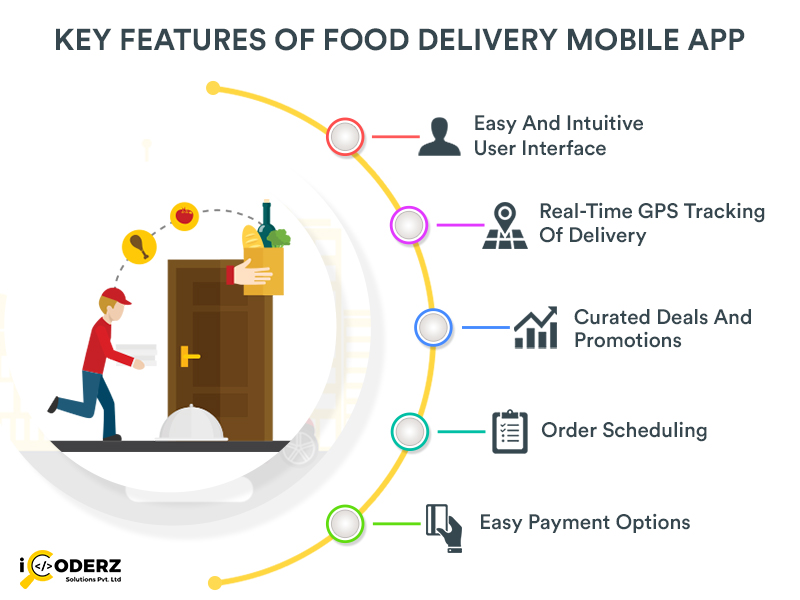 Top Features to Develop a Food Ordering app
Here we are naming the most embedded features of food ordering app on a module wise. These four modules should be taken into consideration in significant cases of food ordering app development.
Admin Dashboard
Customer App
Driver App
Restaurant App
Admin Dashboard
Being an app developer company, we are much more curious to indulge staff, orders, and delivering items on time and more. We want to share the most feature that admin module will comprise of.
Robust Log-in
Restaurant Management
Application Management
Order Management
Technical Payment
Finance Management
Customer App
This user module is going to play a vital role in terms of user engagement and food ordering.
Homepage
Menu (for user navigation)
Cart section
Search by Food Category
Checkout Process
Choose Payment Method
Order Status and Tracking
Help & Support
Wishlist
Previous history
Social media login
Estimated delivery time
Registration
Filter restaurants by cuisines
Current offers
Address book
Rewards, loyalty, and coupons
Place order
On order placing successfully, Admin will further process the request to the restaurant desk.
Restaurant App
In restaurant module, we do see the smoother order process followed by preparing the food order and making sure to deliver the same with the help of a delivery boy.
Admin Panel
Registration
Login
Payment process
Order management
Content management
Dashboard
Accept or decline
Driver App
Delivery module has been developed for a delivery person. Where admin can assign the order to deliver, track the orders for making sure to deliver in time.
Registration
Login
Order management
Status update
SoS service
Booking history
Option to check the shortest pickup and delivery route
Navigation from pickup to the delivery route
COD
Call/ chat
Push notification
Withdraw payment
Online support
Order delivery
Wallet
Tracking
iCODERZ- A stop solution to your app development queries</>
By looking at the massive demand for online food ordering mobile Apps among customers and restaurants, iCODERZ has developed a turnkey solution to launch an online food delivery marketplace and mobile app.
Your ideas matter the most as it can solve a query, create something unique, or bring about a smile. We develop mobile apps that incarnate your thoughts and design it the way that the user is hooked straight into it. We also keep a focus on your app users for further growth and assistance.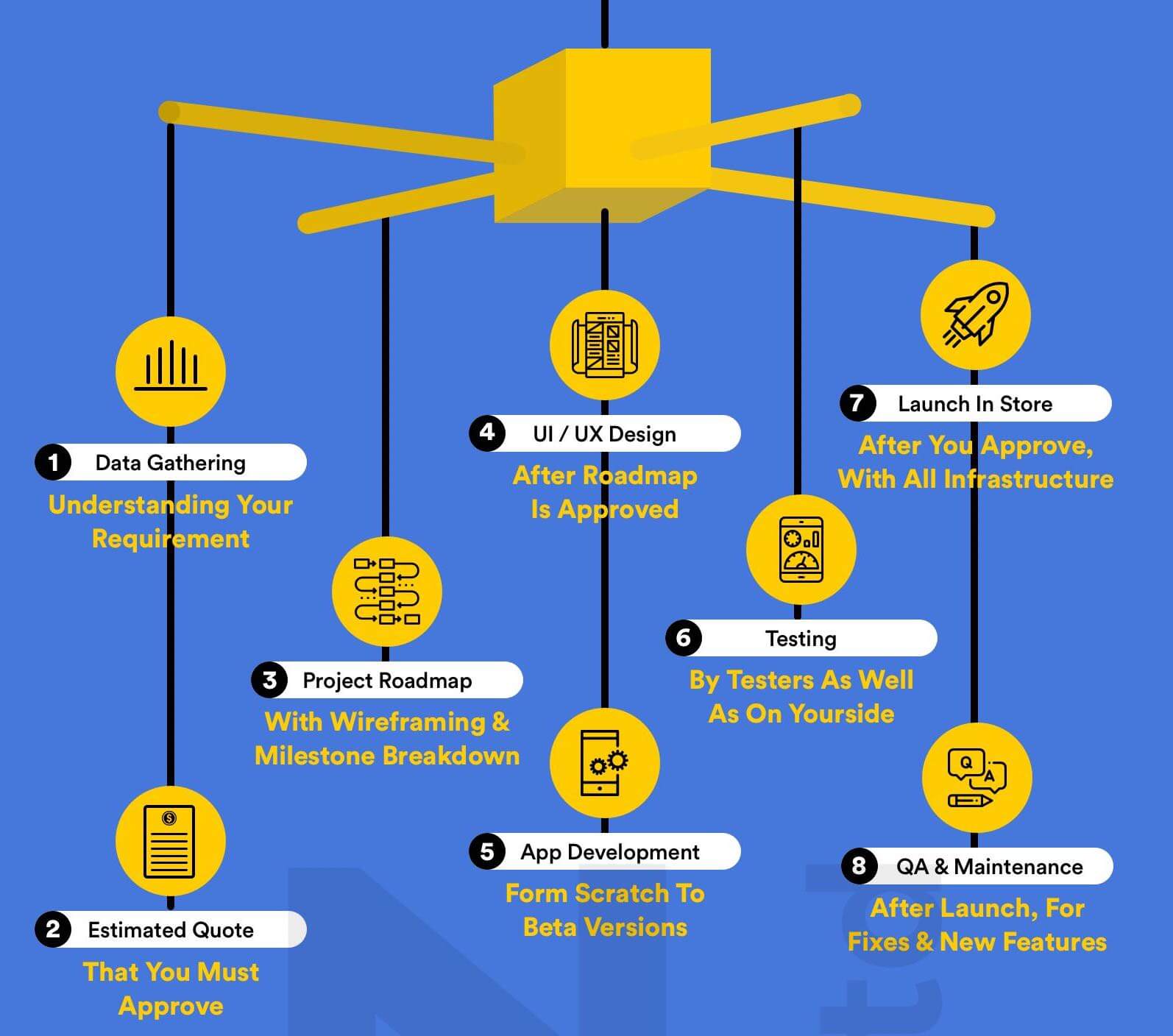 SaaS-Based Food Delivery Solutions with DeOnDe
DeOnDe is one of the best platforms to start your online delivery business as it has monthly subscription model to keep your worries away about the huge cost of application design and development. It is ready to use SaaS Based solution that can be utilized with all the features mentioned above for your delivery based business.
---
Interesting Reading
➠ How Much Does It Cost To Develop A Mobile App?
➠ Benefits of Outsourcing Mobile App Development
➠ How to get more downloads of your App